Like every team in the NFL, the Tampa Bay Buccaneers had the opportunity to bring up to 30 draft prospects to their team headquarters for private visits during the month of April. At least four of the players to visit One Buccaneer Place were quarterbacks, as the team confirmed appearances by Teddy Bridgewater, Derek Carr, Jimmy Garoppolo and Johnny Manziel. Most of the rest of the visits went unreported, but the identity of at least one player who did not get an April invitation to One Buc Place is now known.
It's the same name the Buccaneers wrote down on their draft card on Thursday night at pick #7: Texas A&M wide receiver Mike Evans.
During Evans' introductory press conference on Friday, Head Coach Lovie Smith said the team didn't need a visit from the Texas native to confirm their intentions to make him a Buccaneer. As Smith described the process by which his team had come to such a firm conclusion on Evans, it also became clear that not bringing Evans to Tampa was a strategic decision.
"We didn't feel like we did need to [bring Evans in], but I have a few ties in Texas, I think I've talked to you about that," said Smith. "We had a chance to talk to a lot of people, [including former A&M strength coach] Dave Kennedy on the staff. We felt like we knew Mike. We watched him at the Combine, from afar. Even the A&M visit, we all went down there, we took a big group down there, but we snuck out fairly early. I felt like we had all the information that we needed to know. Jason and his crew did a great job; didn't feel like we needed any more information. We loved Mike from the start and just couldn't believe [he was available]. We were high-fiving when we got a chance to take him."
In other words, while an Evans-to-Tampa prediction had been popular for at least a month before the draft, there was no need for the Buccaneers themselves to make it so obvious. Like every team, the Buccaneers wish to keep their draft intentions close to the vest; as Smith said Friday, "It has to be that way, correct?"
Below is the full transcript of Friday's introductory press conference: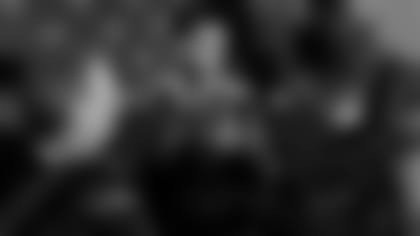 WR Mike Evans visited One Buccaneer Place on Friday, but the team notably did not bring Evans in during the prospect-visit period before the draft
General Manager Jason Licht, opening statement:
"Good morning everybody, thanks for being here. There's been a lot of exciting days here, sitting here at this table, and today's no different. We were fired up before the draft, we're ecstatic now and we still have a couple more days to go. Today, right now, it's about Mike. We want to thank him and [girlfriend] Ashli for being here, he's had a long night, I don't know if he's slept at all, but we're extremely, extremely happy with the outcome of last night's draft and we're happy for him to be here."
WR Mike Evans, opening statement:
"I'm very excited to be in Tampa. If you watched the draft last night you saw me get emotional, kind of crying like a little baby. I didn't expect to do that, but realizing my dreams coming true, it finally hit me. I'm just really happy to be a Buc; the city is nice, great state, I feel my style of play fits well here and it's my dreams coming true. I'm going to work my hardest to be the best player I can be and the best teammate I can be and just help the team win games."
Evans on his emotions after he his name was called:
"I got the call, it sunk in but not as much and then when they called my name, I had my daughter in my hand at the time, I guess I just had been holding it in the whole time, not trying to show any emotion; it just hit me, I can't explain it, came out of nowhere, trying to – it's kind of embarrassing to me, maybe not to some people but it's embarrassing to me. I try to be a tough guy you can say, but it was a great moment and realizing my family – I get to take care of my family now and just do what I love."
Evans on how his mom and daughter changed his life:
"My mother, people thought she was my big sister when she used to drop me off at school. She had me at 14 years old and just watching her struggle, doing everything she did for us, me, my brother and my sister, she did everything she could do so we can have whatever we wanted. I applaud her for that and I'll always be indebted to her and I want to give her the world. My daughter, I was always on the field, it's extra motivation. Draft night was the second best night of my life, after she was born. She's just so fun to be around; I want her to grow up better than I did, so I'm going to use that as motivation on the field and off the field. I'm just happy to be a Buc."
Evans on what the last 24 hours have been like:
"It's been hectic. I haven't slept yet, in the past 24 hours, but I wouldn't have it any other way. Visited a hospital yesterday, they walked us around, did a lot of stuff before the draft and the draft started, got the call, did a whole bunch of interviews after that and that's pretty much it. I flew in this morning, but the process leading up to this day has been very long. I thought at a point it would never get here; all my hard work is paying off and I'm living out my dream."
Evans on if he had a sense the team was interested in him after his pro day:
"A little, I met with [wide receivers coach Andrew] Hayes-Stoker, met with them at the Combine, I got a good vibe from Coach Smith. He's a great coach, I'm glad I get to play for him."
Evans on how much his upbringing motivates him on the field:
"It motivates me a lot. My father passed away when I was nine years old and he was big on sports, he wanted me to just play sports. When I was a kid I liked playing sports, but when he died I started playing everything with an edge about me because I wanted him to be proud of me. He's up looking down on me now and I just used that as motivation, my father."
Evans on if he became the man of the house after his father passed:
"You can say that. My brother's dad was around a couple of years after my father passed, but I had to look out for my brother and sister, and my mom even more."
Evans on if wanted to be an NBA star or an NFL star:
"I wanted to be both."
Evans on how his basketball background helps him in football:
"It helps a lot, when you see me go up for catches I'm treating it like a rebound, boxing guys out using my God-given talent, using my big body to box guys out for catches, tough catches and learning how to get in position. The transition was easy because I have a lot of great coaches and a lot of great people around me to help me get here. The transition was easier than it looks . I'm just very blessed."
Evans on an off-the-field childhood memory:
"I think we took a vacation my sophomore year and we never had the money to do that. A hurricane hit my city and we got insurance money. My mom always talked about going on vacation so we went to the Dominican Republic and we had a great time, a great family time."
Evans on playing for the same high school coach as tackle Anthony Collins:
"He told me about him but I haven't really looked into it. My 11th grade year he came and talked to me and said we had a player at I don't know what school it was, he was a lineman I believe, he just told me about his story and then it kind of intrigued me a little bit, still didn't want to come out and then I came out the year after and it worked out for me. Yeah, he's a great guy"
Evans on playing with wide receiver Vincent Jackson:
"I was eager to come to Tampa Bay; I really wanted Tampa Bay to pick me. I was praying they wouldn't pass on me, but, Vincent Jackson, it will be great playing with him. I've heard so many things about him already. A lot of guys tell me he's a great person. His receivers coach at San Diego, James Lofton, who I was working with in San Diego, told me he's a great guy and that will be a good fit to go to Tampa Bay and learn from him. I'm just ready to learn from him and hopefully we can do some great things together."
Evans on what made Tampa Bay high on his list:
"The conference is one of the best conferences in the league. Playing alongside Vincent Jackson I feel that we can have a lot of success, Josh McCown at the helm, a good running back, great defense, I felt like I fit perfect in this system. It's a physical team and I think I fit that."
Evans on how playing with Johnny Manziel affected his game:
"Made me keep my head on a swivel, never knowing where he's going to go. He's a great player, he made me better, I made him better, we had a great relationship, one of my best friends, and it was great playing with him."
Evans on the transition from playing with Manziel to a more traditional quarterback:
"I don't think it will be different; I think I'll transition fine. Maybe they don't run as much so maybe more balls to go around, but I think it'll be just fine."
Evans on working with Tampa Bay head strength and conditioning coach Dave Kennedy who served in the same position at Texas A&M:
"It's great, I didn't even know he was here until last night. My first year coming in I was 205 pounds and then he got me to 235 by the end of the year. It was good weight though. He's a great strength coach and I'm happy to be working with him again."
Evans on what he learned from working with James Lofton:
"He's a great dude, he taught me about the finer points of route running, getting in and out of my breaks, learning to get into a [defensive back] blind spot, all of those good things but he taught me what I needed to do to have success in this league and he just taught me about being a man. He's teaching me how to be a great man."
Evans on finding his optimal playing weight:
"It helped a lot. Your playing weight, you play too heavy and that can cause injuries. I think that's why my freshman year I strained my hamstring, I wasn't watching my weight as well. This past year I honed it in and I was playing at 230–235 range and I kept it there. It's a big factor, you never know how fast you can play until you hit your optimal weight."
Evans on the tips Lofton to be successful:
"Like I said it's about being a great person and being a great teammate, nobody wants to be around – nobody wants to play with somebody they can't be around off the field. He was just telling me about that and just telling me that you have to be tough; he said that I wouldn't have a problem with that. He thought I was tough already but he said I'll be fine."
Evans on if he trash-talks when playing:
"Yeah, I talk a little smack."
Evans on if surviving a serious car crash in 2013:
"I'm blessed, it's all God's doing. When I was ejected, that's what I did immediately: I thanked God because nothing was broken, just an ear split in half, that's it, just love taps, there was nothing too major. I just thanked God right away nothing was broken and I got to play football that year."
Evans on if he could've dreamed of this moment:
"It comes down to God again, he's great. I never thought I would come from Galveston, Texas, where I come from it's hard to make it out of there and I did it, I had a lot of help though, God's blessed me with a lot great people around me and I'm just blessed."
Evans on what he brings to the team:
"I'm Mike Evans, I'm a do anything it takes to win, I'm going to get involved in the run game, I'm going to be physical, I'm going to go up and the 50-50 balls, just going to be a great teammate and try and bring leadership."
Evans on what he thinks he has to prove wrong:
"I think there are people criticizing me on speed and route running maybe and that I've only been playing football for the past four years. I'm just going to improve on my game, try and fight for a starting job right away. I've been working on my route running; speed, I'll let people see if I get caught or anything like that, but I don't think I have to prove too many people wrong."
Evans on if the number 13 has any significance to him:
"There's no story to it, that was just the best number available. I was number 82 my redshirt-freshman year and I was looking for a new number and wanted to get number five, my high school number, it wasn't available so 13 was available and I took that. I will be wearing 13."