STORY HIGHLIGHTS
DE Larry English hoped the Bucs would call him back but knew nothing was guaranteed
DE Da'Quan Bowers could return to action this weekend after missing nearly a month with a groin injury
WR Solomon Patton got a promotion before the season opener and made the most of his first NFL opportunity

The Tampa Bay Buccaneers are hoping that Larry English can add more depth to a pass rush that didn't produce up to expectations in a season-opening loss to the Carolina Panthers.
On Tuesday, the Buccaneers re-signed English, who had joined the team midway through August and played well in a trio of preseason games. To make room, the team released second-year defensive end Steven Means, a fifth-round draft pick in 2013. The Bucs also filled one of two open spots on their practice squad by signing second-year cornerback C.J. Wilson.
English, who was drafted 16th overall by the San Diego Chargers in 2009, tied for the Bucs lead with two sacks during the preseason but was released during the final round of roster cuts before the regular season. The 6-2, 254-pound defender played outside linebacker in San Diego's 3-4 base defense, appearing in 52 games with nine starts and registering 11.0 sacks. He will join the rotation at defensive end in Tampa Bay's 4-3 front.
That front offers a great deal of promise with All-Pro defensive tackle Gerald McCoy at the center and prized 2014 free agency acquisitions Michael Johnson and Clinton McDonald joining Adrian Clayborn to round out the starting four. However, the team wants a deeper rotation along the line to keep all the players fresh, and that was difficult to mount in the opener with ends Da'Quan Bowers and William Gholston sidelined by injuries. When Johnson tweaked an ankle early in the game and lost effectiveness, the Buccaneers gave a significant amount of snaps to third-year player Scott Solomon. The team's only sack of the day belonged to McCoy and was not recorded until the fourth quarter, when the Panthers had already built a healthy lead.
English, who grew up in Aurora, Illinois and played his college ball at Northern Illinois, didn't stay in Tampa after he was released but he did maintain some hope of returning to the team.
"It's great to be back," he said on Tuesday. "I expressed to the coaches and they knew that I wanted to be here. I'm happy to be back, I'm happy to have an opportunity to help this team."
English was not given any guarantee that this move would happen, but he wasn't prepared to see his NFL career end just yet so he did his best to be prepared for the next opportunity.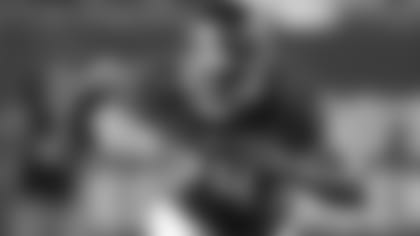 DE Larry English had two sacks for the Buccaneers during the preseason
"There's no real level of certainty when something like that happens," said English, referring to his release the prior week. "You can't depend on it, and teams never want to promise anything like that. But there's always that possibility, so it was just my job to stay ready for the call, wherever that might come from."
Though he wore jersey #74 during the preseason, English will now suit up in #57. Wilson will wear #41 on the practice field. Wilson signed with the Chicago Bears as an undrafted free agent out of North Carolina State in 2013 and split his rookie season between the Bears' active roster and practice squad, appearing in two games.
English might not be the only reinforcement for the Bucs' D-Line in Week Two. Bowers, who missed much of the preseason with a groin injury, returned to practice late last week and could be close to putting his helmet back on for game day.
Though he got in some practice last Thursday and Friday, Bowers was never expected to suit up for Sunday's game. Those two workouts were the kick-start, and now the fourth-year end can use a full week of practice to get himself in game shape.
"I was out almost a month, so it was definitely out of the question to practice two days and be prepared to play at the level I need to play," said Bowers. "We'll see what Coach says [about this Sunday's game]. The plan is to practice and see how I feel. Hopefully, no setbacks. If I can get some quality work in this week, we'll see what happens.
"If Coach thinks I can help the team, he and I will sit down and talk about it."
Bowers had to watch on Sunday as the Bucs' defensive line had a reasonably effective game, particularly against the run, but wasn't able to muster up consistent pressure on backup quarterback Derek Anderson. He hopes his own presence and the eventual return of Gholston will make a difference.
"We did some good things up front," said Bowers. "There were some things that we could have done better. As a whole, there were a lot of good things that we left out there. We've just got to execute the game plan and we've got to be able to get pressure with four. Hopefully when I come back, and William, we can do a better job of that."
Like English, rookie wide receiver Solomon Patton was a solid preseason performer who became a casualty of the final roster cuts at the end of the preseason. And like English he has found out those cuts really weren't all that "final."
Patton, the undrafted rookie out of the University of Florida, was immediately re-signed to the Bucs' practice squad, so he didn't skip a beat when it came to game preparation. Then, on the eve of Sunday's opener, Patton was promoted to the 53-man roster, at which point it seemed quite likely he would resume the punt and kickoff return jobs he had seemed to claim in August.
The Bucs did in fact give Patton all the reps in both return roles, and he proved to be one of the bright spots on a disappointing afternoon. He averaged 14.0 yards on four punt returns and 26.0 yards on two kickoff returns and nearly broke one for the distance at a critical time in the fourth quarter.
Patton knows what the hierarchy of his goals as a returner are, as laid out by Special Teams Coordinator Kevin O'Dea: First, catch the ball cleanly; second, get a first down (i.e., a return of at least 10 yards); third, score. The Bucs would obviously like to see a few instances of that third goal being met, but on a play-by-play basis will be happy with #1 and #2. Patton wants to give them a little more so he'll remain at the top of the depth chart.
"Just averaging beyond what they want me to do," said the rookie of his goals in the return game. "They really want us to average anything over 11 yards. I just try my best to get past that, I just run hard and I count on my teammates to make those blocks and they're doing a good job. Everything is working out."
Patton wouldn't be in the position he is now, with a shot at a sustained NFL career despite his undrafted status, if he hadn't proved during the preseason that he could hold onto the ball. That's not as easy as it sounds, especially on punts.
"It's pretty tough," Patton admitted. "It's a big job because it's only you standing back there and you're hoping that your guys hold up. The ball is so high and you have guys coming at you full-speed; it's pretty tough. There's a lot to think about, but you just have to block it out."