STORY HIGHLIGHTS
CB Alterraun Verner and the Bucs' defense picked Drew Brees off three times in the Week Five meeting in New Orleans
LB Mason Foster did not practice on Wednesday as he continues to deal with an Achilles tendon injury
The Bucs have promoted a number of players from the practice squad this season; could one more get the call?

A lot has been made of the Tampa Bay Buccaneers' defensive improvement since the team's Week Seven bye, and indeed the change has been drastic, at least statistically. The Buccaneers ranked last in both points allowed (34.0 per game) and yards allowed (422.8) through the first six weeks of the season; since that point, Tampa Bay is 10th in points allowed (20.3) and 13th in yards allowed (336.4).
On Sunday, that obviously improved Buccaneer D will get one final test, and it will be a significant one, as the New Orleans Saints bring to town an offense that ranks first in yards and tied for ninth in points. The first time the Buccaneers played the Saints was during that initial six-game stretch, with all its troubling numbers, and Drew Brees' squad didn't do anything to help those stats, racking up 511 yards and 37 points. In a couple ways, though, Buccaneer defenders began to see the possibilities in their system during that overtime loss in the Superdome.
"The first Saints game in the beginning, I would say was probably one of our better performances, said cornerback Alterraun Verner. "Especially the defense, we had an interception for a touchdown, Johnthan [Banks] had a big interception in the first half and we were playing really, really well. The thing that we would want to replicate is that type of performance, but throughout the game, because in the second half, that's where we started to give up stuff."
Verner had an interception in that game, too, his first as a Buccaneer, but he also narrowly missed pulling in two more. The Bucs trailed by just a 13-10 margin at halftime, and then went on a tear right after the intermission thanks in part to the pick-six Verner mentions, by linebacker Danny Lansanah. The Bucs went from down by 13 to winning by 11, and the defense had a lot to do with it.
As was often the case in the season's first two months, however, the Buccaneers had difficulty sustaining anything good that was happening. Verner thinks that his crew is now in a better position to play a full 60 minutes of strong defense against Brees and his high-powered attack.
"They started to run the ball more efficiently and we were missing some tackles," said Verner. "We're a better team than when we played then. As long as we just continue to do what we've been doing, we should put a much better effort than that, and we gave up 30 points in the game. That's how I look at, not to do too much different than we did from that game, but just control the things that we can control which was making tackles, stopping the run – that should help us out."
The last two weeks the Buccaneers had a chance to make an impact on the NFC playoff chase but fell short at Carolina and against Green Bay. Not long ago it appeared likely that the Saints would be fighting for the NFC South title at Raymond James Stadium in Week 17, but their loss to the Falcons last Sunday eliminated them from the race. That hasn't diminished the Buccaneers' motivation for the season finale, however; instead, they know that they have a chance to prove they are a better team than they were in Week Five, particularly on defense.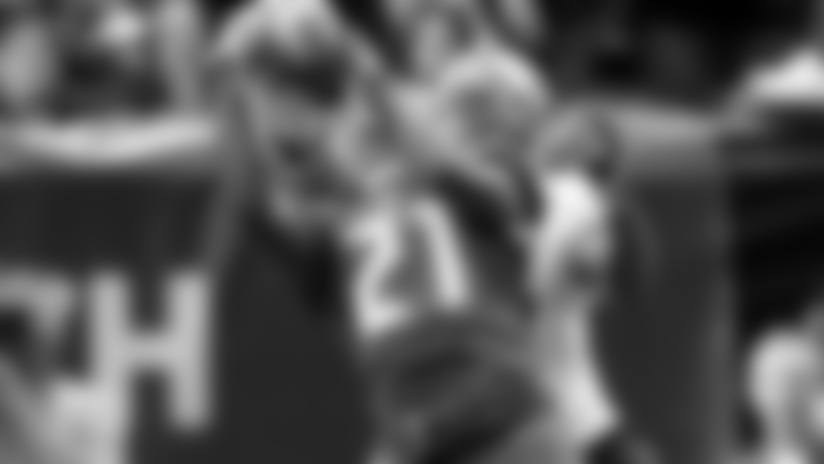 CB Alterraun Verner had one of the Bucs' three interceptions off Saints QB Drew Brees in Week Five
"Final game of our season, a chance for our defense to line up against another very good offense, and I think our guys are looking forward to this football game," said Defensive Coordinator Leslie Frazier. "We're practicing well and it should be a good Sunday for our defense and that's what we're planning on."
It has been mentioned frequently during the month of December, and it's worth noting again, that the this 2-13 Buccaneers squad has continued to show fight and work as hard as if it was in the playoff hunt. In that regard, it's a bit of good fortune for the Tampa Bay defense that the final game comes against such a significant challenge as the Saints' offense.
"It's big, not only because it's the last game and you would like to go into the offseason with a win – a good feeling – but also with it being at home against a division opponent, everything is stacking for us to get this win," said Verner. "We really, really want and need this win. It's big to not be 0-8 [at home] and to finish this season with all of these losses. It will be good, it will be a nice little holiday pick-me-up if we can get this win."
The Buccaneers have played five games this season without starting middle linebacker Mason Foster, and there's a chance they'll finish the season that way, too.
Tampa Bay's first official injury report of the week is only six players long but it includes three defenders who were not able to practice on Wednesday: Foster, safety Dashon Goldson and cornerback Isaiah Frey. Foster missed Games 13 and 14 with an Achilles tendon injury, returned to action last week against Green Bay and then promptly aggravated the same ailment midway through the first quarter. Earlier in 2014, Foster missed three games with a shoulder injury. The Bucs' defense has played relatively well during the second half of the season but has had to deal with continuity issues with the lineup, and that's particularly important in regards to the middle linebacker, who is generally the play-caller on that side of the ball.
"That's an important cog in the puzzle," said Frazier. "Your middle linebacker, in a 4-3 scheme, he's very, very important to your system. It's unfortunate that Mason has been kind of in-and-out with the injuries throughout the season. That's given guys like Dane [Fletcher] and Danny [Lansanah] some opportunities, but you would like to have a guy you're preparing with every week during the course of the season. It doesn't always happen in our league and that means other guys have to step up. Dane and Danny have done a pretty good job for us, but you would like to have a starting MIKE that you can count on week in and week out."
Goldson had practiced on Tuesday during the Bucs' holiday-modified work week but he was held out on Wednesday due to a shoulder injury. However, Head Coach Lovie Smith didn't seem too concerned that his starting free safety would miss Sunday's game against the Saints. Frey missed last week's game with the same ankle injury that kept him off the practice field the last two days.
"We added Dashon Goldson to the list," said Smith. "Dashon has a shoulder that's bothering him a little bit, should be good to go."
The Saints had six players on their injury report, as well, but might actually have more questions marks because all six are featured prominently on the depth chart and none of them practice on Wednesday.
That list includes both starting offensive tackles, with left tackle Terron Armstead trying to come back from the hamstring injury that kept him out of the Saints' Week 16 game and right tackle Zach Strief dealing with a neck injury. Akiem Hicks (ankle) and John Jenkins (abdomen) are two of the Saints' three starting down linemen, while both safety Jamarca Sanford and running back Pierre Thomas play extensively.
Last week, rookie defensive tackle George Uko and first-year wide receiver Tavarres King saw their first NFL regular-season action just a few days after being promoted from the Buccaneers' practice squad. One of their former squad-mates could get the same opportunity this Sunday against the Saints.
Already this season, 10 different players have appeared on the Buccaneers' 53-man roster after being promoted from the team's own practice squad. In addition to Uko and King, the others are center Josh Allen, tight end Cameron Brate, defensive end T.J. Fatinikun, quarterback Mike Kafka, linebacker Brandon Magee, defensive tackle Matthew Masifilo, tight end/fullback Evan Rodriguez and cornerback C.J. Wilson. Kafka did not get into a game during his time on the active roster and Rodriguez did not play last Sunday after his own Week 16 promotion, but the others were all given playing time on Sundays. Allen, Brate, Fatinikun, King, Rodriguez, Uko and Wilson are all currently on the 53-man roster.
There are also nine players (out of a maximum allowed total of 10) currently on the Buccaneers' practice squad, and it's possible that one of those nine will get a shot at a late-season cameo. Smith hinted at that opportunity after practice on Wednesday.
"We've looked at a lot of different players, so I think just about everyone we have here – except, of course, the safety we brought in this week – we've seen," said Smith. "I think there's maybe a couple and we may try to get one of them up this week."
Uko played his college ball at USC and came into the NFL as an undrafted free agent with the Saints this past spring. He spent two weeks near midseason on the Buccaneers' practice squad, then returned for another month on that crew in November and December before his promotion last week.
Changes to the practice squad are common during the season and often reflect an area on the active roster that has been thinned by injuries. For instance, the Buccaneers signed safety Shelton Johnson to the practice squad on Tuesday after putting safety Major Wright on injured reserve a few days earlier. If that's the reason for the arrival of most practice squad players, what transpires after that is up to the player's performance on the practice field. Once a prospect has his foot in the door via the practice squad, he can prove that he deserves a shot to play on Sundays, as Uko did.
"He's not just a nose [tackle], an inside guy that can only clog," said Smith of the young lineman. "We think he has some pass-rush abilities. As we're judging our inside guys, especially around the tackle position, can a guy pass rush? If you're big and you're strong, you can kind of plug up and play a shade on first down on the nose. But can you rush the passer? We've seen that [from him]. He has decent hips, good movement for a guy his size.
"Our practice squad, we bring a lot of young players in and watch them and then just see. First, you have to have the traits we're looking for. He had the traits. Normally, if you keep working hard, you get an opportunity like this. This is what he's earned. Again, we've seen flashes from him."
Smith didn't give any clue as to which of the Bucs' current practice squad players might get a promotion before Sunday; it is also completely possible that no moves will be made at all. Obviously, if the Bucs were to promote someone they would also have to find a way to open a spot on the 53-man roster.
If they do make a move, their choices on the practice squad include two linebackers (Denicos Allen and Ka'Lial Glaud), a safety (Johnson), a wide receiver (Chandler Jones), a quarterback (Kafka), a defensive tackle (Masifilo), an offensive tackle (Matt Patchan), a defensive back (Varmah Sonie) and a center (Jeremiah Warren). Glaud, Kafka and Masifilo have all been active for the Buccaneers before, this season or previously, and those are also the three that have the longest combined tenure as Tampa Bay players. Johnson, Jones and Sonie are the most recent additions to the unit. The most recent injury report can be a clue, and as mentioned above, the team practiced on Wednesday without a linebacker, a safety and a cornerback.
Whether one of those prospects get a promotion or a young player already on the active roster is given more playing time, the final game is going to be a significant opportunity for somebody in pewter and red.
"We've been saying another [game] and another [game], but now it's the last time – lasting impression," said Smith. "You remember the last thing that you see most of the time, and for some of the players … that haven't done an awful lot yet or haven't gotten the opportunity, these are valuable reps for them to show us [that], 'First, I want to be here and, as we rise I'm going to be a part that and I'm going to be one of the reasons that we come up.' This is an important football game."