STORY HIGHLIGHTS
Game Ball:
QB Mike Glennon finished his promising rookie season on a good note, standing in against one of the league's best pass-rushing team and throwing for 219 yards and two scores, his eighth two-TD game of the season to tie a rookie NFL record.
Play of the Game:
A breakdown for the Bucs' defense led to Kenny Stills being wide open for a 76-yard TD pass late in the second quarter, a score that countered the Bucs' touchdown moments later and kept the visiting team from being down just one score at halftime.
Turning Point:
The Bucs took the opening drive of the second half into Saints territory and even converted a fourth down in an attempt to put the ball in the end zone, but they had to settle for three points and the Saints pulled away from there.
It Was Over When:
Pierre Thomas ran in from eight yards on a third-and-seven draw to make it 35-17 for the Saints in the third quarter, and Glennon's next pass was intercepted in Buccaneer territory.

The Tampa Bay Buccaneers learned the hard way on Sunday the difference between Drew Brees on the road and Drew Brees in the Louisiana Superdome.
Brees threw for 381 yards and four touchdowns as the New Orleans Saints completed a two-game sweep of the Buccaneers in 2013 with a 42-17 victory in the regular-season finale for both teams.  Tampa Bay's promising defense had held Brees to a season-low 67.5 passer rating in a Week Two game in Tampa that ended in a last-minute 16-14 Saints win.  On Sunday, Brees directed an 80-yard scoring drive on the game's opening possession and never looked back as the home team rolled up 468 yards of total offense, the most allowed by Tampa Bay this season.  Brees even ran for a score – a relative rarity for a quarterback with 12 touchdown carries in 13 NFL seasons – as the Saints pulled away in the second half.
Despite the promise of a 4-1 run to begin the second half of the season, the Buccaneers lost their last three to finish 4-12.  The Saints finished 11-5 and locked up a Wild Card berth and the fifth seed in the upcoming NFC playoffs.
Buccaneers rookie QB Mike Glennon had a strong outing in the final game of his promising rookie season, but Tampa Bay's offense as a whole couldn't keep up with the Saints' Brees-led attack.  Glennon threw for 219 yards and two touchdowns and only absorbed one interception and two sacks late in the second half when the game was out of reach.
"The line did a great job of protecting me today," said Glennon.  "They did a great job of establishing the run and protecting me and we were able to make some big plays."
Glennon threw touchdown passes to Tiquan Underwood and Tim Wright, giving him the eighth two-TD game of his rookie season.  That ties an NFL record for rookies originally set by Charlie Conerly in 1948 and tied just last year by Seattle's Russell Wilson and Indianapolis' Andrew Luck in that groundbreaking rookie QB class.  Glennon finished the season with 2,389 yards and an 18-8 TD-INT ratio in 13 starts, indicating significant promise for 2014.
"I think it was a great learning experience and a step forward," said Glennon of his debut NFL season.  "Now I know what I need to learn on in the offseason and what we need to work on collectively in the offseason as a team and as an offensive unit.  I'll be way ahead of where I was last year heading into OTAs and into camp."
The Buccaneers knew they were in for a shootout against a team that was undefeated at home and averaging 33 points per game in its first seven victories, and it showed in the play-calling.  Tampa Bay went for it on fourth-and-three from their own 45 early in the third quarter, and finished the first half by passing on a chance at three points in favor of a trick play from the field goal formation that didn't work.  The Bucs dropped back to throw on 43 of 62 plays, and not all of that was the product of a second-half deficit; Tampa Bay's first running play didn't occur until just over two minutes was left in the opening quarter.  The Bucs' first touchdown even came on a trick-play pass, a flea-flicker with RB Bobby Rainey pitching back to Glennon, who threw 48 yards down field to Underwood for the score.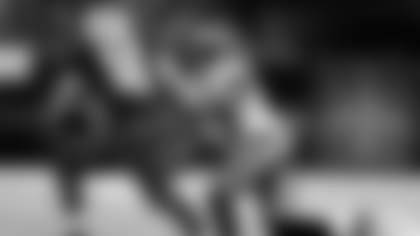 That successful fourth-down call in the third quarter kept alive a drive that opened the second half, chewing up 8:25 off the clock and keeping Brees and company off the field.  However, it resulted in only three points in a two-touchdown game, and Brees followed that immediately with a 92-yard touchdown drive to put it away.
"We had a really good drive the first drive out of the half," said Glennon.  "We ate up eight-and-a-half minutes of the clock, something we wanted to do to keep that offense off the field.  But at the end of the game, it was just a tough situation being down that much."
New Orleans took the opening drive 80 yards for a touchdown.  After converting a fourth-and-inches just across midfield, the Saints went for the end zone on the next play and got it on a 44-yard Brees-to-Lance Moore strike.  The Buccaneers did almost the exact same thing on their first drive, taking a shot at the end zone after getting a first down just into Saints territory.  In this case, they used a trick play, with Rainey flipping it back to Glennon on a flea-flicker and Glennon easily hitting Underwood with a 48-yard arc for the game-tying score.
Unfortunately, the Bucs couldn't match the Saints again after Brees directed another 80-yard drive on their second possession, this one ending in a 10-yard TD catch by Graham.  Midway through the second quarter, the Saints scored again on a 41-yard Brees pass to WR Robert Meachem to give the Saints a 21-7 lead.  Tampa Bay did answer on the next possession with another 80-yard touchdown drive, ending in a perfect first-down one-yard lob by Glennon to TE Tim Wright, but three plays later Brees found WR Kenny Stills wide open for a 76-yard touchdown pass that restored the Saints' two-TD edge.
The Saints got the ball first and started with a collection of runs and short passes, gaining two first downs to get to midfield.  They faced their initial third-down at the Bucs' 46, needing one yard.  LB Lavonte David was there to stop Thomas on a run around left tackle, leading to fourth-and-inches.  The Saints elected to go for it, though they had to burn a timeout first.  The defense briefly had FB Jed Collins wrapped up on his fourth-down run but Collins was able to slip away just enough to cross the first-down line.  On the very next play, Brees went deep to WR Lance Moore, who had gotten behind Leonard Johnson.  The pass was perfectly on target and Moore scored on a 44-yard completion to open the scoring.  Kenny Stills was flagged for taunting after the play, which forced the Saints to kick off from their own 20, and Eric Page's 26-yard return got it out to the Bucs' 38.
A play-action rollout on first down was perfectly covered, forcing a throwaway, but a second-down toss to WR Chris Owusu picked up five.  Glenn had plenty of time to throw on third down and he found Jackson on a crossing route for nine yards and a first down just across midfield.  The Bucs then did the exact same thing the Saints did, going for the end zone after getting a first down just inside opposing territory, but they did it with a little more flair.  Rainey took a handoff on first down but stopped and pitched it back to Glennon, who lobbed a deep rainbow downfield to Underwood, who had gotten well behind the defense.  Underwood caught it easily as he crossed the goal-line to tie the game at 7-7.
The Saints next drive ended up in a third-and-three from their own 27, and the Bucs brought a big blitz.  They didn't get to Brees in time, however, as he managed to fire off an out to Moore that got just enough for a new set of downs.  On the next play, Brees hit Graham down the right seam for a gain of 33.  Three plays later, Brees lobbed a perfect wheel route to Sproles over DE Adrian Clayborn and Sproles ran 24 yards to the Bucs' 14, with only Johnson making a touchdown-saving tackle.  Two plays later, Graham picked his way down the middle of the field and found himself wide open for Brees' 10-yard TD toss.
The Bucs started their next drive with a false start, but a nice catch by Tim Wright led to a 10-yard gain on first down.  The Bucs' first run of the game went to Brian Leonard, who spun for four yards to make it third-and-one, and Leonard went off left tackle to convert that third down.  After a four-yard catch by Leonard, Glennon tried to hit Jackson deep but it was broken up downfield.  On third-and-six, the Bucs tried a misdirection play with Glennon rolling right but then throwing back across the field to Leonard, but LB David Hawthorne sniffed it out and stopped it for a loss, leading to a punt.  Koenen blasted a 52-yarder and Johnson tackled Sproles immediately to push the Saints back to their own 18.
The Saints got the ball back to midfield quickly, then converted a third-and-four with a 13-yard crossing route to Colston, putting it at the Bucs' 36.  David stopped Thomas for a loss of one on first down and a Sproles sweep right lost two yards into the arms of Clayborn, setting up third-and-13.  On third down, McCoy and Clayborn combined for an 11-yard sack, forcing a punt.  Thomas Morstead's punt rolled to a stop at the Bucs' nine.
The Bucs went three-and-out on the next possession, as Jackson couldn't quite get his feet in on an acrobatic spinning catch on the sideline.  The Bucs' punt went out of bounds at the Saints' 43-yards line.  The Saints got it over midfield in two plays but then faced a third-and-10 at the Bucs' 41.  McCoy knocked down Brees' first-down pass at the line and then hit the QB as he threw on second down.  However, Brees had one more down to work with and he used it to throw a 41-yard touchdown pass to Meachem.
After a touchback on the kickoff, a five-yard run by Rainey and a rollout eight-yard pass to Jackson moved the sticks, and two plays later Rainey broke free for a 16-yard run to the Saints' 49.  After another first down, Leonard turned in an eye-opening play, breaking into the open and then leaping over S Malcolm Jenkins to continue a 24-yard run down to the Saints' 13.  On the next play, Glennon had plenty of time to find Jackson open over the middle and hit him with a short pass, with Jackson fighting through several tackles to get down to the one.  The Bucs ran a play-action fake to Rainey and Wright released to the right corner of the end zone to catch Glennon's perfect one-yard TD pass.
The Saints needed just three plays to answer back.  On third-and-six from the 24, the Bucs had a breakdown in coverage that led to Stills running wide open down the middle of the field.  The result was an easy 76-yard touchdown toss for Brees, his fourth of the first half.
An unnecessary roughness call on DE Tyrunn Walker helped the Bucs' next drive get started, and a pass interference call on Keenan Lewis helped as well.  From first down at the Tampa Bay 43, Glennon hit Wright for a gain of 10 and Underwood for a gain of nine, and the Bucs used their first timeout with 1:10 left in the half.  After the pause, Glennon stood in against the blitz and hit Wright over the middle for 13 more to the 25.  After two incompletions, the Bucs took a crack at the end zone but Underwood could only get one foot inbounds on a spinning attempt at the right front corner of the end zone.  The Bucs brought in the field goal unit but tried a trick play that went awry when Koenen couldn't find anyone to throw to.
The Bucs got the ball to start the second half but, thanks largely to a holding call on Gabe Carimi that erased a 19-yard pass to Jackson, ended up in a third-and-15.  Glennon kept the drive alive, however, by throwing a perfect seam pass through traffic to Wright for a gain of 24.  Two Rainey runs made it third-and-inches at the Bucs' 48, and the Bucs seemed to convert with a Glennon sneak, but there was a false start on the play, making it third-and-six.  An outlet pass to Leonard was complete but well short of the first down.  Even at their own 45, the Bucs elected to go for it on fourth down, and the gamble paid off when Glennon hit Jackson for a gain of six just over midfield.  Two plays later, Glennon threw a deep out to Underwood for 19 more to the Saints' 32.  The Bucs eventually had to settle for Rian Lindell's 54-yard field goal at the end of a drive that consumed the first 8:25 of the second half.
Using up half of the third quarter was only going to be a positive thing for the Buccaneers if they then stopped Brees and company, and unfortunately that didn't happen.  The Saints took the ensuing possession 92 yards for another touchdown, ending in Pierre Thomas' eight-yard scoring run.  The big play on the drive was a 24-yard catch-and-run by Colston on third-and-six from the Saints' 25.
The Bucs' next possession lasted one play, as Keenan Lewis intercepted a Glennon pass intended for Jackson at the Bucs' 27.  Brees needed four plays to get it in from there, finishing it himself with a nine-yard touchdown scramble up the middle.
The Buccaneers declared the following players inactive prior to Sunday's game: S Mark Barron, FB/RB Lonnie Pryor, LB Dekoda Watson, LB Ka'Lial Glaud, DE Scott Solomon, DT Matthew Masifilo and G Carl Nicks.  Barron, Watson, Glaud and Nicks were out due to injury.
The Saints declared the following players inactive, none due to injury: QB Ryan Griffin, CB Terrence Frederick, RB Travaris Cadet, S Isa Abdul-Quddus, LB Keyunta Dawson, WR Nick Toon and DE Tom Johnson.
G Davin Joseph played in the 100th game of his NFL career on Sunday, all with the Buccaneers.
LB Danny Lansanah saw action on special teams, his first game-day work since the Buccaneers signed him in November.  Lansanah's last game played in the regular season in the NFL came in 2008, with the Green Bay Packers.
Rian Lindell's 54-yard field goal in the third quarter was his longest of the season, and his longest since 2009, when he was a member of the Buffalo Bills.  Koenen is four-of-six this season on attempts from 50 yards or farther.