Last November, thanks to a response regarding his approach to game-planning, Dirk Koetter was briefly labeled as an "anti-analytics" coach. When it comes to drawing up his play sheet for a specific opponent, Koetter values breaking down tape of that opponent over studying a page of team statistics.
In reality – and has gradually become clear over his two seasons with the Buccaneers, first as offensive coordinator and now as head coach – Koetter uses statistical analysis as much as any coach. Perhaps more than some. In particular, he has studied and distilled the factors that are most correlated with winning and regularly presents his team with a list of statistical goals before a game.
The distinction, as is always the case with statistics, is how they are wielded. Numbers can be illuminating, even predictive. For Koetter, they will never take the place of the scouting he can do with his own eyes, but they can assist in that process.
That's our goal with Football Geekery. Each week, we're going to give you a sampling of statistical and/or historical analysis, hopefully in a way that is relevant to the Buccaneers' current state of affairs. This week we look at the team's improved third-down defense, the franchise's history in first-time stadium visits and an exclusive club of which Vincent Jackson is a member.
Statistically, the Buccaneers' defense in 2015 produced some mixed results. The team finished 10th in the NFL's defensive rankings, which are based on yards allowed, but also allowed the seventh-most points in the league. The Bucs did some good things against the run, particularly in allowing the second lowest yards-per-carry figure (3.45), but also ranked last with a 70.0% completion rate allowed in the passing game.
One area that was unequivocally a problem for the Buccaneers in 2015, and which needed to see significant improvement in 2016, was third-down defense. The Buccaneers allowed opponents to convert 46.0% of their third-down attempts, the third-worst mark in the NFL last year and the second-worst in franchise history.
The good news: So far, third-down defense might be the team's greatest area of improvement through the first 31.3% of the season. Through six NFL weeks and five games for the Buccaneers, Tampa Bay ranks second in the league in that category, allowing only 31.1% of third down tries to succeed.
In fact, the Buccaneers could put together one of the best season-over-season improvements ever in terms of third-down defense, or at least since that statistic has been compiled league-wide. There is obviously a long way to go, but if the Buccaneers maintained their current defensive third-down rate, it would represent an improvement of 14.9 percentage points. (To be clear, that's the difference between, 46.0 and 31.1, not the percentage of improvement from last year's figure. That would come out to 32.4%).
Third-down statistics are available from the 1972 season on. In the 44 seasons from 1972-2015, there were 111 defenses that struggled badly enough on third downs to allow a season-long third-down rate of 45% or worse. Only 18 of those teams improved the next year by 10 or more percentage points, and none improved as much as the Buccaneers have, so far. Here are those teams, with the current Bucs squad included: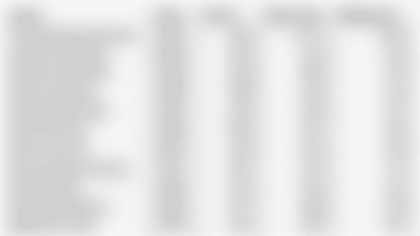 Again, there is a long way to go. Still, the Bucs' improvement on third-down defense has been so dramatic so far that it's almost certain to remain a big difference by the end of the year, if not necessarily record-breaking.
Coming off their bye week, the Buccaneers will head to a very familiar destination in Week Seven, visiting San Francisco for the sixth time in the last 13 years. However, their route to the game site on Sunday will feel a bit different – after many outings at drafty Candlestick Park the Buccaneers will make their first appearance at Levi's Stadium, which became the 49ers' home in 2014.
This will mark the second year in a row that the Buccaneers have played in a specific stadium for the first time; in 2015, a visit to Indianapolis took them to Lucas Oil Stadium and, unfortunately, a 25-12 loss to the Colts. That was the 59th different stadium in which Tampa Bay has played a regular-season game since its 1976 debut season. Levi's Stadium will be #60.*
The Buccaneers also made their Cowboys Stadium (now known as AT&T Stadium) and MetLife Stadium debuts in 2012, losing to the Cowboys (naturally) and the Giants, respectively in those outings. The last time the Bucs tasted victory in their first visit to a stadium was in 2010, when they downed the Arizona Cardinals, 38-35, at University of Phoenix Stadium.
Overall, the Buccaneers are 17-42 in regular-season stadium debuts, including a split in their own two homes, Tampa Stadium (a loss to Houston in 1976) and Raymond James Stadium (a win over Chicago in 1998). Of course, many of those debuts came during the team's first few years, when it was difficult to field a competitive squad under very unfavorable expansion rules. The Bucs lost their first 26 games in 1976 and 1977, meaning there were a lot of opposing stadiums that opened with bad memories for Tampa Bay. The Bucs won only four of their first 30 stadium debuts.*
There was, however, a golden age of first stadium visits for the Buccaneers, unsurprisingly overlapping with the long run of overall success from the mid '90s to the mid '00s. From 2001-06, the Bucs got a chance to play in 11 stadiums for the first time, many of them quite new, and won eight of those games. Two of those were college stadiums pressed into service while the pro parks were being renovated (Chicago) or fixed (New Orleans), but the Bucs also played in new parks in Detroit, Philly, and Cleveland, among others. In fact, the road game against the Eagles was the first regular-season game played at the new Lincoln Financial Field, and it ended in a rousing 17-0 Monday Night Football victory for the visitors.
What's that? You want to see every regular-season stadium debut in Buccaneers history? Alright, here they are in chronological order:
Oakland-Alameda County Stadium
Los Angeles Memorial Stadium
Hubert H. Humphrey Metrodome
Cleveland Municipal Stadium
Memorial Stadium (Clemson)
Memorial Stadium (Champaign, IL)
University of Phoenix Stadium
When the Bucs last took the field in Charlotte before their bye week, wide receiver Vincent Jackson caught three passes for 36 yards, including two enormous grabs during Tampa Bay's game-winning field goal drive. With those 36 yards, Jackson pushed his total in four-plus seasons with the Buccaneers to 4,326 and moved into third place on the club's all-time list in that category. The player he leap-frogged was Ring of Honor member Jimmie Giles, who finished his Buccaneer career with exactly 4,300 yards.
It remains to be seen whether Jackson will further add to his Tampa Bay numbers. On Tuesday, Jackson was placed on injured reserve thanks to an ACL injury he sustained in that win over the Carolina Panthers on Monday night. He is currently in the final year of the enormously successful five-year contract he signed with the Buccaneers as an unrestricted free agent in 2012. Even if Jackson does not add to his Buc totals, though, he has already used the second chapter of his career to join a very small club. In fact, only four men in NFL history have qualified for this club: Players with at least 4,000 receiving yards for two different teams.
Players with 4,000+ Receiving Yards for Two Different Teams, NFL History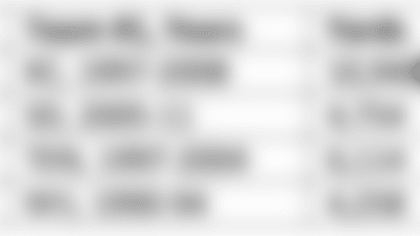 The NFL's all-time leading receiver, Jerry Rice, spent 16 of his 21 seasons in San Francisco, so it isn't surprising that he's not on this list, though he got close with 3,286 yards in four years with the Raiders. Terrell Owens and Randy Moss seemed like good candidates for the list but T.O.'s second best total was 3,587 with Dallas while Moss "only" had 3,904 yards in four years with the Patriots.
Two former Buccaneers got very close to making this list. Keyshawn Johnson had 4,108 yards in four New York Jet seasons, then another 3,828 in four years with the Bucs before he was traded to Dallas for Joey Galloway. Galloway, who put up 4,457 yards in his first five NFL seasons before joining the Cowboys, put up another 3,912 as a Buccaneer from 2004-08. The aforementioned Mark Carrier also got sort of close, following up his 5,108 yards in Tampa with another 2,547 for the Carolina Panthers.
Coincidentally, there have also only been three players to rush for 4,000 or more yards with two different teams, and the Buccaneers have a player on that list as well.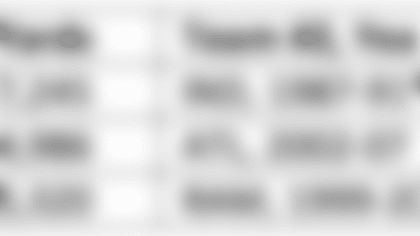 Addendum: Division Road Wins
The Buccaneers' win in Carolina, coupled with a Week One downing of the Falcons in Atlanta, gave them a pair of intra-division road victories already. That marks the first time since the 2002 realignment that Tampa Bay has secured two division road wins in the first five weeks of the season.
As we told you last week, that's a relatively rare occurrence across the NFL, happening 16 times, or about once a year. Ten of the previous 15 teams to do it went on to make the playoffs. That note was part of a larger look at the fates of teams that have won at least two division road games in a season since the '02 realignment. The 2016 Bucs are now the 196th team on the list; 128 of the other 195 teams (65.6%) went on to make the playoffs.
There were 59 teams among those 195 that actually won all three of their road division games, and 49 of them (83.1%) made the playoffs. Obviously, the Buccaneers would like to join that list, but they won't get the chance until Week 16 when they head to New Orleans. Hopefully, that game will have meaning in the NFC South race and the overall conference playoff chase. The Buccaneers have swept their road division games only twice since 2002, in 2005 and 2007. Those double as the Bucs' most recent two playoff campaigns.