STORY HIGHLIGHTS
The Bucs were very aggressive during the first week of free agency but still want to finish the process strong
FB Erik Lorig and LB Dekoda Watson are among the 2013 Buccaneers who have departed via unrestricted free agency
A large number of Buccaneer UFAs remain unsigned after one week on the open market

Like a team flawlessly executing its game-opening 20-play script, the Tampa Bay Buccaneers have advanced through the first week of free agency with little resistance.  Even after an initial flurry during the critical first hours of the open market – when the most coveted players generally find their new homes – the Buccaneers kept right on picking up players as the clock rolled on.  The result, if free agency was a game, is a comfortable lead in the second half, owned by a team that will not let itself get comfortable.
"As we see it, we feel like we have a lead in the third quarter, maybe even the fourth quarter now," said Head Coach Lovie Smith.  "But it's always about how you finish, and hopefully we can add a couple more."
In other words, the Buccaneers very well may not be done raiding the market, even if they've already been one of the league's most active shoppers.  A well-designed plan has allowed the club to address many areas of depth chart need without creating a salary-cap deficiency.  In fact, the Buccaneers had approximately $25 million of cap space at hand just before the start of free agency and reportedly still have $17 million in reserve after that remarkable first week.
So, free agency may be slowing down, but the Buccaneers aren't merely playing out the clock.  As such, it's time to debut our Buccaneers Free Agency Tracker, both to review the incredible amount of activity that has taken place so far and to keep abreast of the inevitable further developments.  Below you'll find a summary of the players the Buccaneers have added as well as the status of each of the players from Tampa Bay's 2013 roster who hit free agency this year.
2014 BUCCANEERS FREE AGENCY TRACKER
The Buccaneers inked Johnson, McDonald and Myers in the first hour of free agency, then seemingly pulled Verner out of thin air later that evening.  All four could step in immediately as starters; in fact, Smith has said that the team was not looking for backups on the free agent market, so all of the newest Bucs could be in the opening lineup.  The two March 16 signings, Cousins and Fletcher, appear to be the two that would face the most competition to start.  Fletcher may end up battling Jonathan Casillas for the strongside linebacker spot while it's not yet clear how a drastically reshuffled offensive line will eventually fall out.  The most recent signings were those of Jenkins and Murphy, a pair of former Bay area prep stars.  Jenkins is likely to be one of the top three corners, and Smith considers his nickel back essentially a 12th starter on defense.  Murphy adds nice depth to the receiver position.
The Buccaneers brought McCown in for a visit as soon as free agency started but didn't get his name on a contract until the next day, as the former Bears quarterback carefully considered where his best NFL landing spot would be.  McCown has been in the league since joining the Arizona Cardinals as a third-round pick in 2002, but this is his first real opportunity to hit free agency as a highly-coveted player.  McCown joins a team that still has its incumbent starter on the roster in 2013 rookie Mike Glennon, but Smith has stated that the veteran passer will open up the competition as the top name on the depth chart.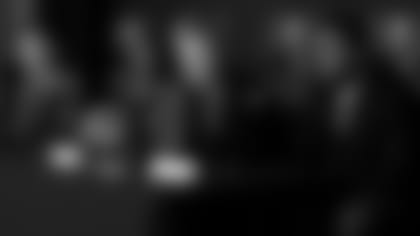 (From left) GM Jason Licht and Head Coach Lovie Smith were all smiles after bringing aboard QB Josh McCown and T Anthony Collins
The signing of Verner allowed the Buccaneers to replace one Pro Bowler with another at left cornerback, and at a substantially less costly cap hit, as Darrelle Revis was subsequently released.  The Bucs also believe Johnson is an all-star caliber player, targeting him immediately as the best edge rusher available on the market.  Collins will step right in at left tackle to replace Donald Penn and Dietrich-Smith could line up at either center or guard.  Myers has 126 catches over the past two seasons but the Buccaneers coveted him for their starting tight end spot because they believe he is also an adept blocker at the line of scrimmage.  McDonald had 5.5 sacks in a reserve role for the Super Bowl champion Seahawks last year but has a very good chance to step up to starter status and line up next to Pro Bowler Gerald McCoy on the Bucs' interior line.
The table above includes only players who were on a team at the end of the 2013 and subsequently became unrestricted free agents.  Players such as long-snapper Jeremy Cain, cornerback D.J. Moore and quarterback Mike Kafka, who were not on teams at the end of last season and could be signed by any team at any point since January, are not included.
The Buccaneers finished the 2013 with 19 players on their roster due to hit unrestricted free agency on March 11.  Until that date, they had the exclusive rights to negotiate with and re-sign those players before they hit the open market.  As is the case every year and in virtually every NFL city, the Buccaneers added to that list of free agents by releasing some players who were still under contract for the 2014 season.  Some of those moves happened before the March 11 opening date, some after.
Below, you can review the status of players in eight different categories: those who became unrestricted free agents (UFAs), restricted free agents (RFAs) or exclusive rights free agents (ERFAs) on March 11; those who were re-signed before they could become free agents of any type; those who were under contract but released prior to the start of free agency; and those who were released after the start of free agency.
1. Buccaneers' Unrestricted Free Agents:
* TE Kyle Adams essentially became an unrestricted free agent when the Buccaneers chose not to extend the qualifying offer that would have put him in the restricted free agency category.
Meredith's signing came on the opening day of free agency and was reported after 4:00 p.m.  Depending upon the time at which he inked his name, he may or may not have briefly tasted free agency, but the result is the same as he returns on a two-year deal and will battle for a starting spot on that reworked front line.  Gorrer, who has battled injuries but flashed some potential in parts of two seasons in Tampa, quietly returned to the fold a few days into free agency.
So far, the total number of defections from the 2013 roster has been relatively small.  Of the three players who started at least one game at strongside linebacker for the Bucs last year, two have now departed, with Hayward heading to Washington and Watson to Jacksonville.  (See below for the third player in that group.)  The Cardinals' web site refers to Larsen, a part-time starter over four seasons in Tampa, as a "depth signing" for their O-Line.  Perhaps the most interesting move so far is that of fullback Erik Lorig, who got four years to jump teams but stay in the NFC South in New Orleans.  That Lorig would have suitors is not surprising; that he would wind up with the Saints, who seemingly haven't had much use for a fullback in recent signings, is surprising to some degree.
2. Potential UFAs Re-signed Before Free Agency:
Casillas was the only player on the original list of 19 UFAs that the Buccaneers re-signed before the first day of free agency (see above on the timing of the Jamon Meredith signing).  Casillas will have an excellent opportunity to compete for the SAM linebacker job, particularly with Watson and Hayward moving on, but no matter what he provides on defense he will be a very valuable member of the special teams units.
3. Restricted Free Agents:
As noted above, the Buccaneers had only one player slated for this category of free agency, which is a bit unusual, and they took that number down to zero when they choose not to tender TE Kyle Adams.
4. Potential RFAs Re-signed Before Free Agency:
5. Exclusive Free Agents:
6. Potential ERFAs Re-signed Before Free Agency:
Exclusive rights free agents can negotiate only with their existing team, as they have fewer than three years of accrued free agency credit.  As such, they almost always return to the same club as long as that club is interested enough to extend a minimum salary tender before the start of free agency.  The Bucs
would
have done so with Carr, Page and Rainey; however, they found a simpler way by simply re-signing all three to what were essentially the one-year deals they would have gotten by signing those tender offers.
7. Buccaneer Players Released Before Free Agency:
Carimi, a first-round pick by Chicago just three years ago, will play for his third team in three years after moving a bit north to Atlanta.  The Buccaneers' previous management traded a sixth-round pick to the Bears last spring to get Carimi and he would go on to start two games at left guard before spending most of the season as a reserve.  Hill goes back to the team for whom he was toiling in 2013 before the Bucs plucked him off the Packers' practice squad.  Of the remaining four players on that list, Joseph, a two-time Pro Bowler and a starter since his 2006 rookie season, is the one likely to see the most interest on the open market.
8. Buccaneer Players Released After Start of Free Agency:
* As reported by NFL.com; the Raiders have yet to announce the signing or release contract details, as of March 19.
Both Penn and Revis quickly found new homes after leaving Tampa.  Penn will try to keep his 108-game starting streak alive on just his third NFL team.  He was on the Vikings' practice squad as a rookie in 2006 when the Buccaneers signed him away.  Revis returns to the AFC East one year after going from the Jets to the Buccaneers in an offseason trade.