Through an 11-day audition process that pared a group of 150 hopefuls to a final selection of 30 talented women, the Tampa Bay Buccaneers have chosen their 2014-15 Cheerleading Squad. Buccaneers Cheerleaders entertain fans at all Tampa Bay home games and make frequent appearances at community events and corporate functions. The cheerleaders may also have the opportunity to travel around the country, and beyond, as ambassadors of the Buccaneers.
Buccaneers Cheerleader Manager Tara Battiato directed the auditions, which began on April 27 and included an eight-day training camp for the 59 finalists. Battiato said the process created an outstanding squad that will be bringing a new level of entertainment to Sundays at Raymond James Stadium this season.
"I can't wait for the fans to see the amazing changes that will be happening with our game-day entertainment," said Battiato. "This season will be amazing – new coaching staff, state-of-the-art uniforms and the best cheerleaders in the NFL cheering the Bucs on to victory!"
Prospective Buccaneer Cheerleaders had the opportunity to attend preparatory classes at the University of South Florida's Sun Dome in early and mid-April. There was also a three-hour workshop on April 13 that covered "need-to-know" tips for auditions, such as recommended attire, dance technique, interview protocol and headshot assistance. The workshop even included a question-and-answer session with Battiato and former Tampa Bay Buccaneers Cheerleaders.
The classes and workshop were non-mandatory but heavily attended, and the result was a very strong initial field at tryouts. After the candidates demonstrated dance technique in groups and alone, that field of 150 was cut in half for the semifinals. The semifinalists then learned and performed a routine as a group, after which the field was narrowed to the 59 finalists who would attend training camp. The final squad was named on May 8.
"We had such an amazing group of finalists," said Battiato. "However, I am thrilled with the 30 unbelievably talented women that we have selected to represent the Buccaneers this season."
The final squad consists of 20 returning veterans and 10 rookies. Introducing the 2014-15 Tampa Bay Buccaneers Cheerleaders: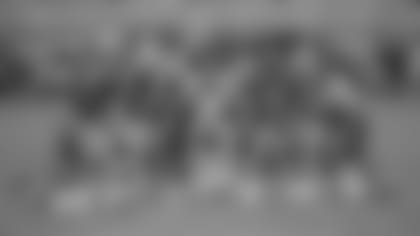 The 2014-15 Tampa Bay Buccaneers Cheerleaders took shape as a 30-woman squad after 11 days of tryouts, including an eight-day training camp
Front Row (left to right): Emily W. (Veteran), Stephanie A. (Rookie), Kaila E. (Rookie), Darla Faye N. (Veteran), Lauren C. (Veteran), Antasia P. (Veteran), Tessa P. (Rookie)
2nd Row: Norie M. (Veteran), Jeannie G. (Rookie), Cori C. (Veteran), Chelsea R. (Rookie), Tricia C. (Veteran), Ali R. (Rookie), Ingrid A. (Veteran), Samantha H. (Veteran)
3rd Row: Jacqueline W. (Veteran), Jeanne O. (Veteran), Stephanie E. (Rookie), Sydney L. (Veteran), Amber R. (Veteran), Jessica J. (Veteran), Megan H. (Veteran)
4th Row: Cassie K. (Veteran), Brittany L. (Rookie), Crystale T. (Veteran), Kymberli N. (Rookie), Micah R. (Veteran), Katrice M. (Veteran), Christina C. (Veteran), Jada C. (Rookie)