Through the first seven games of the Tampa Bay Buccaneers' season, rookie cornerback Jamel Dean played a total of three defensive snaps and did not record any statistics outside of special teams. Just before the Buccaneers' eighth contest, in Seattle on Nov. 3, cornerback Carlton Davis suffered a hip injury in warmups, which thrust Dean rather suddenly into the lineup as the third cornerback.
Dean played 58 snaps in that game, some better than others, as he and his young teammates in the Bucs' secondary were unable to contain MVP candidate Russell Wilson, who threw for five touchdowns in Seattle's 40-34 overtime win. Dean, however, did break up four passes, which was a single-game high for any Buccaneer in 2019.
A week later, Dean was the center of attention in Tampa Bay's postgame locker room, following the team's come-from-behind 30-27 win over the Arizona Cardinals. Once again, Dean had logged four passes defensed and this time those plays included a game-changing fourth-quarter interception in the Bucs' red zone and a bat down of Kyler Murray's final desperation pass as time expired.
Despite his very recent addition into the lineup, Dean needed just two games to tie safety Jordan Whitehead for the team lead in passes defensed, with eight. Game by game pass defense totals are only available from 1999 on, but even in that span Dean's feat is impressive. He is the first Buccaneer in that time period to record four or more passes defensed in two consecutive games. In fact, the last Tampa Bay defender to even have two such games in the same season was Brian Kelly in 2002. The last Buccaneer with a single game with four passes defensed was Brent Grimes against Carolina in the 2016 season finale (Jan. 1, 2017).
This is a rare feat across the NFL, as well. The last player to have consecutive games with four or more passes defensed was Jacksonville's Jalen Ramsey in 2016. Coincidentally, Ramsey was also a rookie that year. Since 1999, only eight NFL players have posted at least four passes defensed in consecutive games. Listed chronologically, they are:
1. Ray Buchanan, Atlanta, Nov. 12-19, 2000
2. Dewayne Washington, Pittsburgh, Oct. 14-21, 2001
3. Leigh Bodden, Cleveland, Dec. 11-18, 2005
4. Darrelle Revis, N.Y. Jets, Dec. 3-13, 2009
5. Dee Milliner, N.Y. Jets, Dec. 22-29, 2013
6. David Amerson, Oakland, Nov. 22-29, 2015
7. Jalen Ramsey, Jacksonville, Dec. 18-24, 2016
8. Jamel Dean, Tampa Bay, Nov. 3-10, 2019
Dean's interception of a Kyler Murray pass intended for Trent Sherfield came on a play that was snapped at the Buccaneers' 15-yard line, meaning it was a red zone possession for the Cardinals. A red zone possession is defined as any drive in which an offense takes at least one snap from the opposition's 19-yard line or closer. Earlier in the half, Murray had taken a snap from the Buccaneers' 19-yard line and thrown a pass to running back David Johnson, who caught it at the 11. However, Buccaneers linebacker Lavonte David stripped the ball out of Johnson's grasp and recovered it for the Buccaneers.
That marks the first time since at least 1989 that the Buccaneers have ended two opponent red zone possessions with takeaways in the same game. Game-by-game red zone statistics are not easily accessible prior to 1990.
Both the forced fumble and the fumble recovery were the first of the season for David, but they certainly have not been a rarity in his career. In fact, David now has 19 forced fumbles and 14 fumble recoveries in his career, both of which rank among the top six in the NFL since his arrival in 2012.
Most Forced Fumbles, NFL, 2012-19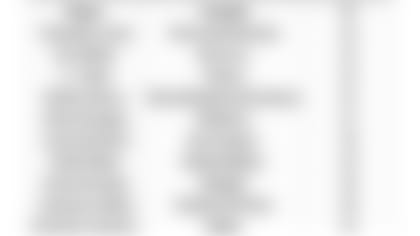 Notably, David is the only player on that list who is not a pass-rusher.
Most Opponent Fumble Recoveries, 2012-19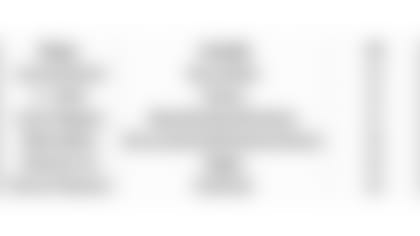 David also tied for the Bucs' lead on Sunday with eight tackles, which helped the Buccaneers control Johnson, Kenyan Drake and the Cardinals' rushing attack. Arizona ran for just 75 yards on Sunday, 38 of which were provided by Murray, the quarterback. Drake and Johnson averaged just 2.47 yards per carry and Tampa Bay continues to lead the league in fewest rushing yards allowed per game (77.8) while ranking third in yards allowed per carry (3.47). The 700 rushing yards the Bucs have given up so far stands as the fewest the team has ever allowed through the first nine games of a season.
Outside linebacker Shaquil Barrett recorded one of the Bucs' two sacks of Murray on Sunday, with the other one going to defensive lineman Ndamukong Suh. Barrett has had at least half a sack in seven of the Bucs' nine games so far, including each of the last three. His takedown against the Cardinals pushed his season total to 11.5, which is the most any Buccaneer defender has ever had through the first nine games of a season. Barrett's current sack total ranks as the 10th-most in a single season in franchise history and is five shy of the team's record.
Most Sacks, First Nine Games of a Season, Buccaneers History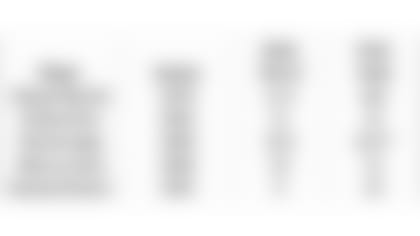 (* Buccaneers' single-season record.)
Barrett also remains at the top of the NFL's sack chart in 2019, though Arizona's Chandler Jones also had two sacks at Raymond James Stadium on Sunday to pull into a tie with his Buccaneer counterpart.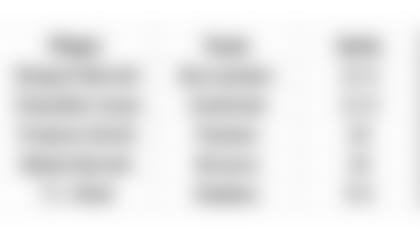 Barrett's four forced fumbles this season are also tied for the second-most in the league, behind Jones's five, and his 11 tackles for loss are tied for third.
Buccaneers Kicker Matt Gay continues to put together a strong rookie campaign. On Sunday he scored 12 points, making all three of his field goal attempts and all three of his extra point tries. That pushed his season totals to 19 of 22 on field goals and 23 of 25 on extra points. Gay's field goal percentage of .864, if maintained, would be the second highest single-season mark in team history, behind Connor Barth's .929 (26 of 28) in 2011.
Gay has made 11 field goals of 40 or more yards through his first nine NFL games, including two in Sunday's win over Arizona. Those 11 40+-yard field goals are the most by any kicker in the NFL this year.
Gay's 80 points rank fourth in the NFL among kickers through nine weeks and put him on pace for 142 points by season's end. The Buccaneers' single-season record for individual points scored is 131, by Matt Bryant in 2008. Martin Gramatica set the record for Buccaneer rookies with 106 points in 1999.
2019 NFL Scoring Leaders, Kickers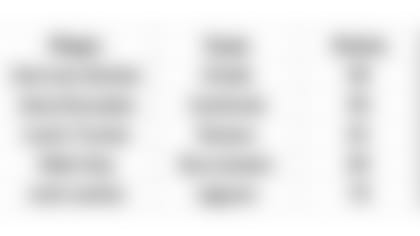 Quarterback Jameis Winston threw for 358 yards on 30-of-48 passing against the Cardinals, giving him 2,765 passing yards, the most through the first name games of a season in franchise history. That yardage total on Sunday also made Winston the first quarterback in franchise history to record four consecutive 300-yard passing games. Overall, he has 22 such games, the most in team history and 10 more than the quarterback in second place, Vinny Testaverde.
Winston has six 300-yard passing games through nine outings this year, which already ties his own single-season franchise record, set in 2017.
Winston completed four of his passes on Sunday to Mike Evans for a team-high total of 82 yards. That increased Evans' 2019 receiving yardage total to 924, which ranks second in the NFL to New Orleans' Michael Thomas. Evans has the most yards of any pass-catcher whose team has only played eight games, though Thomas still leads the NFL in yards per game. Evans and his teammate, Chris Godwin, both rank in the top five in that category.
Most Receiving Yards Per Game, NFL, 2019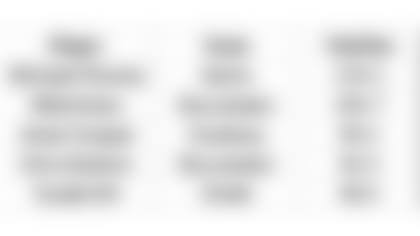 Next Sunday, Evans will only need about three-quarters of his per-game production – specifically, 76 yards – to reach the 1,000-receiving yard plateau. If he gets there, Evans will join Randy Moss as the only players in NFL history to open their careers with six consecutive 1,000-yard receiving seasons.