The head-to-head series between the Tampa Bay Buccaneers and Dallas Cowboys has been relatively even…if one starts counting the same year that the American version of Survivor premiered. Prior to that, "America's Team" spent most of two decades unceremoniously voting the Buccaneers off the island.
The Cowboys first snuffed the Buccaneers' torch in 1977, which highlights the problem. The Cowboys were in the midst of a 34-season run in which they made the playoffs 26 times, appeared in eight Super Bowls and suffered through only six losing seasons. The Buccaneers, in just their second season of existence and their first year in the NFC, were struggling to get a fire going without flint or, for that matter, very many particularly good players. The expansion process for Tampa Bay and Seattle in 1976 was not particularly favorable, nor was the "free agency" system of the period, and the Bucs needed time to build a significant base of talent.
They actually did so impressively quickly, making the playoffs in just their fourth season and going back to the postseason in 1981 and 1982, as well. The problem in those latter two cases, however, was that they then ran into the Cowboys again.
The situation was reversed around the turn of the millennium, when the Buccaneers were building towards their first Super Bowl appearance and the Cowboys were in a bit of a lull. That's when Tampa Bay reeled off three straight wins, allowing a total of 13 points in the process. The Cowboys countered with another five-game winning streak from 2006-12, after which the two teams split a pair of contests in 2015 and 2016.
The Buccaneers will head to Dallas this weekend looking to double their all-time win total in the Big D. Their lone win in the Lone Star state came in 2001, when a very good Buccaneers defense made life rough for rookie quarterback Quincy Carter in his very first start. The safety duo of Dexter Jackson and John Lynch picked Carter off twice and held the Cowboys to 127 yards of offense, though the Buccaneers didn't get their final lead until Brad Johnson scored the game's only touchdown on a one-yard keeper in the fourth quarter. Remarkably, even though Tampa Bay only has four wins against Dallas all-time, that 2001 victory is not the only one that could be described as a "10-6 victory in which the only touchdown of the game was scored by the Buccaneer quarterback on a one-yard run in the fourth quarter." The same was true of Tampa Bay's win over the Cowboys in 2015 (more on that below).
Here's the all-time series scoreboard (regular season only):
1. Tampa Bay 16, Dallas 0, Oct. 26, 2003
The Buccaneers began their 2003 Super Bowl title-defense season with a dominating win in Philadelphia, but then lost a frustrating overtime game at home to Carolina, beginning a six-week win-loss pattern. At 3-3, the Bucs were by no means out of it, but they also weren't getting the results they expected after that opening win over Philly. Week Seven offered hope, even if it didn't end up lasting long. The Cowboys came to town with a 5-1 record, a great start after three straight 5-11 campaigns. Quarterback Quincy Carter, whom the Buccaneers had treated very poorly in his first career start in 2001 (nine of 19, 34 yards, two picks) was off to a decent start. Tampa Bay's defense changed that. Early in the second quarter, Jermaine Phillips picked Carter off to set up a field goal and the game's first points. A roughing-the-kicker penalty minutes later gave the Bucs a second chance at a touchdown and Brad Johnson threw a seven-yard scoring pass to Keyshawn Johnson. Ronde Barber intercepted Carter in the third quarter and Ellis Wyms had a big sack in that same period, both leading to Buccaneer field goals. Meanwhile, Dallas mustered just nine first downs and 178 yards of offense.
2. Tampa Bay 27, Dallas 7, Dec. 3, 2000
A year after reaching the 1999 NFC Championship Game and nearly making it to the Super Bowl, the Buccaneers had an exceedingly strange 2000 campaign. That season included three winning streaks of three or more games plus one four-game losing streak. When the Cowboys came to town in Week 14 the Buccaneers had just improve to 7-5 and were hoping to get their first-ever win against the Dallas franchise. They did so in convincing fashion. Those '00 Cowboys still had Troy Aikman and Emmitt Smith, but it was Bucs running back Warrick Dunn who went nuts, taking his first carry of the game 70 yards for a touchdown. That made it 10-0 just four minutes into the game because Jason Tucker muffed the opening kickoff leading to a quick Martin Gramatica field goal. Brian Kelly's pick-six gave the Buccaneers a 17-0 lead with three minutes to go in the first quarter and the game was never in doubt after that. Dunn ended up with 210 rushing yards and two touchdowns, pretty remarkable in a game in which Tampa Bay's offense finished with 301 net yards.
3. Tampa Bay 10, Dallas 6, Nov. 15, 2015
The 2015 Cowboys won their first two games and then dropped seven straight, the last of those coming at Raymond James Stadium. Tampa Bay's defense allowed just 216 yards to an offense led by backup quarterback Matt Cassel, as Tony Romo was out with a broken collarbone. Still, Dallas took a 6-3 lead into the fourth quarter because Buccaneers rookie QB Jameis Winston was picked off twice by safety Jeff Heath. In rapid succession, kickers Connor Barth (Bucs) and Dan Bailey (Cowboys) made 52 and 53-yard field goals and then missed 46 and 48-yarders. Winston drove the Buccaneers down to the edge of the red zone with six minutes left but was picked off by Heath inside the 10. Tampa Bay's defense got the ball back and Winston once again got the Bucs into scoring range, before committing a nearly-disastrous mistake. On a third-and-goal scramble from the four Winston fumbled the ball into the end zone, but the play was erased by a defensive holding penalty on Heath. On first-and-goal from the one, Winston executed a naked bootleg run into the end zone for the game-winning points. The Cowboys had time to mount a responding drive but Bradley McDougald sealed the game with an interception.
1. Dallas 38, Tampa Bay 0, Jan. 2, 1982
The Buccaneers made the playoffs for the first time in 1979, just four years into the franchise's existence, which was an impressive accomplishment at that time. After a down season in 1980, the Bucs returned to the postseason in 1981 by winning the NFC South with a dramatic final-weekend win in Detroit. That was nice, but Dallas was in full-on dynasty mode at this juncture, making the playoffs almost every season from 1966-85 and winning at least 10 games 18 times in that span. As such, this playoff game proved to be a massive mismatch. It was relatively close in the first half; after a scoreless first quarter Danny White threw a nine-yard scoring pass to Tony Hill to start the scoring and the Cowboys led 10-0 at halftime. The home team broke it wide open in the third quarter with scoring runs by Ron Springs, Tony Dorsett and James Jones, and Timmy Newson added a fourth ground TD in the fourth quarter. Bucs quarterback Doug Williams completed just 10 of 29 passes and was both sacked and picked off four times.
2. Dallas 27, Tampa Bay 24, Oct. 9, 1983
After the Buccaneers saw their playoff dreams snuffed in blowout fashion in Dallas for the second straight year in January of 1983, they went back to Texas Stadium the following October and fared much better. It was still a Cowboys win, but they needed overtime to get it. Despite the slim margin of victory this still ranks as a Dallas highlight in the series because of some impressive late-game heroics. Cowboys quarterback Danny White threw for 377 yards and Dallas had 444 yards in total, but the Bucs kept it close by sacking White five times and picking him off three times, two by Cedric Brown. White's 80-yard touchdown pass to Ron Springs gave Dallas an early lead but the Bucs pulled in front in the third quarter on Jack Thompson's 56-yard scoring toss to Gerald Carter. It was tied at 17-all in the fourth quarter before James Wilder broke off a 23-yard scoring run with nine minutes left. Dallas later punted from the Buccaneers' 37-yard line with five-and-a-half minutes to go but the strategy worked thanks to a quick three-and-out and a 21-yard punt return across midfield by Tony Hill. Still, it seemed like the Bucs would hold on for the win when Brown got his second interception in the end zone with less than two minutes to play. Dallas got it back with another defensive three-and-out and with 57 seconds left, running back Timmy Newsome took a pass 52 yards to the house. The game went to overtime and Dallas won the toss, leading to an opening drive into Buccaneers territory. Linebacker Hugh Green broke up a third-and-four pass at the Bucs' 33 and the Cowboys brought on Rafael Septien to try a 50-yard field goal. Septien hit it short…but the Buccaneers were flagged for roughing the kicker, Dallas got a little closer and the resulting 42-yard field goal was good for the game-winner.
3. Dallas 26, Tampa Bay 20, Dec. 18, 2016
This game was flexed into the Sunday night spotlight because the Cowboys were 11-2 behind rookie phenoms Ezekiel Elliott and Dak Prescott and the Buccaneers were still alive in the playoff hunt with an 8-5 record. That was the result of a five-game winning streak the Buccaneers took into Dallas, but it would end in the Big D thanks to three fourth-quarter field goals by Dan Bailey that turned a three-point Bucs lead into a six-point Cowboys win. Elliott ran for 159 yards and a touchdown and Prescott completed 32 of 36 passes as the home team built a 17-6 halftime lead. Jameis Winston then gave the Bucs the edge in the third period with touchdown passes of 42 yards to Adam Humphries and 10 yards to Cam Brate; Brandon Carr actually tipped Winston's scrambling deep ball to Humphries but the receiver hauled in the deflection in the end zone. An interception by Jeff Heath set up the Bailey field goal that gave Dallas a 23-20 lead, but the Buccaneers couldn't turn Lavonte David's subsequent fumble recovery in Dallas territory into any points. Elliott's 42-yard breakaway led to the final Dallas field goal and the Bucs' last chance to retake the lead ended on a fourth-down interception by Orlando Scandrick with less than a minute to play.
Bucs' Top Performers Against Cowboys:
Among players currently on the roster, here are a few Buccaneers who have fared well against the Panthers.
·     DE Jason Pierre-Paul…13 games, 60 tackles, 7.0 sacks, 15 quarterback hits, 10 tackles for loss, 1 interception returned 28 yards for a touchdown, 1 forced fumble, 2 passes defensed
·     WR DeSean Jackson…15 games, 56 receptions for 1,123 yards and 4 touchdowns, 20.1 yards per reception
·     CB Brent Grimes…3 games, 16 tackles, 1 interception, 4 passes defensed
Cowboys' Top Performers Against Bucs:
·     RB Ezekiel Elliott…1 game, 23 carries for 159 yards and 1 touchdown, 3 receptions for 29 yards
·     CB Byron Jones…2 games, 13 tackles, 1 tackle for loss, 1 interception, 2 passes defensed
·     WR Amari Cooper…1 game, 12 catches for 173 yards and a touchdown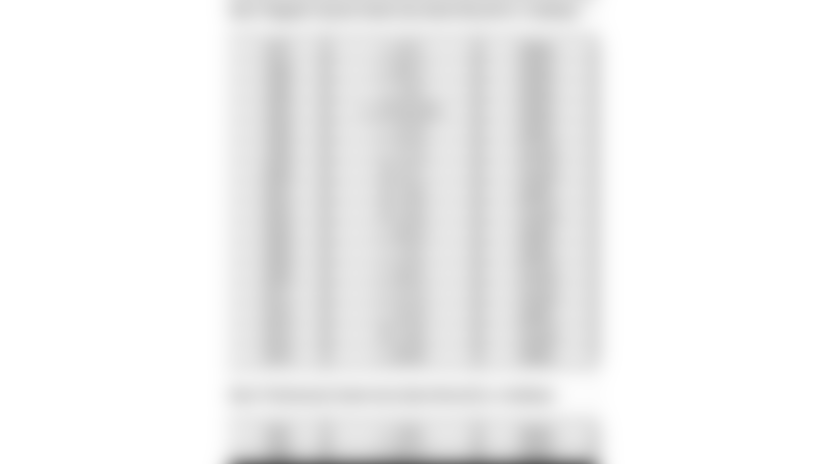 Series Notes (regular season):
·     Overall Season Series: Cowboys lead, 12-4
·     Bucs' Home Record: 3-3
·     Bucs' Road Record: 1-9
·     Current Streak: Lose 1 (2016)
·     Buccaneers' Longest Winning Streak: 3 (2000-03)
·     Cowboys' Longest Winning Streak: 6 (1977-90)
·     Regular Season Point Total: Buccaneers 228, Cowboys 300
·     Most Points in a Game, Buccaneers: Buccaneers 27-7 (2000)
·     Most Points in a Game, Cowboys: Cowboys 38-10 (2006)
·     Most Points, both teams: 55, Cowboys 34-21 (2009)
·     Fewest Points in a Game, Buccaneers: Cowboys 23-7 (1977)
·     Fewest Points in a Game, Cowboys: Buccaneers 16-0 (2003)
·     Fewest Points in a Game, both teams: 16, Buccaneers 10-6 (2001), Buccaneers 16-0 (2003), Buccaneers 10-6 (2015)