STORY HIGHLIGHTS
Rookie G Kadeem Edwards took first-team reps at left guard on Tuesday after impressing in OTA practices
With several top corners resting minor injuries, Danny Gorrer took advantage with a string of big plays
The next 10 in the list of Top 100 players will drop Wednesday night, and it will include a Buccaneer

Carl Nicks made himself available to the media after the Tampa Bay Buccaneers' first mini-camp practice on Tuesday afternoon, which was likely a good sign in and of itself.  If he had no good news to report, Nicks probably wouldn't have been too eager to talk, and given that he wasn't one of the 85 or so players who actually practiced Tuesday, he could have been forgiven for ceding the camera time to others.
"My status is on schedule," said Nicks, who has recently had his hands full with a two-week-old daughter named Jordan.  "I'm looking forward to being ready for training camp.  Honestly I think I'll be ready to play but it's just the waiting game and trying to get back out there."
Head Coach Lovie Smith later echoed Nicks' confidence about being ready for training camp.  In fact, Smith said there were no players on the roster that he currently expects to be sidelined for the start of that important three-week period.
Nicks did not strap on a helmet on Tuesday, however, and so the Buccaneers continued to look for potential options to start at both guard positions.  Left and right tackle are set with Anthony Collins and Demar Dotson, respectively, and Evan Dietrich-Smith will handle the center duties, but the team is still figuring out how to complete that five-man front.  When the first-team offense took the field on Tuesday, those jobs fell to rookie Kadeem Edwards and second-year man Patrick Omameh.
Omameh, who was plucked off the San Francisco 49ers' practice squad last October, has actually seen a good number of first-team reps this offseason but this was something of a new assignment for Edwards.  That indicates that Edwards, a fifth-round pick out of Tennessee State last month, made good progress on the practice field during the OTAs that led up to this week's camp.
"What Kadeem showed us is just things we're looking for: good body, smart guy, has shown good agility in the drills working with [Offensive Line] Coach [George] Warhop, but the next step is for him to get in more of the live action with rest of the group. So that's what [we did] – we're looking at a lot of different combinations. We want to see him working with some of the other guys right now. We've been very pleased with our rookie linemen."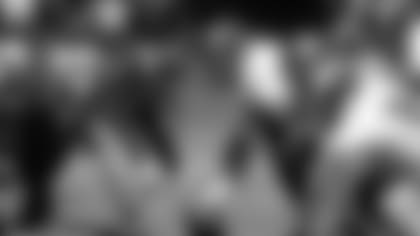 The Bucs continue to try out different offensive line combinations, looking for the best options to start on both sides of C Evan Dietrich-Smith
Edwards lined up at left guard, which is Nicks' position when he's healthy.  Omameh, who was on the other side of the center, is one of the lesser-known players that Smith and his crew inherited – the Michigan product was an inactive or a DNP in all 12 games after coming to Tampa last fall – but he has obviously made a good impression on the new staff.
"For him to be working with the group tells you what we think of him and what he's done right now," said Smith.  "I think he'll be in the mix. I'm anxious to see, but for a lineman, if we talk about some of the wide receivers, some of the DBs [defensive backs], you can probably go a little bit more on what you've seen so far, but for a lineman it's really about some technique without anyone on the other side and you can only get so much from that. We like where he is, he's done everything, I'm excited about the prospects of him being a good lineman for us, but we need to get to training camp."
Even with Nicks sidelined, the Bucs were able to field a mostly healthy offensive line to start mini-camp.  The current roster only has a few injury concerns of note, but there was another handful of players who sat out with minor aches and nicks.  The cornerback position, in particular, was thinned out with the likes of Alterraun Verner, Johnthan Banks, Mike Jenkins and D.J. Moore missing all or most of Tuesday's workout.
That simply meant more playing time for the likes of Danny Gorrer, Rashaan Melvin and Deveron Carr, all young players who have caught Smith's eye this offseason.  Those three are battling to fill out the cornerback depth chart behind Verner, Banks and Jenkins, and days like Tuesday are good for their development and exposure on coaches' tape.
Gorrer, in particular, took advantage with a series of big plays, including a pass over the middle during a seven-on-seven drill that he tipped into the air, intercepted and returned half the field to the opposite end zone.
"For Danny, [he has] the things you're looking for at the cornerback position," said Smith. "Danny has excellent speed, quickness, great acceleration, plant and drive, change of direction, all of those things, and has decent hands. He can play a few different positions. Today he played the nickel position inside on the slot, of course he can go outside and play the corner, and he made plays. If you're watching special teams practice today, [he made a] great play as a gunner, so I'm very pleased."
Smith was so pleased, in fact, that he let Gorrer "break down" the traditional huddle at the end of practice.  Gorrer may have had the most eye-catching practice of all the reserve cornerbacks, but he wasn't the only one who took advantage of the increased reps.  Smith has also been impressed with two players who joined the team as undrafted free agents a year ago, Rashaan Melvin and Deveron Carr.
"Same things we talked about with Danny, but Rashaan has more size [and] big corners are hard to come by," said Smith.  "He has good movement, he has long arms, can catch the ball. I can't wait to get to camp and put him in more live situations. The preseason is important for a lot of these guys, young players that haven't played a lot, we're anxious to play them and see exactly what they can do. You can say the same thing for Deveron Carr, also a good player, same type of body, done some good things, has had days where we've really taken notice with him. It should be a good competition at that cornerback position."
NFL Network is currently in the process of counting down its annual Top 100 Players, a list that is compiled from the votes of players around the league and then revealed 10 at a time during the offseason.  The players ranked 51-100 have already been announced, and on Wednesday night the men who grabbed spots 41-50 will be unveiled.
That group of 10 will include the first Tampa Bay Buccaneer on the list (but surely not the last).  Though the identity of that Buccaneer has not been revealed the Network did provide these three facts about the next 10 players:
Four of the 10 players are 30 years or older;
Three of the players did not score a single touchdown last year;
Four of the 10 them recorded at least four sacks last year. The NFL Network will reveal the identities of those next players on the Top 100 list on Wednesday night, beginning at 9 p.m. ET.  That will be followed by *The Top 100 Players of 2014 Reactions *show at 10 p.m. ET.