On Sunday, when the Tampa Bay Buccaneers host the Los Angeles Rams for the regular season home opener, the team will kick off the afternoon with the all-new "Bucs Squad Experience" outside Raymond James Stadium. In addition, the Buccaneers will be led out of the tunnel by a pediatric cancer survivor, will continue the tradition of honoring local heroes with the Hero of the Game and the Salute to Service Suite, and during halftime will recognize members of Team USA with ties to Florida and the Bay Area.
BUCS SQUAD EXPERIENCE & BUCS SQUAD TWO-MINUTE DRILL AT RAYMOND JAMES STADIUM
The Tampa Bay Buccaneers Bucs Squad is an exciting new program designed to get the next generation of Bucs fans behind the bench and inside the huddle with their favorite NFL team. By becoming a Bucs Squad member, fans 14-and-under get access to amazing gameday experiences. For more information and to sign up for the Bucs Squad, visit the Bucs Squad Two-Minute Drill locations in sections 112 and 137.
MORE INFO: Bucs SquadThe Bucs Squad Experience,a 21,000-square foot, interactive area, will be open 12:30 – 3:30 p.m. in Lot 6D (Tampa Bay Blvd. between Gates C & D) for all children and families attending the game. The Bucs Squad Experience will include inflatable football activities, interactive PLAY 60 football clinics, as well as visits from Captain Fear (1:30 – 2:30 p.m.) and the Tampa Bay Buccaneers Cheerleaders (2:30 – 3:00 p.m.) for children to enjoy free of charge.**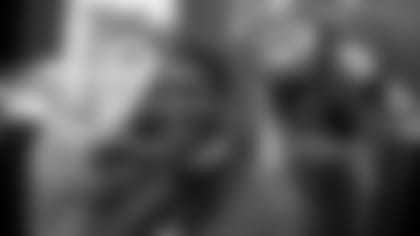 For team introductions, eight-year-old Joshua Fisher, a pediatric cancer survivor and proud supporter of the National Pediatric Cancer Foundation, will lead the Buccaneers out of the tunnel. For the past four years, Fisher has participated in the Buccaneers' annual "Cut for a Cure" event to benefit the National Pediatric Cancer Foundation, for which the team has raised over $110,000. Fisher has personally shaved the heads of numerous Buccaneers over the years, and in 2015 and 2016 he has shaved the head of quarterback Jameis Winston.**
Before kickoff, the Buccaneers will continue a tradition with the team's military Hero of the Game. At every Buccaneers home game, a selected military member will be stationed on the Pirate Ship in Buccaneer Cove for the ringing of the ship bell and to ready the team for action. On Sunday, the Buccaneers will honor Machinery Motorist Third Class Melvin Smith, a veteran of World War II. A personal witness to the bombing on Pearl Harbor while working as a civilian welder on a government contract in Hawaii, Smith enlisted in the United States Navy. During his time in the military, Smith served in New Guinea, China, Korea and the Philippines. While stationed in the Philippines, he worked on the LST nine one nine, which supported amphibious Navy operations by carrying heavy equipment and artillery throughout the South Pacific and Southeast Asia. At 98 years old, Smith still volunteers his time and efforts at the Bay Pine Veterans Hospital here in the Bay Area.
HALFTIME ENTERTAINMENT: TEAM USA HONORED
At halftime of Sunday's contest, the Buccaneers will recognize members of Team USA from the 2016 Olympic and Paralympic Games in Rio de Janeiro, Brazil, all of whom have ties to Florida, including:
Melanie Margalis (Swimming – Clearwater)
Tony McQuay (Track and Field – Miami)
Perry Baker (Rugby – New Smyrna Beach)
Marvin Bracy (Track and Field – Orlando, Florida State University)
Kerr-on Clement (Track and Field – University of Florida)
Regas Woods (Track and Field – Dunnellon)
Brad Kendell(Sailing – Clearwater)
April Holmes (Track and Field – Kissimmee)
At every Buccaneers home game, the team honors a distinguished group of military members with an exclusive gameday experience in the Salute to Service Suite. During a break in play, fans are encouraged to direct their attention to the pirate ship and join players and coaches in thanking local servicemen and servicewomen for their sacrifices, including:
From the Air Force, Staff Sergeant Joshua Ortega, Technical Sergeant Terrance Raybon, and Technical Sergeant James Hargrave;
From the Army, Second Lieutenant Jereme Johnston;
From the Coast Guard, Machinery Technician Chief Petty Officer Nolet Antoine;
From the Marines, Gunnery Sergeant Franky Rodriguez and Lieutenant Corporal Lenadjah J. White;
From the Navy, Hospital Corpsman Second Class Maurice O'Neil Williams
BUCCANEERS ACADEMY 50/50 RAFFLE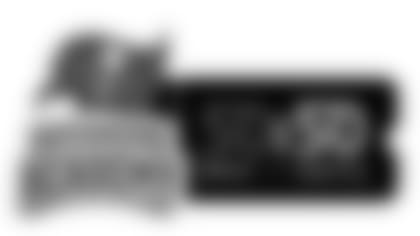 At each Buccaneers home game, fans have the opportunity to participate in the Buccaneers Academy 50/50 Raffle, while supporting a worthwhile cause. Each raffle ticket purchased will go towards a huge cash prize, in which fifty percent of the net proceeds help support the team's 24 Buccaneers Academies around the Tampa Bay area and other Bucs Care Foundation initiatives. The other fifty percent will go to one lucky winner. Tickets are available at kiosks located in section 106, 115, 131, 140 and each club level as well as mobile sellers throughout the stadium. For a complete list of rules and regulations, locate a kiosk or mobile seller on game day. **
BUCCANEERS ACADEMY GAMEDAY FOR KIDS GUESTS**
For each Buccaneers home game, the Bucs Care Foundation hosts 100 "Gameday for Kids" from the Buccaneers Academy program to promote academic achievement and positive behavior in children. Selected groups receive game tickets, t-shirts, food vouchers and Buccaneers flags by achieving goals set by their teachers. More than 16,000 youths and community members representing over 100 organizations from Tampa Bay have been rewarded through the annual program. This week's program attendees will represent Edison Elementary, Davis Elementary, and* Potter Elementary.
Bucs for a Better Bay* is the team's far reaching commitment to making Tampa Bay better today and for generations to come. The team is dedicated to making a difference in the Tampa Bay area through programming that will inspire, equip and celebrate the "Champion" in each of us. Tampa Bay Buccaneers players, coaches, cheerleaders, alumni, and staff have an active role in community improvement through a variety of youth health and education initiatives, family outreach, and military support. Innovative partnerships between the Bucs Care Foundation and local nonprofit organizations provide assistance to thousands of Central Florida residents each year. Glazer Family Foundation initiatives including the Glazer Children's Museum and the Glazer Family Foundation Vision Mobile continue to enhance the learning opportunities for Bay Area youths. To learn more, visit www.buccaneers.com/community.