The Tampa Bay Buccaneers drafted six players this past weekend but could easily end up with more than a half-dozen rookies on their regular-season roster.
On Monday, the Buccaneers announced that they had agreed to terms with 14 rookies who were not selected in the draft, any one of whom could follow in the footsteps of such big-time contributors as Cameron Brate and Adam Humphries, the team's second and third-leading receivers in 2016, respectively. There is plenty of evidence that undrafted players get a real opportunity to make the team in Tampa; last year, six such players were on the roster by season's end, including running back Peyton Barber and tight end Alan Cross.
The Bucs' newest crop of undrafted free agents (UDFAs) includes Colorado quarterback Sefo Liufau, Florida State wide receiver Bobo Wilson and Michigan State linebacker Riley Bullough. Tampa Bay also brought in a prospect from Canada, Laval tight end Antony Auclair. The full list of this year's UDFAs is below. These additions also required the Buccaneers to create two openings on the 90-man offseason roster, which they did by waiving center Ben Gottschalk and tight end Kivon Cartwright.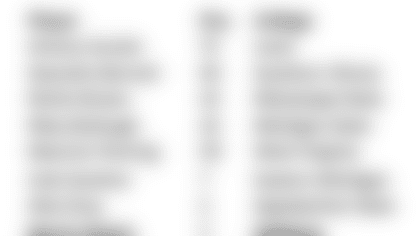 These 14 players will join O.J. Howard and the rest of the Buccaneers' 2017 draft class at a rookie mini-camp this coming weekend. Returning players who have not yet logged an accrued season, such as safety Isaiah Johnson, will also take part in the camp, and the rest of the weekend roster will be fleshed out to about 50 players by additional undrafted rookies (and a couple veteran free agents) participating on a tryout basis. Most years, the tryouts generate a few more signings to the camp roster in the coming weeks; that was the path that Humphries took to the active roster, for example.
Liufau happens to be the cousin of former Buccaneers quarterback Jack Thompson, who started 13 games for the team in 1983-84 after being acquired in a trade for Tampa Bay's first-round pick in 1984. Liufau started 39 games over four seasons for the Buffaloes – the most ever by a Colorado passer – and set myriad school records, including most career passing yards (9,568). He becomes the fourth quarterback on the Bucs' offseason roster, joining starter Jameis Winston and reserves Ryan Griffin and Sean Renfree.
Wilson is reunited with Winston; the two were FSU teammates in 2013 and 2014. In the latter of those two seasons, Wilson played slot receiver for the Seminoles and recorded 42 catches for 527 yards and four touchdowns. He moved out to the "Z" receiver spot for his last two seasons in Tallahassee and put up a total of 88 catches, though both of those campaigns were cut short by foot injuries.
Bullough is the younger brother of current Houston Texans linebacker Max Bullough, another former Michigan State standout. The younger Bullough will try to duplicate the success of his sibling, who has stuck with the Texans for three years despite going undrafted in 2014 and has even started four games over the past two seasons. The Bucs' Bullough is actually a third-generation Spartan; he was a team captain last year, starting nine games and accumulating 76 tackles.
Auclair could become the first player from Université Laval to play in the NFL, though there were 21 former Rouge et Or (Red and Gold) players in the Canadian Football League last season. Auclair, who stands 6-5 and 254 pounds and was expected to go very high in the CFL draft before he signed with the Buccaneers, did participate in the East-West Shrine Game in St. Petersburg this past January.
Veteran running back Doug Martin will be able to get plenty of updates on his former college team because Tampa Bay now has three Boise State rookies on the roster. After selecting Broncos running back Jeremy McNichols in the fifth round of the draft, the Bucs also lured two of his teammates – Sperbeck and Moxie – to Tampa. Sperbeck was Boise State's leading receiver last fall, catching 80 passes for 1,272 yards and nine touchdowns. He also threw three passes on the season, all of them going for touchdowns. Moxey recorded 50 tackles and broke up 13 passes, and also averaged 21.5 yards on 12 kickoff returns.
The Bucs were most successful at landing undrafted linebackers and cornerbacks, signing three of each. That may be the result of perceived opportunity; even after drafting LSU's Kendell Beckwith in the third round on Friday night, the Buccaneers still had relatively little established depth at the linebacker position. Bullough, Arizona's Magloire and Mississippi State's Brown will compete with the likes of Adarius Glanton, Cameron Lynch and Jeff Knox to fill out the LB depth chart. The Bucs did not draft a cornerback over the weekend and had just six of them on the roster after the release of veteran Alterraun Verner. Brent Grimes and Vernon Hargreaves are established starters but Moxey, West Virginia's Fleming and Iowa's Mabin will compete for reserve spots at corner.