STORY HIGHLIGHTS
The Bucs annual Night Practice on Friday was the first opportunity for many players to experience their home stadium
A crowd of 15,000 fans enjoyed autograph sessions, player competitions, fireworks and more
Tampa Bay's offense had a good night, particularly with a pair of practice-capping two-minute drills

The last time Mike Kafka stepped on the field at Raymond James Stadium, he spent most of the afternoon playing in a torrential downpour. It rained touchdowns that day, too, as Kafka's Northwestern University Wildcats took the Auburn University Tigers overtime in the 2010 Outback Bowl before falling, 38-35. Kafka threw four touchdown passes and ran for another score that day as the two teams combined for 1,050 yards of offense.
Kafka has been in the NFL since 2011 but Friday night marked the first time since that rainy New Year's Day that he had returned to Raymond James Stadium. It was also the first time he had thrown passes in that venue as a member of the Tampa Bay Buccaneers.
That's what the Buccaneers' annual Night Practice is for a good portion of the team's training camp roster: an introduction to their new home, and their new home crowd. For some, it's the first time they've experienced a game-like atmosphere as an NFL player. And even for some of the team's returning players the Night Practice is a significant milestone.
Kafka, the new Buccaneer: "[The Outback Bowl] was the last time I was able to play with some of my best friends. Obviously the outcome wasn't what we wanted but it was a great experience, the whole bowl experience, and it really got Northwestern on the map. Now, this, it's really special, a lot of fun. I'm surrounded by a great group of guys, a great group of coaches. I'm just really looking forward to what's ahead. It was great to be out here in front of the fans and play the game I love."
Charles Sims, the rookie running back getting his first real taste of the NFL: "It felt great to be out there for the first time and competing. It was a good practice. This was my first time in the stadium, so it felt really good."
Louis Murphy, the NFL veteran and Bay area native getting a chance to play for the home team: "It's going to sound cliché, but it was surreal to be back home in front of the home crowd, the stadium and the team I grew up with and was a fan of my entire life."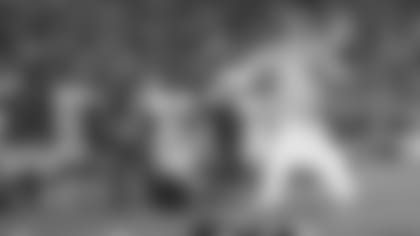 QB Mike Glennon took part in a crowd-pleasing QB Challenge and then later pleased his coaches with good work in a two-minute drill
And Mike James, the second-year running back, who hadn't tested out the Raymond James Stadium turf since he suffered a season-ending injury on it last November: "I haven't been out here since I broke my ankle, so it was good to get back out here and run the ball and get in the end zone a little bit. I had a good time. I enjoyed it."
Of course, there are 90 players on the Buccaneers' camp roster and there were 15,000 people at the stadium on Friday, so Night Practice obviously has another level of significance for the team and it's endlessly passionate fan base. The event began with a full-team autograph session shortly after 5:00 p.m. and then rolled into the start of practice at 7:00. As always, Night Practice featured free parking and free admission; autograph opportunities before, during and after the workout; discounted concessions; commentary from the field; and an impressive fireworks display at the end of the night.
Head Coach Lovie Smith, who has set as one of his team's primary goals the re-establishment of a dominant home field advantage, expected an energetic reception on Friday night and he wasn't disappointed.
"The fans have been great throughout," said Smith. "We assumed that we'd have a crowd that was excited about seeing our football team, and that's exactly what we had. That's how they've been all along. It's a crowd and it's a fan base that deserves to see a good football team on the field and we plan on giving them that."
Smith also wanted his team to put on a good show on Friday night, even if there was no real scoreboard and no visiting team. Part of that effort was the addition of a handful of player competitions to the practice schedule, from a field goal trick shot contest to a quarterback challenge involving moving targets on golf carts. More importantly, as it relates to the team's efforts to put a winning team on the field this fall, Smith wanted the real portions of practice to be crisp and effective. For the most part, they were. The night ended with some offensive highlights, as quarterbacks Josh McCown and Mike Glennon led a pair of very sharp two-minute drills.
"It's about scoring points and I love what the offense was able to do," said Smith, obviously understanding that success for the offense means the defense took a hit. "Somebody can't look good in that situation, but most games come down to that two-minute drive at the end of the game and Josh and Mike both did a great job with it."
Though a dominant night for the defense would have had its own rewards for the team, it's safe to say that the stadium crowd was there to see touchdowns. The biggest cheer of the night – as well as a game day-evoking series of cannon blasts – came after James began a sweep to his right, then pulled up and threw a 25-yard touchdown pass to wide receiver Vincent Jackson.
"Vincent was in the right spot; the credit goes to him," said James afterward. "I just put the ball where it needed to be and it was a touchdown, so I was happy about it."
The Bucs will enjoy their second off day of training camp on Saturday, with some members of the organization traveling to Canton, Ohio for Derrick Brooks' Hall of Fame enshrinement. They'll be back on the field on Sunday afternoon, and they'll need to be incrementally better than they were on Friday night. But the annual Night Practice was an important milestone for Lovie Smith's first Buccaneer team, and it couldn't have gone much better.
"You want to get to the stadium as much as anything," said Smith. "It's different from practicing at our facility. You want your guys to see your home field. I thought the guys made plays tonight and at least we got another step out of the way."