This Sunday, Nov. 13, fans will join together in an annual tradition at Raymond James Stadium to honor those who have sacrificed and served our nation: the Buccaneers' Salute to Service Game. Prior to the team's 1:00 p.m. kickoff versus the Chicago Bears, Glazer Family Foundation Co-President Darcie Glazer Kassewitz will present USO Central Florida with a $25,000 donation to support its programs and services. USO Central Florida serves as the team's primary charitable conduit to the local military community, working closely with the Buccaneers on a wide variety of military appreciation initiatives.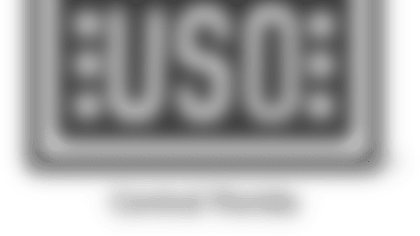 Since 2013, the Bucs Care Foundation has donated a total of $100,000 to USO Central Florida, one of more than 160 USO centers worldwide that deliver high-quality programs and services to men and women in uniform. The Buccaneers sponsor the USO Central Florida Welcome Center at Tampa International Airport through "Welcome Home" greetings, team merchandise and artwork, and engaging outreach efforts to help provide a home away from home for thousands of military members and their families who travel through the Tampa area. In addition, the Buccaneers collaborate with USO Central Florida on the team's military "Hero of the Game" and "Salute to Service Suite" honorees, Military Appreciation Day at training camp, the General H Norman Schwarzkopf Military Family of the Year Awards, and the distribution of complimentary tickets to Tampa Bay military members and their families.
On Sunday morning, the Buccaneers and USO Central Florida will once again host the USO Central Florida Military Appreciation Tailgate. The free pre-game tailgate experience in Parking Lot 5, between Gates C and D outside Raymond James Stadium, will host more than 500 pre-registered military members and their families as they gear up for kickoff. Note: All pre-registered guests who have received USO Central Florida Tailgate tickets must still present the tailgate ticket as well as their military ID (U.S. Department of Defense Card, U.S. Department of Veterans Affairs Card, or DD-214) to attend.
SPECIAL HERO OF THE GAME: MASTER SERGEANT O'NEIL DUCHARME
Prior to kickoff, the Buccaneers will continue a gameday tradition by honoring the team's military "Hero of the Game." At every Buccaneers home game, a military service member is stationed on the Pirate Ship in Buccaneer Cove to ready the team for kickoff. On Sunday, the Buccaneers will honor U.S. Marines Master Sergeant O'Neil Ducharme. Master Sergeant Ducharme served in the 6th Marine Division during World War II, and was a member of Tokyo Bay Occupation Force (Task Force 31) – part of the initial landing and occupation of the Tokyo Bay Area. This event included the capture of Imperial Japan's last floating battleship, HIJMS Nagato, symbolizing the unconditional surrender of the Japanese Navy. Master Sergeant Ducharme was also Active Reserve in the Korean and Vietnam Wars, and in total, he served the U.S. for nearly 40 years. For his bravery and commitment to service, he was awarded the American Defense Service Medal, the Good Conduct Medal, and the Asiatic-Pacific Campaign Medal.
ADDITIONAL SALUTE TO SERVICE ACTIVITIES: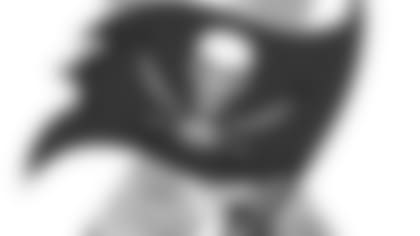 Throughout the day, the Buccaneers will host a variety of military appreciation events, including:**
Pre-game Ceremonies, presented by USAA: Player Introductions, Color Guard, National Anthem and Flyover: When the Buccaneers are introduced,Staff Sergeant Chelsea Olms, an aerial gunner from the 5th Special Operations Squadron in the U.S. Air Force Reserve, will lead the team out of the tunnel. Sergeant Olms, recently returned from deployment in Southwest Asia, logged over 98 combat flying hours and destroyed multiple defensive fighting positions and armored vehicles used by our enemies, saving the lives of countless U.S. military personnel and coalition partners on the ground… The Buccaneers will be welcomed to the field by a flag team comprised of 50 representatives from USAA…US Special Operations Command Joint Service Color Guard will present the colors, and thenational anthemwill be performed by the82nd Airborne Division's "All-American" Chorus… A pre-game flyover will be carried out bytwo T-38 jets from the 325th Fighter Wing of Tyndall Air Force Base, FL.
Honorary Guest of the Game (Coin Toss):*Lieutenant General Maryanne Miller – Chief, United States Air Force Reserve –will serve as the Buccaneers' honorary Guest of the Game. Lt. Gen. Miller will join the Buccaneers team captains at midfield for the coin toss. USAA has supplied a special Military Appreciation Coin that will be used for the toss. *
Salute to Service Moment, presented by USAA:During a break in play, the public address announcer will ask all military members in attendance to stand and be honored for the game's Salute to Service Moment, presented by USAA, the Official Military Appreciation Sponsor of the Buccaneers.
Buccaneers Salute to Service Suite:** At every Buccaneers home game, the team honors a distinguished group of military members in the Salute to Service Suite. Fans are encouraged to join players and coaches during a break in play in the second quarter to thank local servicemen and servicewomen for their sacrifices, as they are recognized aboard the Pirate Ship in Raymond James Stadium. On Sunday, the Buccaneers will recognize this year'sGeneral H Norman Schwarzkopf Military Family of the Year Award recipients:
Lieutenant Aaron Cook (Navy) and family
Technical Sergeant James Poole (Air Force) and family
Staff Sergeant Ralph Pabon (Army) and family
Lieutenant Junior Grade Christopher Fisher (Coast Guard) and family
Gunnery Sergeant David Lopez (Marines) and family
Chief Petty Officer Josiah Davis (Navy) and family
Master Sergeant Russell Boyce (Army Reserve) and family

Front Row Fans: Over 200 military and their families will enjoy the game from exclusive end zone seats at Raymond James Stadium, compliments of Buccaneers players and coaches, as part of the Front Row Fans program.**
Halftime:During the game's halftime intermission, the Buccaneers will host aMilitary Enlistment Ceremony for 180 inductees of all service branches,conducted by General Joseph Votel – Commander, U.S. Central Command**. The team will also recognize honorary flag runner Staff Sergeant Olms and six airmen from the U.S. Air Force Reserve during halftime.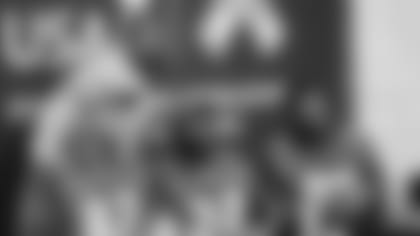 McDonald (far right), along with teammates including Will Gholston (left) and Keith Tandy, visited with military at MacDill Air Force Base in Tampa on Tuesday.
---

2016 USAA Salute to Service Award Nominee – Clinton McDonald:
Buccaneers defensive tackle Clinton McDonaldis the team's nominee for the 2016 Salute to Service Award, presented by USAA. With a deep family history of military service, including his grandfather who served in the Korean War; his father, a former Air Force engineer and Vietnam War veteran; his uncle, also a Vietnam veteran; and his brother, currently active duty Air Force, it is no surprise that a passion for supporting military families is at the heart of McDonald's community outreach. (McDonald (far right), along with teammates including Will Gholston (left) and Keith Tandy, visited with military at MacDill Air Force Base in Tampa on Tuesday.)
In May, 2016, McDonald served as the honorary guest speaker at the Buccaneers' second annual General H Norman Schwarzkopf Military Family of the Year Awards at One Buccaneer Place. The event honored the families of active duty military members from each branch of service and recognized their integrity, courage, commitment, and service before self.
This past offseason, McDonald also honored wounded warriors at the 2016 Invictus Games, hosted in Orlando. The games were created in 2014 as an international sporting event for wounded, injured and sick servicemen and servicewomen, both active duty and veterans.  Prior to the start of the 2016 Games, McDonald visited with members of Team USA, thanking them for their sacrifices and sharing how their stories of resilience and dedication are inspiring to him. McDonald's outreach has also included participating in events at James A. Haley Veterans' Hospital and visiting troops at MacDill Air Force Base, amongst other outreach efforts.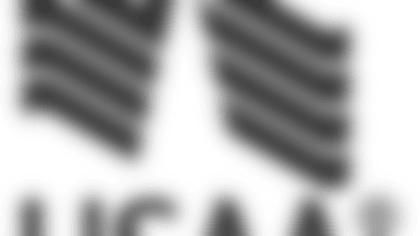 Finalists for the Salute to Service Award presented by USAA will be announced in January, and the recipient will be recognized at the NFL Honors awards show in Houston on FOX on Saturday, Feb. 4, the night before Super Bowl LI. Last year, Buccaneers wide receiver Vincent Jackson was voted the winner of the prestigious award. USAA, a leading provider of insurance and other services to U.S. military members, veterans and their families, contributed $25,000 in his honor to the official aid societies representing all five military branches.
The Salute to Service Award is part of the NFL and USAA's year-round commitment to recognize and honor the military community. The league's military appreciation efforts culminate in November with NFL Salute to Service games and other special events to celebrate and honor members of the military. For every point scored during the NFL's 32 designated Salute to Service games, the league donates $1,000 to each of its core military non-profit partners – the Pat Tillman Foundation, USO and Wounded Warrior Project®.
USAA is the Official Military Appreciation Sponsor of the NFL.
As Tampa Bay will do on Sunday, and as organizations will do throughout November, teams will designate one home game to honor the military. NFL Salute to Service games throughout the month will feature:
Players wearing helmet decals honoring military branches including Army, Marines, Navy, Air Force, Coast Guard and National Guard, as well as the NFL Salute to Service ribbon;
Salute to Service ribbon footballs;
Salute to Service Nike, Adidas and Under Armour gloves;
Camouflage goal post wraps and pylons with camouflage ribbon decals;
Wall banners and the words NFL Salute to Service written in the back of the end zone;
Camouflage equipment for players including quarterback towels, captain's patches, camouflage Gatorade towels, New Era caps and knits; and Nike apparel products;
New Era camouflage hats for coaches and sideline personnel;
Camouflage metal lapel pins for coaches and team executives; and
Salute to Service coins for the coin toss.
Game-worn Salute to Service merchandise and footballs will be auctioned at NFL.com/Auction. Special camouflage merchandise will be available at NFLShop.com and in select stadium retail stores, with 100 percent of the NFL's proceeds donated to the league's military non-profit partners. The NFL does not profit from the sale or auction of Salute to Service merchandise. For more information, visit nfl.com/salute.