STORY HIGHLIGHTS
A dozen camp practices will be open to the public, including several in the evening hours at One Buccaneer Place
The Bucs will once again hold the popular Night Practice at Raymond James Stadium, this time on a Friday evening
All open practices are free, as is parking, both at One Buc Place and the stadium

This week, the Tampa Bay Buccaneers are wrapping up their 2014 offseason training program, which means players and coaches will soon be enjoying one last break from football before training camp begins.  Buccaneer fans on the other hand, are eager to know when football starts.
Well, here's the answer: July 25
That's the first day of training camp for the Buccaneers, and the first practice of the entire year that is open to the public.  For the sixth consecutive year, the team will conduct its training camp at the team's headquarters, One Buccaneer Place, where fans are invited to watch a dozen practices in their entirety over a three-week span.  Even better news: A selection of this summer's practices will take place in the evening, allowing more opportunities for spectators to attend.
That also includes the annual Night Practice at Raymond James Stadium, which this year will take place on Friday, August 1.  More details about the Night Practice will be released at a later date but, as always, it will feature free parking and admission at the stadium.
"The excitement surrounding our upcoming season has been building for months around the Tampa Bay area and we are thrilled to announce an even greater number of opportunities for our fans to come out to One Buccaneer Place to see our team prepare for what promises to be a great season," said Buccaneers Chief Operating Officer Brian Ford. "This year, more than half of the 12 open practices will be conducted in the late afternoon and early evening hours, allowing for cooler temperatures and a more convenient post-work viewing window for our fans."
Below is the Buccaneers' full schedule of training camp practices that are open to the public.  All except the Night Practice will be conducted at One Buccaneer Place.
| | |
| --- | --- |
| | |
| | |
| | |
| | |
| Monday, July 28 | 1:00 - 3:30 p.m. |
| | |
| | 5:00 – 10:00 p.m. (Night Practice at Raymond James Stadium) |
| | |
| | |
| | |
| | |
| | |
| | |
| | |
*PLEASE NOTE: Practice schedule and times are subject to change. Please check here on Buccaneers.com for up-to-date training camp information.
As in past seasons, parking for training camp sessions will be free of charge and fans will not need a ticket for admittance. Additional offerings will include regular autograph opportunities with Buccaneers players, discounted concessions, merchandise tents offering the newest Bucs jerseys and gear, and appearances by the Tampa Bay Buccaneers Cheerleaders and Captain Fear.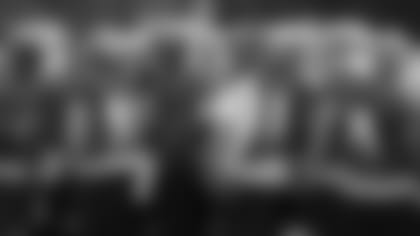 Fans will get to see 12 camp practices from the opening huddle to the final whistle this summer
Those wishing to attend practice sessions are encouraged to monitor Buccaneers.com for updates, as well as follow the team on Twitter at @TBBuccaneers. These outlets will provide camp guidelines, parking information, maps and any schedule updates in order to make visiting training camp a smooth and enjoyable process.
The Buccaneers open their preseason slate on Friday, August 8, with a road game at the Jacksonville Jaguars, before hosting the Miami Dolphins on Saturday, August 16. The team then travels to the Buffalo Bills on Saturday, August 23, and closes out preseason play at home on Thursday, August 28, against the Washington Redskins.
Tampa Bay's regular season kicks off at 4:25 p.m. on Sunday, September 7, with a home opener versus the division-rival Carolina Panthers.
Individual game tickets are available for purchase starting as low as $30. The Week 16 matchup against the Green Bay Packers is sold out of individual game tickets, though fans may still secure seats for the can't-miss battle by purchasing a season pass membership. The Buccaneers continue to offer season pass memberships at a wide variety of price points. Memberships start at just $30 (per game) for adults and $15 (per game) for youth and discounts are available for groups of 10 or more. For more information, to speak with a Buccaneers account representative or to get information about special group pricing, please contact 866-582-BUCS (2827).