The Tampa Bay Buccaneers completed their eighth training camp practice on Friday. Following a designated player off day on Thursday, the Bucs were back in action on the outdoor fields at the AdventHealth Training Center on Friday. Quarterback Tom Brady was excused for a personal matter and was not in attendance. Conversely, another cornerstone player made a surprise appearance garnering excitement: Chris Godwin. Head Coach Todd Bowles, along with several players, recapped the day and provided insight. Here are the top takeaways from practice and the podium.
The Return of Chris Godwin
For the first time since tearing his ACL and MCL during the club's Week 15 loss to the New Orleans Saints, Bucs' wide receiver Chris Godwin returned to practice. He did not participate in 11-on-11 team drills but jogged through routes in positional drills. Godwin participated in individual work, testing his knee with straight-line running and short route simulations. He was welcomed eagerly by encouragement from teammates and coaches. He had surgery to repair the injury on January 3 and although Todd Bowles stressed there is no specific timetable on a return to full action, the day provided positivity with Godwin present in pads. "Good to see him out there running around and doing some individual work," Bowles said.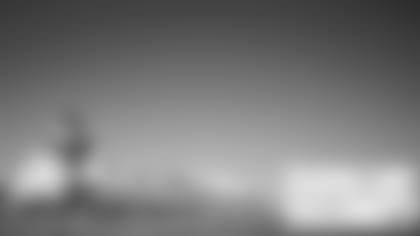 Mike Evans Exits Practice
Mike Evans left practice early on Friday and Bowles stated he may have tweaked his hamstring during Friday's press conference. Earlier in practice, Evans caught a quick dart from Blaine Gabbert versus a fire zone blitz. Evans is a catalyst in the Bucs' receiving corps, reaching his fourth Pro Bowl in 2021 after hauling in 74 passes for 1,035 yards and 14 touchdowns. He is the only player in NFL history to begin his career with eight consecutive seasons eclipsing 1,000 receiving yards. During the offseason, the Bucs solidified the receiver room by signing former Atlanta Falcon teammates, Julio Jones and Russell Gage. The Buccaneers figure to take a cautious approach with Evans to get him 100 percent for the regular season, regardless of the nature of the injury.
Two-Pick Day for Defense
The defense had a strong outing on Friday, punctuated by two interceptions. Rookie Don Gardner registered the first in the back of the end zone and Jamel Dean punched the second. Despite the achievement, the defense did not meet its own lofty standard of play.
"It was a great day for the defense, but we still didn't meet our standards," Dean said. "We're supposed to get five turnovers a practice – I think we got two. So, we didn't meet the standards today, but it was still overall a good practice for us communication-wise and just working our techniques."
Todd Bowles has repeatedly praised the defense for "being on the same page" as practice days stack up, which has resulted in takeaways. Forced turnovers often come in bunches and the Bucs want more of them in 2022, so the coaching staff has placed an emphasis on ball drills. There were several would-be interceptions that were dropped in 2021, and in 2022 the focus has shifted to optimize growth. From JUGS machines to ball-tracking, the priority is clear on the practice field. With an understanding of where the help is on the back end, takeaways often come as a result. For Dean, going up against Julio Jones - a do-it-all phenom with the ability to win over the top and on intermediate routes - will only accelerate his development during camp. Facing Jones' arsenal of moves at the line of scrimmage will likely elevate Dean's play.