STORY HIGHLIGHTS
Though roster cuts aren't due until Tuesday, the Bucs made 12 of the 15 necessary moves on Sunday
Three wide receivers were on the initial list, including incumbent kick returner Eric Page
The Bucs did not waive any linebackers, cornerbacks or safeties on Sunday, leaving many decisions to be made

The Tampa Bay Buccaneers have to reduce their roster to 75 players before 4:00 p.m. ET on Tuesday.  They're already most of the way there.
On Sunday – a day off for the players after their 27-14 win in Buffalo on Saturday – the team announced the first 12 of its 15 necessary roster moves.  Among the players waived was a trio of wide receivers (Skye Dawson, Eric Page and Tommy Streeter), three offensive linemen (Jace Daniels, Jason Foster and R.J. Mattes) and Alex Tanney, the team's fourth quarterback who had yet to see any preseason game action. The only vested veteran among the cuts was Jeremy Cain, one of two players who were vying for the team's long-snapping job.
The Bucs made these dozen moves two days before they absolutely had to, but the approach makes sense.  The team that takes the field on Monday will be the team that takes on the Washington Redskins in the preseason finale on Thursday evening.  There would be little point in asking those 12 players to spend two days practicing for a game for which they wouldn't be around.
The Bucs' three pending moves could hinge on injury updates in the next 48 hours. Below is the complete list of the Buccaneers' roster moves on Sunday:
DT Euclid Cummings
OL Jace Daniels
WR Skye Dawson
OL Jason Foster
DE Ryne Giddins
G R.J. Mattes
WR Eric Page
WR Tommy Streeter
DE Chaz Sutton
QB Alex Tanney
FB Ian Thompson
The Bucs will have to further trim the roster to 53 players by next Saturday at 4:00 p.m. ET, following that final preseason game.  It stands to reason that the most difficult decisions would be made in that round of cuts, and that these initial moves would hold little surprises.  Still, there are hints as to the team's thinking in the names on this list, as well as some of the names not on the list.
For instance, the team's release of veteran lJeremy Cain indicates that first-year player Andrew DePaola has won the competition for that position.  DePaola has been to three Buccaneer training camps but has yet to appear in a regular-season game, but the team felt that he was somewhat stronger in kick coverage.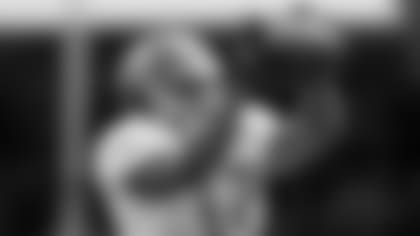 WR Eric Page was one of three receivers waived on Sunday, meaning the team will have a new primary return man in 2014
The Bucs still have seven receivers on the roster after waiving Dawson, Page and Streeter, but it's likely that starters Vincent Jackson and Mike Evans will see little to no action on Thursday.  That will leave five players – Louis Murphy, Robert Herron, Solomon Patton, Chris Owusu and Russell Shepard, battling for what will likely be either three or four roster spots.
Sunday's news seemed particularly significant for Patton, the undrafted rookie out of the University of Florida, since Page was the team's incumbent kick and punt returner.  Patton is currently holding the top spot on the depth chart at both of those spots.  Head Coach Lovie Smith said on Sunday that Patton did nothing to hurt his standing in Saturday's game, but that the job is not yet his.
It's also noteworthy that none of the cuts came from the linebacker, cornerback or safety spots.  The team is still sorting out the 25 players at those three positions and will probably have to trim them down to a combined 15-17 spots.  A rash of injuries in the secondary surely played a part in the absence of cuts there, too, as the team needs to maintain some depth for the preseason finale.  On Saturday, after Bradley McDougald suffered a knee injury and starters Dashon Goldson and Mark Barron were out of the game (along with the injured Major Wright), the Bucs were forced to press cornerback Anthony Gaitor into service at safety opposite Keith Tandy.
The Bucs did release three defensive linemen, but they were all undrafted rookies and there are still 13 candidates to sort out on that crew.  Among those 13 are two players the team added very recently in Larry English and T.J. Fatinikun.  English, in particularly seems like an interesting case; he was a former first-round pick in San Diego who was waived by the Chargers just before this year's training camp.  English had two sacks in Saturday's game and saw some playing time with the first team.