STORY HIGHLIGHTS
The Bucs and Bills will give their starters a much larger dose of playing time on Saturday
CB Alterraun Verner will make his Buccaneer debut but won't play as long as the other starters
There will be opportunities for several young DBs with Mike Jenkins, Danny Gorrer and Rashaan Melvin all out

The Tampa Bay Buccaneers will play most of their starters into the third quarter on Saturday, which means the longest exposure yet for such key 2014 additions as Josh McCown, Michael Johnson, Mike Evans and Anthony Collins. Just as importantly for the Buccaneers' preparations for the regular season, the game should also feature heavy doses of Mario Williams, Marcell Dareus, Stephon Gilmore, E.J. Manuel and C.J. Spiller.
Two to three quarters of "good-on-good" action, as Buccaneers Head Coach Lovie Smith calls a matchup of first-team units on the practice field, is just what Smith's team needs to take another step towards Week One readiness.
"Most teams play their guys [the most] in this preseason game, the third one…of course, this is a fourth preseason game for [the Bills]," said Smith just hours before kickoff. "We're just anxious to play them. They have great personnel on both sides of the ball and Doug [Marrone] does a great job with the team. I know they're excited about playing their first preseason game here at home after a long time on the road, so it should be exciting. I hear it's a full house, and there's nothing better to get us ready for the season. Of course, we have to play eight games on the season on the road, so this is getting us season ready."
If the Saturday's game does prove to be a significant step forward for the Buccaneers, it will be in large part the result of what the team did from Monday through Friday. After showing moderate improvement from the first game of the preseason to the second, the Bucs built on that momentum with a particularly formative week on the practice field.
"We haven't had many bad weeks of practice, but I thought this was our best, which it should be," said Smith. "We had a chance to go through our regular game-week routine through the season, when we go over certain situations. Tonight we'll have an extended amount of playing time for the guys we have at the top of our depth chart."
One of those depth chart leaders is left cornerback Alterraun Verner, yet another offseason acquisition who is supposed to make a big difference this fall. Verner missed most of training camp and the first two games while carefully nursing a strained hamstring back to shape, and he will be making his red-and-pewter debut in Buffalo on Saturday. The Bucs will continue their cautious approach with his return but are pleased nonetheless to have him back in the mix. It will also help on a night in which cornerbacks Mike Jenkins, Danny Gorrer and Rashaan Melvin will be held out due to minor injuries.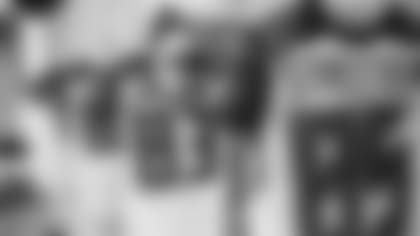 WR Vincent Jackson will be one of the team's captains on Saturday evening
"We have a few injuries back there, but we are excited to get Alterraun Verner back out playing ball for us," said Smith.. But we'll treat it like a first preseason game for him. We'd like to get him about 15 plays or so. Rashaan Melvin [is] getting better. Mike Jenkins also is getting better, but we are banged up. Johnthan Banks will step up and start opposite Alterraun Verner tonight."
The Buccaneers will also be without RBs Mike James and Charles Sims and DEs Da'Quan Bowers and William Gholston. The Bills will not dress WR Sammy Watkins, CB Mario Butler, S Jonathan Meeks, CB Bobby Felder, G Chris Williams, TE Tony Moeaki, DT Alan Branch and DT Kyle Williams. With the rookie Watkins out, former Buccaneer Mike Williams will be one of the Bills' two starters.
Williams was Vincent Jackson's running mate in Tampa for most of the past two seasons, but Jackson now has a new starting partner in Evans, the rookie first-rounder. Evans will likely make a big impact this year, but Jackson remains the team's go-to pass-catcher, and he scored his first touchdown of 2014 in last weekend's contest. Jackson will serve as one of the team's captains on Saturday night, Smith indicated.
"To me he's just the perfect leader," said the coach. "Of course, he has a history of being a great player in the league, and guys can hear about that, but they need to *see * it. And what they've seen from Vince is that he shows up every day, he's the ultimate professional on the field, he works as hard as anyone, and then he produces. It couldn't happen to a better guy. Tonight, matter of fact, he'll be one of our captains that we have out there."
Jackson's touchdown came on a pass by McCown just a few plays after the defense created a critical turnover. Gerald McCoy's sack of Ryan Tannehill and Michael Johnson's recovery set up a short field and a quick seven points. Smith would like to see more of the same on Saturday in Buffalo.
"That needs to be our DNA on what the Tampa Bay Buccaneers are all the time," he said. "We harp a lot on taking the ball away, but when you take it away you have to answer with points, and of course touchdowns. That's exactly what we drew up in the dirt and hopefully we'll see that a lot."
The Bucs play their third game of the 2014 preseason against the Bills on Saturday, with kickoff scheduled for 4:30 p.m. ET at Ralph Wilson Stadium. The game will be broadcast in the Bay area by WFLA-TV and on radio through the Buccaneers Radio Network and its flagship station, US 103.5 FM. That radio broadcast will also be carried live on Buccaneers.com.