The Tampa Bay Buccaneers opened their Week Six game in Atlanta on Sunday with a 75-yard drive that ended in Jameis Winston's 15-yard touchdown pass to tight end Cameron Brate. After falling behind, 21-6, the Buccaneers then rallied and came within a few yards of a game-winning score before losing to the Falcons, 34-29. That rally began with a 10-yard second-quarter touchdown pass from Winston to tight end O.J. Howard.
It's not surprising to see Brate or Howard find the end zone. Last season, in Howard's rookie campaign, those two tied for the team lead with six touchdown catches each. This is, however, just the second time that both Brate and Howard have scored in the same game; they each had a touchdown grab in a win over the New York Giants on October 1 of last year.
Brate now has three touchdown catches on the season and Howard has two. They comprise one of only two tight end duos in the NFL who have already scored multiple touchdowns this season. Eric Ebron has six for the Colts already – the most by any tight end in the league this year – and Indianapolis teammate Erik Swoope has two.
Since the start of Howard's rookie season, he and Brate have combined for 17 touchdown catches. The Buccaneers are the only team in the NFL with two tight ends who have each snared at least eight touchdown receptions since the start of 2017. Tampa Bay has the most touchdowns out of the tight end position of any team in the NFL over the past two seasons.
Most Touchdown Receptions, Team Tight End Groups, 2017-18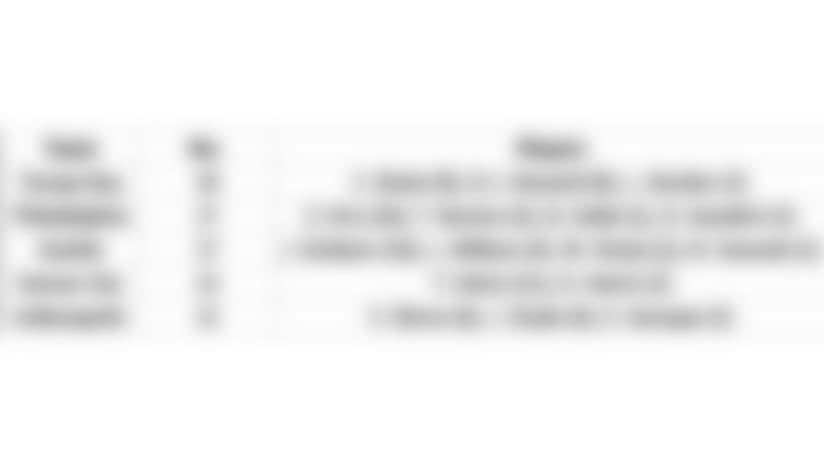 Brate actually began racking up the touchdowns in 2016, a year before Howard arrived as a first-round draft pick. He had eight that year to tie for the league lead among tight ends, which means he now has 17 since the start of 2016. That's tied for the most among all NFL tight ends in that span.
Most Touchdown Receptions, NFL Tight Ends, 2016-18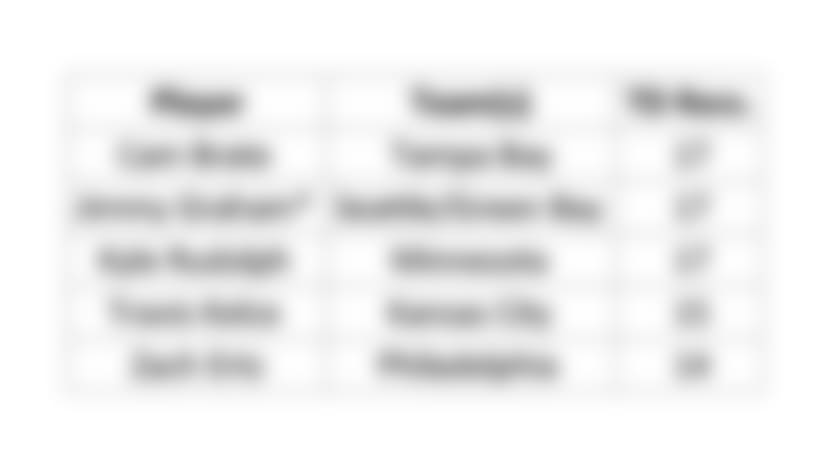 * Graham and the Green Bay Packers play on Monday night.
Brate originally joined the Buccaneers as an undrafted free agent out of Harvard in 2014. He played in only five games as a rookie and had just one ball thrown his way, resulting in a 17-yard catch. Beginning in 2015, however, his role in the offense began to grow steadily. Now he ranks as one of the most productive pass-catchers in the NFL who was not drafted. In fact, only one undrafted player has caught more touchdown passes than Brate since 2015. Seattle wide receiver Doug Baldwin has 29 touchdown catches in that same span. If one expands the category to all touchdowns, not just those through the air, then Brate still ranks third among undrafted players since 2015.
Most Touchdowns by An Undrafted Player, 2015-18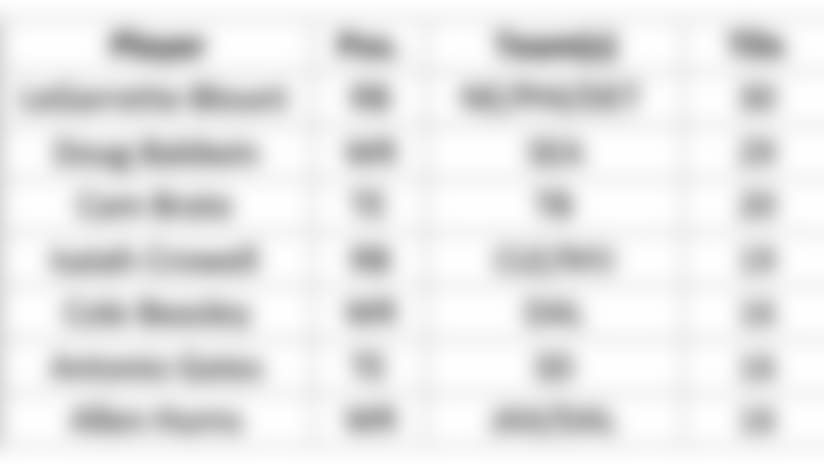 Brate's 20th career touchdown reception on Sunday moved him into a tie with Vincent Jackson for ninth place on the Bucs' all-time list. The next three that Brate could surpass are Bruce Hill (23), Dave Moore (24) and Mike Williams (25).
There are 21 players in the NFL, at all positions, who have caught at least 20 touchdown passes over the last four seasons, including Brate, a list that is topped by Antonio Brown's 37. Of all the players on that list, Brate has done it in the fewest receptions. His 20 scores have come on 135 receptions, meaning he has found the end zone on 14.8% of his grabs in that span.
Of all the players in the NFL with at least 10 touchdown catches since 2015, Brate is tied for fourth in highest percentage of touchdowns per reception. He also is one of just four players in that span (minimum 10 touchdowns) who has scored on more than 10% of the times that he was targeted.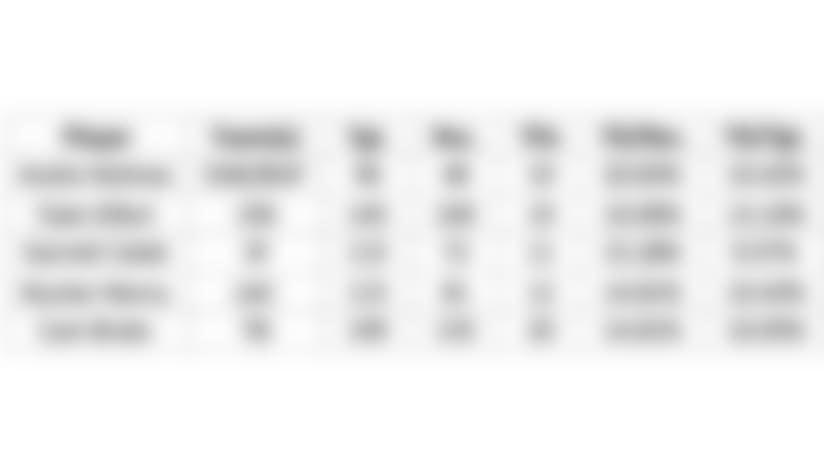 Brate has now caught a touchdown pass in three consecutive games. That's not a new feat for him. In 2016, he did the same thing in a three-game stretch from Oct. 30 to Nov. 13. Last season, Brate caught a touchdown pass in four straight games from Sept. 24 to Oct. 15. That actually tied a Buccaneer record for most consecutive games with a touchdown catch (it had been done six times previously and was matched by Chris Godwin earlier this year). Since Brate's streak remains active, he could join Joey Galloway as the only Buccaneer ever to have two four-game streaks with TD catches.
Winston didn't just target his tight ends in the red zone. He also threw touchdown passes to wide receiver Chris Godwin and running back Peyton Barber. It was Godwin's team-leading fourth touchdown of the season, while Barber caught a scoring pass for the first time in his career. As a rookie, Godwin didn't find the end zone until the last game of the season – the Buccaneers' very last offensive play of 2017, in fact – but he's scored in four of five contests this year already. Godwin is one of eight NFL players who has caught a touchdown pass in four different games already, but six of the other seven have already played six games. The Buccaneers have only played five. Green Bay's Davante Adams has four games with a touchdown out of five Packer contests so far, but he plays his sixth game on Monday night.
Behind Godwin and his four touchdown catches, the Buccaneers also have three other players with three scoring grabs in Brate, DeSean Jackson and Mike Evans. Tampa Bay and the Los Angeles Chargers are the only teams in the NFL with four players who have already scored three or more times each through the air:
Tampa Bay (4): Chris Godwin (4), Cam Brate (3), Mike Evans (3), DeSean Jackson (3)
L.A. Chargers (4): Austin Ekeler (3), Antonio Gates (3), Melvin Gordon (3), Tyrell Williams (3)
Detroit (3): Kenny Golladay (3), Marvin Jones (3), Golden Tate (3)
Winston's output on Sunday stood as his ninth career game with three or more touchdown passes. That's the most by any quarterback in franchise history, surpassing the eight by Brad Johnson. It was the third game of Winston's career with at least four touchdown passes, which remains one behind Johnson for the record in that category. Winston needs just six more TD tosses to become the Buccaneers' all-time leader in that category.
Most Career Touchdown Passes, Buccaneers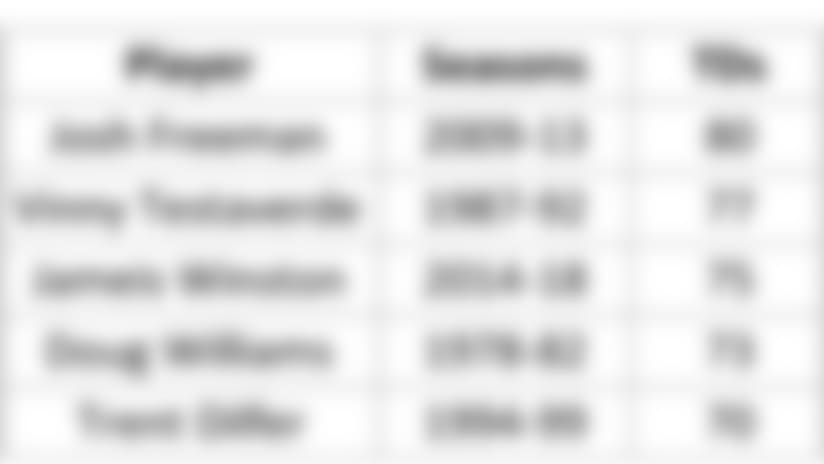 Winston threw for 395 yards along with those four scores, marking the 12th 300-yard game of his career, which matches Vinny Testaverde for the most in team annals. Along with his yardage total through the air – which itself was the 10th highest in franchise history – Winston also ran five times for 31 yards. That gave him 426 combined passing and rushing yards, the sixth-highest total in team history. Three of the top six have occurred this year, as Ryan Fitzpatrick made two entries on the list while starting the first four games of the season.
Most Combined Passing and Rushing Yards, Single Game, Buccaneers History
With another 123 yards on the ground to go with the 389 net passing yards on Sunday, the Buccaneers cracked 500 total yards for the second time this season and the eighth time in team history. Those 512 yards represented the team's third-highest total ever in a loss.
Most Net Yards, Single Game, Buccaneers History