STORY HIGHLIGHTS
Buccaneer players and coaches enjoyed practicing in front of loved ones on Family Day at training camp
The Bucs added another defensive end Thursday, signing former Chargers first-round pick Larry English
Tampa Bay's punt returners are doing a much better job of fielding kicks than they were in camp began

Training camp is a grind, but not quite to the extent it used to be, when two-a-days were the norm. And training camp is a destination, too, but for the majority of NFL teams these days, it's a familiar one. The Tampa Bay Buccaneers' for instance, traded in annual summer trips to Orlando for camp at One Buccaneer Place five years ago.
One aspect of training camp remains the same as always, however: Isolation. When players go camping, they are asked to essentially unplug from their outside lives for three weeks, splitting their days between team headquarters and the team hotel. It's supposed to be football, 24/7.
That means very limited time with one's family, in the form of stolen moments at the end of a practice or the rare day off. That can have its advantages…ask Gerald McCoy, who has twin baby girls at home and is likely sleeping better at the hotel. But familiar faces are always nice, and that's why the last day of Tampa Bay's 2014 training camp had a nice twist to it.
Head Coach Lovie Smith decided to make Thursday "Family Day" at camp, encouraging players, coaches and administrators to invite their loved ones to attend practice and enjoy a catered lunch. Many of his players took advantage, including McCoy and his fellow All-Pro defender, Lavonte David.
McCoy had his wife, his son and several friends at the gathering, and he even risked his coaches' wrath to give them a special greeting in the middle of the two-hour workout.
"It was great," he said. "We were in the middle of a [special] teams session and I snuck off – I probably shouldn't have said that, but I did – to go say hello. It's always great to have your family come see what you do. My family, they know I come home tired. It's good to let them come out and see why I come out tired."
David brought his girlfriend and a good friend of his to One Buc Place on Thursday, and he's got another group coming in on Friday. Their presence gave him a little bit of much needed energy for the final camp practice.
"It's a boost," he said. "I have my mom and dad coming up Friday; also my sister and my nephew are coming up to watch the game. They're driving up from Miami. It's great. They couldn't make it for today but they'll be here Friday."
Larry English was released just before he could enter his sixth training camp with the San Diego Chargers. He signed with his new team on the final day of their 2014 camp.
The Buccaneers gave English a new home on Thursday, adding him to their 90-man roster and waiving/injured rookie defensive tackle Jibreel Black. English had been released on July 22 after playing in 52 games with nine starts over five seasons with the Chargers
English was the 16th overall pick in the 2009 NFL Draft, taken just before the Buccaneers selected Josh Freeman. He played in 16 games with two starts as a rookie and contributed 23 tackles, two sacks and a forced fumble. He finished his five-year run in San Diego with 82 tackles, 11.0 sacks, one forced fumble, two fumble recoveries and two passes defensed.
The 6-2, 255-pound English was drafted by the Chargers as a rush linebacker for their 3-4 defensive front, but he'll join the defensive line group in Tampa. That group has seen a series of additions in recent days, in part due to minor injuries that have sidelined the likes of Black, Da'Quan Bowers and Steven Means. The Bucs signed first-year end T.J. Fatinikun, a former Arena League standout, on Wednesday, one week after bringing both Ryne Giddins and James Ruffin aboard.
If the special teams session that Gerald McCoy snuck away from was the day's punt return drill, he didn't miss anything eye-catching. And that's actually a good thing.
The Bucs ran the drill with the usual rotation of punt return candidates, including Bobby Rainey, Eric Page, Skye Dawson and Robert Herron. What those four did with their returns wasn't particularly instructive, because Thursday's practice was unpadded and there was no real effort at tackling. What those four did not do actually was a bit newsworthy. None of them let the football hit the ground.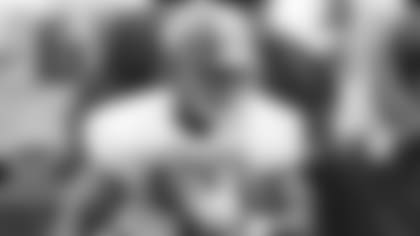 RB Bobby Rainey will get more opportunities to return punts on Saturday against Miami
As a group, the Bucs' return men struggled in the early part of training camp. They let far too many balls hit their hands and then hit the ground, and that is the quickest way to disqualify yourself from the competition. But the team got better in a number of ways during the three weeks of camp, and one of them most definitely was in their ability to cleanly field punts, the difficulty of which is underrated.
"There's no doubt we're catching the ball better," said Smith. "Most days, it was bad early, to say the least. It was kind of embarrassing the amount we dropped. But that was a starting spot – we saw what our starting spot was, and guys have worked hard. And now, all of them, to a man, are catching the ball a lot better."
Special Teams Coordinator Kevin O'Dea has three goals for his punt return man, in this order: Catch the ball, get a first down (that is, 10 yards), take it to the house. The first is essential, the second is expected and the third is a bonus.
The Bucs couldn't move on to those second or third goals until they had mastered the first one. They're much closer now, as camp closes, to having that part locked down, and that means they can start looking for some dynamic answers to return game question.
"Now I'm anxious to see what we're going to do in the return game," said Smith. "We had a couple of the punt returns blocked fairly well last week but weren't really able to get to the wall and all. This week, hopefully, we can get a little bit more from it. Bobby Rainey will take more reps as a punt returner and I'm anxious to see him."