STORY HIGHLIGHTS
DT Gerald McCoy led the Bucs' defense to a strong goal-line showing Sunday after the offense controlled most of the day
S Bradley McDougald made several big plays in the backfield in practice as he continues to get noticed
DE Ronald Talley has come off the Active/NFI list and can now practie with the team

The very first game of the 2014 NFL season took place on Sunday night, with the Buffalo Bills and New York Giants squaring off in the Hall of Fame Game in Canton, Ohio. In a way, the Tampa Bay Buccaneers got in their first live action on Sunday evening, as well.
As is the case in every NFL training camp, the action on the field at One Buccaneer Place has been gradually escalating from the non-contact form of the offseason to the full-on action of a real game. The first two days of camp, for instance, were conducted without pads or any real contact. Since the pads have gone on, Buccaneer players have been colliding regularly, but not fully tackling in order to minimize the risk of injury.
On Sunday, however, the team finally ran what could be considered some fully live football, capping a two-and-a-half hour practice with an intense goal-line drill. The real estate between the two-yard-line and the goal line was hotly contested for about a dozen snaps, with real tackling allowed and both sides fully committed to imposing their will, whatever it took.
As it turned out, that 10-minute period became something of a redemption tale for a Buccaneer defense that had been out-gunned for much of the evening. The team devoted most of its work to short-yardage situation, and the Buccaneers' offense had one of its better days of camp, especially with Josh McCown and the first-string crew on the field.
If McCown's crew had set the tone for much of the day, it was defensive tackle Gerald McCoy who reset it at the start of that live goal-line drill, destroying the interior line on the first snap to meet running back Doug Martin in the backfield.
"I thought our offense today really started off strong, got after the defense fairly well, through a lot of the team work," said Head Coach Lovie Smith afterward. "Today was the first day we really had anything live and it was good to see the defense pick up the pace [in the goal-line drill]. "The defense should have the advantage a little bit when you go goal-line for the first time full-speed like that. Guys continue to show up and make their case and we will continue to look at them and take notice."
McCown followed that play with a sharp over-the-shoulder pass on a play-action goal line route to rookie tight end Austin Seferian-Jenkins, but the next running play was also swallowed up in the backfield by a combination of McCoy and defensive end Adrian Clayborn. Smith would obviously like to see his offense have a much higher rate of success in critical goal-line situations, but given the circumstances it was equally encouraging to see the defense rise up.
"For the defense to be able to hold them, it shifts momentum quite a bit," he said. "I saw a defense without a lot of life pick it up. You can hide a little bit when butting up, but down on goal-line you can't hide, you show your true colors down there. I like some of the things I saw."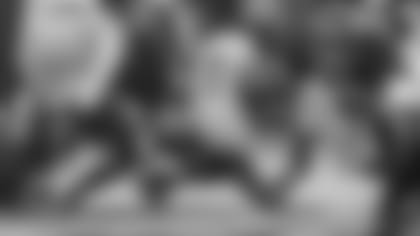 Full tackling was allowed during a goal-line period on Sunday and the defense took advantage
One player who probably lit up a bit when he saw that Sunday's dominant game situation would be short-yardage was fullback Jorvorskie Lane.
The Bucs' offense may not have had a lot of success in the final goal-line drill but it was effective in many other short-yardage situations during Sunday's field session, and Lane was often in the middle of it. A 260-pound fullback with tailback experience from his days at Texas A&M, Lane got some third-and-one carries, some key lead blocks and even some play-action swing passes, and they almost all went well.
"That's some of the key stuff in game situations," said Lane. "It can come with two yards left and we need a touchdown, and we've got to work on it right now. We've got time to work on it, but when it comes down to the trenches and it's time to get points, that's part of the game."
Lane's most impressive moment probably came on a third-and-one play in which he faked a lead block and then dashed out to the right, looking over his left shoulder and making a one-hand catch of a hard, short pass from McCown. The play was so quick and well-timed that the jumbo back was able to get around the corner on the defense and get more than enough yards to move the sticks.
"That's an asset to my game – I can catch a little bit," said Lane. "I'll do whatever they want me to do. If they want me to play kicker, I'll learn, deep-snap, anything. I'm a football player; wherever you need me. You've just to look at your opportunities and what's next. Right now, I'm a Tampa Bay Buccaneer and I'm trying to take advantage of it."
As Smith said on Sunday: "Fullbacks nowadays, there's not a lot of them around." The Buccaneers don't have any fullbacks on the current roster with any real NFL experience, so it's fair to wonder if they'll even keep one in the regular season or utilize the position significantly on game day. Lane could be the reason they choose to do so; they certainly used him a lot on Sunday.
"He's a big guy, but he can do some things," said Smith. "He's a big guy with good feet. He'll tell you – he was a tailback all his life, a big tailback. I like what he's been able to do. He can catch the ball out of the backfield but he's a fullback, and a fullback needs to be able to block. Fullbacks nowadays, there's not a lot of them around. In an ideal world, a fullback can play some in-line plays like that, in a traditional fullback position. He needs to be a special teams player also. And of course, occasionally catch the ball out of the backfield. Jorvorskie, of course, can do a couple of those things; we'll see about him playing special teams."
Second-year safety Bradley McDougald has done plenty to impress the Buccaneers' staff during the first half of training camp. When he knifed through the line of scrimmage to stop running back Bobby Rainey several yards deep in the backfield during a short-yardage drill midway through Sunday's practice, he did it again…sort of.
You may recall that Jason Licht had good words re S Bradley McDougald. I see why. Just made a knifing play to get B.Rainey in the backfield. — Scott Smith (@ScottSBucs) August 3, 2014
Because this particular period of practice, unlike the one described in greater detail above, was not a fully-live scenario, the opposing players were supposed to be practicing their "pro thud" technique. That is, McDougald should have done his best to get to where Rainey was, and then he should have tried to stand him up with a firm shoulder-to-shoulder hit. Instead, he made the sort of diving tackle that would have been very impressive in a live game. Here on the practice field, it drew mixed reviews, as did a similar play he made a little later in practice.
"I feel pretty good, but Lovie didn't like it," said McDougald with a contrite laugh after practice. "He wanted me to stay up, so he wasn't too impressed by that. But besides that, I feel pretty good. I'm just trying to stay healthy."
McDougald came to the Bucs as a waiver claim from the Kansas City Chiefs last November, but he didn't play much after that, seeing brief action in three games. A former two-way player at the University of Kansas – 194 tackles and six interceptions to go with 52 receptions for 558 yards – McDougald signed with the Chiefs after the 2013 draft and managed to make the 53-man roster. He bounced between the roster and the practice squad for two months before coming to Tampa.
Before McDougald could get in a first round of offseason work with his new team, the Buccaneers cleaned house and brought in a new coaching staff. That wasn't necessarily a bad thing for the second-year player, as he was starting at ground zero with most of his teammates in terms of learning a new system and impressing the coaches. And apparently it has gone well; General Manager Jason Licht brought up his name unannounced during Friday night's practice at the stadium and Smith had good things to say as well on Sunday, albeit with a point about proper practice etiquette.
"A lot of those we were supposed to be "butting off" and he was out there tackling; you tend to look a little bit better when you're doing something you're not supposed to," said Smith. "He is around the ball quite a bit, he has made plays throughout and we've taken noticed. [He's seen] a lot of improvement from the offseason work we had with him."
While the unsettled situations at cornerback, wide receiver and offensive line have understandably drawn more attention, the Buccaneers' safety position is quietly a rather intriguing one in this training camp. Smith said during the spring that he's rarely coached a team that didn't end up giving significant playing time to at least three safeties, if not four, over the course of a long season. That point might be underscored just a bit by the fact that veteran starter Dashon Goldson has seen his training camp reps limited for the sake of caution, giving more time to the likes of Major Wright and Keith Tandy. Goldson, Wright, Tandy and potential breakout star Mark Barron would appear to give the Bucs a pretty solid four-deep at the position, but it's not uncommon for a team to carry five safeties, particularly if several of them contribute on special teams.
"He's one of the guys fighting for a safety spot," said Smith. "We may keep four safeties, we may keep five – we normally don't get rid of good football players. If you can continue to make plays like that, then we'll find a way. Playing safety is important for Bradley, but also special teams."
At 6-0 and 215 pounds, McDougald doesn't cut quite the same imposing figure as a Barron or a Goldson, but he's trying to prove that he's not just a finesse centerfield type of safety, and so far it's going well.
"I feel like I'm doing a pretty good job," he said. "I'm trying to do my best to just get the system down and play fast, show them that I can not only cover but play down in the run box as well. I'm trying to show that I'm pretty versatile."
The Buccaneers made a roster move on Sunday that didn't really affect the training camp roster.
Just before the start of training camp practice, the Buccaneers placed veteran defensive end Ronald Talley on the Active/Non-Football-Injury list due to a hamstring injury he had suffered before reporting to One Buccaneer Place. Talley has been watching from the sidelines ever since.
Since he was on an "active" list instead of a "reserve" list, Talley counted against the 90-man roster the entire time he was sidelined from practice, and he was eligible to return to field work at any time. And he did just that after the Bucs removed him from the Active/NFI list on Sunday.
So why put Talley on the Active/NFI list if it doesn't offer roster relief and it can be reserved at any time? One reason, and one reason only: A player is only active to be placed on the Reserve/NFI list before the start of the regular season if he had started training camp on the Active/NFI list. If Talley's injury had lingered much longer than expected and he wasn't ready when the regular season arrived, the Bucs would have maintained that Reserve/NFI option.
Fortunately, and as expected, that wasn't necessary and the stint on Active/NFI was just a formality. It's unfortunate for the former Arizona Cardinal that he has missed roughly half of training camp, but then again he's shown a knack for making a good impression in a short period of time. Talley was one of the last three players added to the Buccaneers' roster before training camp, signed in June after he performed well on a tryout contract during the team's offseason-capping mini-camp.