Do the Tampa Bay Buccaneers have another Big Three on their hands?
Because the careers of Gerald McCoy and Lavonte David have skyrocketed at the same time that their Buccaneer predecessors, Warren Sapp and Derrick Brooks, have been enjoying Hall of Fame recognition, the comparisons have been unavoidable. No one is yet saddling McCoy and David with Cantonesque expectations, but neither are we shying away from calling those two the heirs apparent at the critical under tackle and weakside linebacker positions in the Cover Two defense.
Sapp and Brooks, respectively, played those two positions as well as anyone ever has, which is why they've recently been giving speeches in Canton. They were also two of the three core players who, in 1996, famously gathered in a San Diego hotel room and vowed to end the Bucs' long run as an object of ridicule in the NFL. The third was strong safety John Lynch, who has a good chance of joining his teammates in the Hall of Fame at some point.
Some believe the Buccaneers are on the cusp of another era of dominant defense, as they were in 1996. If that proves true, it will be McCoy and David who lead the way. And perhaps third-year safety Mark Barron, who was drafted one round ahead of David in 2012. After practice on Monday, Head Coach Lovie Smith made a comparison to that last great era of Buccaneer defense that certainly evokes visions of another Big Three.
"Does the [new defensive] system play to his strength? Absolutely," said Smith.  "I've heard [the media] talk a lot about Lavonte David and Gerald McCoy being compared to two Hall of Famers. But we had another great safety here in John Lynch also. Mark Barron – he looks the part. Very pleased with him. I really like what he did at Alabama when he came out. He had a good season last year. But it's ahead of him. What we need: we need a big, strong safety. He'll be down into the box. He went three days and had interceptions on three days. He has good hands for a big guy. I could talk about Mark for quite a while, as you can see, but we like the direction he's going."
Barron wasn't the only topic Smith covered in his post-practice press briefing on Monday. Below are more of his thoughts about training camp.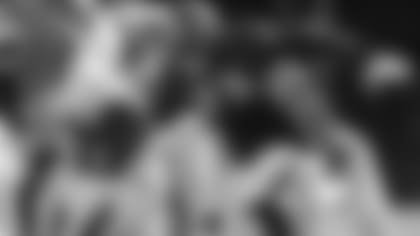 "With the [first preseason] game getting a little bit closer, there's some special situations we still have to get in. We were able to add a couple more today. At the end of the game, of course if you have the lead, you want to run the clock out, use time up, and keep the ball. The defense is trying to get the ball at all costs. We got some good work with that today. Finished up with a good two-minute drive. Most games come down to that two-minute drive at the end, so we'll work this quite a bit every day. Continuing to get good work. Guys are getting better – simple as that. It's a grind; over a week into camp, it's a little tougher, everybody is sore. Each day, it gets a little bit more heated, which isn't always a bad thing, as long as you don't take it too far. Again, we're getting better."
On the status of the players that sat out today:
"Alterraun Verner is running. I think I said that yesterday. But we're going to take our time with him. He's had trouble with that hamstring on a couple of occasions. He's making progress. Trying to think of the other guys we have out. [Luke] Stocker, Da'Quan Bowers we kept out. Nothing major – both of them should be good to go this weekend. Again, this time of camp, normally you need a day here and there off."
On the turnovers forced by the defense today:
"Speaking from the defensive point of view, it's about taking the ball away – simple as that. If you hold an opponent to one hundred yards and don't take the ball away, it's an okay defensive game. [You have] got to take the ball away some kind of way. Every day, I go over with our team the turnover ratio and how important that is. When the ball is in the air, you've got to come up with it. And we did come up with a few today."
On the offensive line, specifically the guards:
"We like the prospects. We don't have a lot of players at the positions that have started a lot of games. We have young talent at the line. You guys see them down there. You go against Gerald McCoy every day, you get better. We're getting better. We don't do a lot of live work on the football field. These preseason games will be so important for those guys. But we have a group of guys working there. We don't have any starting lineups or anything like that right now. But it will continue to clear up for us on who our guards will be."
On how quickly the chemistry builds between the offensive linemen:
"I think it comes. We've been together for awhile now. I don't think you have to play together five years to get that chemistry. We've had a lot of practices together, a lot of time together in the meeting rooms. Green Bay is a distant memory for Evan [Dietrich-Smith]. Cincinnati is a distant memory for Anthony [Collins]. They're coming."
On how he plans to sub players during the preseason:
"I haven't talked to the players about that. I have a history on what we do. I feel comfortable with how we lead up to peaking at the right time, getting everyone ready for Carolina [in Week 1]. Again, we'll ease our way into it. We'll increase it each game."
On if he is surprised at how quickly the team has bought into the new system:
"I'm not surprised. Initially when I met the players, I got that, 'What are we going to need to do to get it back?' Everything we've asked them to do along the way, they've done it and haven't questioned anything. So no, it hasn't surprised me. It's early in the game still for us. So far to go. Pleased with where we are, but we have so far to go. And that's why we need to get to this preseason game to see."
On defensive end Adrian Clayborn taking snaps at defensive tackle:
"He's been taking reps there all throughout. Most of all, we want to see what players can do. Sometimes you're a defensive end. Defensive ends are a lot quicker; you put them inside, you could get a couple of plays when they go against some of the bigger, slower interior linemen. We're a new staff and we want to give guys an opportunity to prove what they can do at as many positions as possible. Can he do it? Yeah, it's not a big difference in playing."
On if running back Charles Sims has what it takes to be an NFL running back:
"I think you can tell, especially at skill positions, does a guy have it. Charles Sims, I would say, has it. Again, he hasn't played a game and right now we're not live an awful lot. Yesterday was the only day we've really taken guys down to the ground. But you can see enough in him to like his future with us. Just talking about it, that's the last thing. He can carry the ball or he can catch the ball. Protections for any young back, that's the thing that they will have the most trouble with early on. But he's picked things up fairly well quickly."
On the depth at running back:
"Just look at how many backs they kept on the roster last year and just throughout. That's what you need. We want to be in position where we have five or six running backs and we get a chance to choose. As far as exactly how many, there are some spots. We know for sure you need three running backs on your roster. But from there, there's some flexible numbers. If it's a good football player and we think he's one of our best 53 [players], we'll keep him on and find something for him to do. The more the better. Again, that's practicing out there when we're not taking guys to the ground. Can't wait to see what they can do live."