STORY HIGHLIGHTS
New Bucs QB Josh McCown gets his first start but his Panther counterpart, Cam Newton, is inactive
Both teams are likely to rely on a run-heavy attack, assuming they can get their backs started
If the game comes down to the wire, the Bucs will lean on a rookie kicker in Patrick Murray

Josh McCown will make his first game as a Tampa Bay Buccaneer. Cam Newton will miss his first game since becoming a Carolina Panther. As a result, both teams will have new starting quarterbacks for the 2014 season opener, which pits the defending-champion Panthers against the revamped Buccaneers at Raymond James Stadium.
Obviously, the home team's switch was by choice; last year's rookie starter, Mike Glennon, is still on the team and considered the quarterback of the future but the Buccaneers believe that McCown is the best bet to rejuvenate the offense. The Panthers are choosing to take the cautious route with Newton, who suffered a cracked rib during the preseason, which pushes Derek Anderson into the starting lineup. Anderson is no untested rookie; he has 43 career NFL starts (though none since 2010) and a Pro Bowl under his belt.
Still, while quarterback is the undisputed #1 on the list of the most important positions in football, this game won't be decided solely by the two new players under center. Whether Newton had suited up or not, Buccaneers Head Coach Lovie Smith would have had the same leading priority on defense. And on offense, McCown's success may hinge on how well the man lined up behind him performs.
"They're a running football team," said Smith. "We have to be strong against the run and make them a one-dimensional team. [On offense] you're always excited about that first game and seeing exactly what we're going to bring to the table. We have added a lot of good football players on the offensive side. Whether we want to pass the ball or run the ball, we feel like we have the guys to get that done. But make no mistake, it starts with the run for us; that sets up everything else."
Doug Martin, back in the starting role after missing the majority of the 2013 season with a shoulder injury, will drive the Bucs' rushing attack, and he looked strong during the preseason. He can only go so far as his offensive line allows him to, however, and that is the one area that remains largely unproven for the Buccaneers. Tampa Bay heads into the 2014 season with four new starters on the offensive front, including one who has only been a Buccaneer for about two weeks. That would be trade acquisition Logan Mankins, the former New England Patriots guard who has been to the last five Pro Bowls. He joins a line that also includes free agency imports at left tackle (Anthony Collins) and center (Evan Dietrich-Smith).
"A lot's been said about the guys we've looked at," said Smith. "We would liked to have started the first day of training camp with one group and kept those guys into the regular season, but it didn't work like that. What we did is put our guys through competition, and we feel like the best guys are starting for us today. Of course, getting Logan into the mix was just the icing on the cake. We feel good; this group can do some good things."
Speaking of competition, the Buccaneers had an unexpected one at kicker, where it appeared that Connor Barth would return from the Achilles injury that swamped his 2013 season to reclaim his job. Barth performed well, but rookie Patrick Murray was better in the coaches' eyes, and Murray won the job. In a series that has included some low-scoring slugfests – the 12-9 Bucs win in Carolina in 2002 certainly comes to mind – Murray could prove to be a very important figure.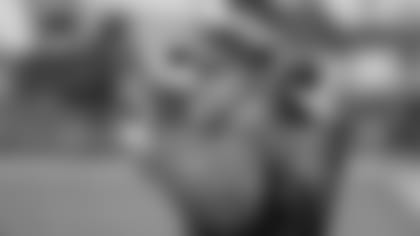 QB Josh McCown will make his first start as a Buccaneer on Sunday against Carolina
"Like at all other positions, we started up with an open competition at all spots," said Smith. "And that's what happened with our kicking competition. Patrick went out and showed us what he can do – strong leg, he's been accurate, he's a good athlete. Of course, he can punt the football, also, but we charted everything both players did and in the end we were all on board that Patrick gave us the best chance to be successful this year."
Obviously, Lovie Smith's Buccaneers intend to be quite a bit more successful than the 2013 squad that struggled to a 4-12 finish. There is plenty of optimism surrounding the team, built in part on the acquisitions of players like McCown, Collins, Dietrich-Smith, Mankins, defensive end Michael Johnson, cornerback Alterraun Verner and wide receiver Mike Evans, but now that new-look crew has to prove it on the field. It starts Sunday at Raymond James Stadium, the home Smith wants to turn into a feared destination for opposing teams.
"There's been a lot of anticipation [about this game]," said Smith. "The guys have worked hard. We've been talking about this game since really our first meeting – getting ready and playing our best ball, peaking for this Sunday's game. We're pretty excited about today's game and we're ready to go.
"I know what it will be like – just total excitement. It never gets old. I have run out of the tunnel a few different times, other years, but every one seems like it's the first time. I'm just excited for our fans to see this football team play. We feel like we're going to put a great product on the field."
In addition to Newton, the Panthers deactivated WR Brentson Bersin, S Tre Boston, T David Foucault, G Andrew Norwell, TE Brandon Williams and DE Kony Ealy. Only Newton was out due to injury.
The Buccaneers named the following seven players inactive: CB Rashaan Melvin, S Bradley McDougald, T Kevin Pamphile, G Rishaw Johnson, G Kadeem Edwards, DE Da'Quan Bowers and DE William Gholston. Melvin, McDougald, Bowers and Gholston were out due to injury
The Buccaneers open their 2014 season against Carolina on Sunday afternoon at 4:25 p.m. ET at Raymond James Stadium. The game will be broadcast on television by FOX and on radio through the Buccaneers Radio Network and its flagship station, US 103.5 FM. That radio broadcast will also be carried live on Buccaneers.com.