STORY HIGHLIGHTS
The Bucs will audition usual starting right tackle Demar Dotson on the left side on Sunday against the Panthers
For the second time this season, Carolina will take on the Buccaneers with Derek Anderson starting at QB
Tampa Bay has been eliminated from playoff contention but can still affect the NFC South title chase

The Tampa Bay Buccaneers want to win the last three games of the 2014 season. They also want to get a jump start on 2015 by finding out a little bit more about one of their most talented players. Hopefully, moving Demar Dotson to left tackle will help the Buccaneers meet both of those goals.
The 2-11 Buccaneers have recently been eliminated from the NFC South title hunt. That hasn't eliminated their desire to be a factor in how the division plays out, and they will face off with division contenders in two of the next three weeks. But the Buccaneers are also looking towards next season, naturally, and auditioning Dotson on the quarterback's blind side is a move the team can make to potentially improve its chances now and in the future.
"We're trying to do everything we can to win a football game, but that's something we've always wondered, if Demar can play there," said Head Coach Lovie Smith. "He has the perfect body type to play the left tackle position. He's had a good week of practice, all week, working with it, so I think this will help us."
This could be another impressive step forward in Dotson's remarkable NFL career. Primarily a basketball player at Southern Miss, he took up football in his senior season and played in six games, starting one, as a defensive tackle. Despite that extremely limited football resume, Dotson found a caller in the Buccaneers, who signed him as an undrafted free agent in 2009. He honed his craft on the professional level and eventually stepped into the starting lineup at right tackle in the second week of 2012. Since then, Dotson has been one of the team's steadiest performers, and now he'll get an opportunity to prove he can take on an even more important role.
"[We're] moving Demar to that position, and of course the left tackle position is the marquee position on the offensive line. So putting our best tackle there should help. We just need a solid line that can protect our quarterbacks and give them a chance."
Oniel Cousins, who has started three games this season at left tackle in place of the injured Anthony Collins, will step in at Dotson's vacated right tackle spot. On defense, the Buccaneers will be without starting middle linebacker Mason Foster for the second straight week due to an Achilles tendon injury, but All-Pro weakside 'backer Lavonte David has been cleared to play.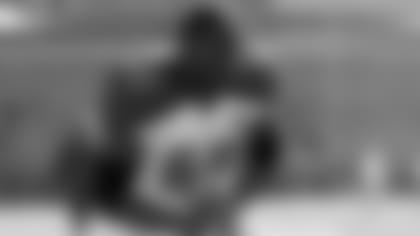 T Demar Dotson will move from the right side to QB Josh McCown's blind side on Sunday in Charlotte
"[David] had some concussion symptoms," said Smith of the linebacker's progression since taking a hit to the head on Sunday in Detroit. "We thought that he might have a concussion but he's been good to go. He was cleared early in the week and had a good week of practice. He's excited about playing and getting his first interception, hopefully."
Danny Lansanah, who has started seven games at strongside linebacker and two on the weak side, will make his second consecutive start in the middle, with Orie Lemon once again filling in on the strong side. That lineup shuffling is emblematic of what the Buccaneers' defense has experienced in 2014, and certainly the lineup looks different than it did when Tampa Bay and Carolina last met in Week One. On the other hand, one thing from that earlier contest hasn't changed – or rather it has changed but then changed back again – is that Derek Anderson will be under center for the Panthers. Carolina QB Cam Newton suffered a back injury in a frightening auto accident on Tuesday, which means the Bucs will face his backup again.
Anderson had a strong outing in the Panthers' 20-14 win at Raymond James Stadium on September 7 but the Buccaneers believe they can fare better against the veteran passer in the late-season rematch.
"We're better than we were the last time around," said Smith. "It's a great opportunity for him; he beat us the first time so he's feeling pretty confident at home. They're in a playoff push, but we have a lot to play for and our guys are excited to play. We're competitors but we were as concerned about Cam Newton as anybody else was. We're just glad that he was spared [serious injury] and he'll be healthy and getting back on the football field."
Indeed, Tampa Bay's defense has been much better in the second half of the season, ranking in the top 10 in yards allowed since their Week Seven bye. Even without Foster and starting DT Clinton McDonald, who is missing a third straight game due to a hamstring injury, the Bucs are confident they'll fare better against the Panthers and will have a great chance to avenge a 20-14 loss in the first meeting.
"We had a good week of practice, considering we're out of the playoffs and all," said Smith. "Guys came to work and were ready to go. We made a couple changes in our lineup, put some guys in new positions, but it's been accepted and we're ready to go.
"They're the defending [division] champs, so to get 2015 started off the right way we need to beat some of our division opponents."
The Buccaneers declared the following seven players inactive before Sunday's game: Foster, McDonald, Collins, WR Robert Herron, WR Solomon Patton, S Major Wright and TE Austin Seferian-Jenkins. Foster, McDonald, Patton, Wright and Seferian-Jenkins were out due to injury.
Carolina's seven inactive players were Newton, CB James Dockery, RB DeAngelo Williams, S Robert Lester, T David Foucault, G Amini Silatolu and DT Micanor Regis. Newton, Williams and Silatolu were out due to injury.
The Buccaneers take on the Panthers in Week 15 of the 2014 season on Sunday afternoon, with kickoff scheduled for 1:00 p.m. ET at Bank of America Stadium in Charlotte, North Carolina. The game will be broadcast on television by FOX and on radio through the Buccaneers Radio Network and its flagship station, US 103.5 FM. That radio broadcast will also be carried live on Buccaneers.com.