In a Week 10 win over his former team, the Chicago Bears, Chris Conte ended up in the Bears' end zone at the conclusion of a 20-yard pick-six. That was Conte's first career NFL touchdown and it provided the spark in a 36-10 Tampa Bay Buccaneers victory.
On Sunday in Kansas City, Conte picked off another pass, this time in his own end zone. It was arguably the single biggest play in the Buccaneers' 19-17 victory at Arrowhead Stadium, which gave the Chiefs their first home less since October of 2015. Not only did Conte stop Kansas City from taking the lead in a 12-10 ballgame, he returned the ball all the way to midfield to set up what would prove to be the game-clinching touchdown drive.
The last time – and only other time – Conte had interceptions in two consecutive games was during the first two weeks of the 2014 season, when he was still playing for the Bears. He is the first Buccaneer player to get picks in two straight games since linebacker Lavonte David had a three-game streak from Nov. 24 to Dec. 4 in 2013. Prior to the last two games, the last Buccaneers defensive back to post consecutive games with an interception was cornerback Leonard Johnson, who also had a three-game run from Oct. 25 to Nov. 11, 2012. Ronde Barber, who played his first 15 seasons at cornerback before manning a safety position in 2012, was the last Bucs safety to have back-to-back games with interceptions, doing so against Kansas City and New Orleans on Oct. 14 and Oct. 21 of that season.
Conte now has four interceptions since joining the Buccaneers in 2015, one each in four different games. The Buccaneers are now 4-0 when Conte picks off a pass, as his takeaways last year came in a Week Two victory at New Orleans and a thorough thrashing of the Eagles in Philadelphia in Week 11.
Conte's interception return in Kansas City covered 53 yards and was thus the longest return or play from scrimmage of any kind for Tampa Bay this season. It was Tampa Bay's longest interception return since Mason Foster took a pick 85 yards to the opposite end zone against New Orleans on Sept. 15, 2003.
The Buccaneers defense shut down the Chiefs' final, desperate attempt at a multiple-lateral play as time expired, with David forcing a fumble and defensive tackle Gerald McCoy falling on the loose ball. Though Tampa Bay only needed to stop the play to win, that particular finish was technically a takeaway, which means the Bucs won the turnover ratio on Sunday, two to one.
That's the sixth straight game in which the Buccaneers have recovered at least one fumble. That's the team's longest such streak since it recovered a fumble in eight straight games from Nov. 29, 2009 to Sept. 19 of the following season. The last time the Bucs had six straight games with a fumble recovery in one season was in 2007, from Nov. 18 to Dec. 30.
The 2-to-1 turnover ratio on Sunday also put the Buccaneers on the positive side of that ledger for the first time this season. As we noted in last Friday's Football Geekery post, Tampa Bay has managed an unprecedented reversal of fortune in that category. After stumbling to a league-worst negative-9 turnover ratio after four games, the Bucs have been plus-10 over their last six outings. It's the first time in franchise history that the Buccaneers have ever come from at least nine down in turnover ratio and gotten back to even before season's end.
Tampa Bay just defeated the team that came into Week 11 with the NFL's best turnover ratio (Kansas City was plus-22 before dropping one on Sunday). Since Week Five, however, it's the Buccaneers who have been the league's best in that category.
Most Takeaways, NFL Teams, Since Week Five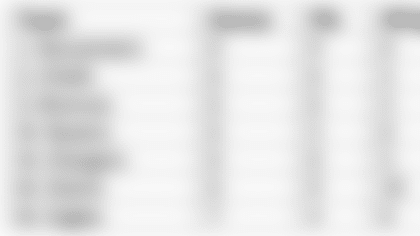 The Bucs were 1-3 after their first four games, in large part due to that lopsided turnover ratio and the points it had led to for their opponents. During that stretch, the Buccaneers allowed seven touchdowns and one field goal off 11 giveaways, including two turnovers that were returned directly for scores. The Bucs' two takeaways had resulted in two touchdowns.
Since Week Five, the Buccaneers have scored six touchdowns and three field goals off turnovers while allowing only one touchdown and two field goals in that manner. Overall, the Buccaneers have scored 64 points off their takeaways, the fifth-highest total in the NFL.
Rookie K Roberto Aguayo accounted for much of the Buccaneers' scoring on Sunday with a season-high 13 points. That was the product of four field goals made in four attempts plus one extra point. Aguayo is the first Buccaneers kicker to make at least four field goals in a game without a miss since Connor Barth did the same thing against Carolina on Dec. 4, 2011. Sunday marked the 13th time in team history that a Bucs kicker has made four or more field goals without a miss.
That game against a Panthers was an aberration in that the Bucs lost, 38-19. Aguayo's performance on Sunday was the 22nd time in franchise history that a Bucs kicker had made four field goals in a game, and the team is now 17-5 on such occasions.
Aguayo has made seven consecutive field goal attempts over the Buccaneers last four games. Since a Week Seven win at San Francisco, he is nine of 10 on field goal tries and 12 of 13 on point-after attempts.
Buccaneers QB Jameis Winston spread the ball around well on Sunday on his way to a 331-yard passing day. Five different Buccaneers – Mike Evans, Cecil Shorts, Adam Humphries, Russell Shepard and Doug Martin – had at least 42 receiving  yards on the afternoon. That's just the 11th time this season that any NFL team has seen five different players surpass 40 receiving yards in the same game. In addition to the Buccaneers, Arizona, Chicago, Cleveland, Detroit, Philadelphia, San Diego, Seattle and Tennessee have all done it once, and Washington has done it twice.
WR Mike Evans led the way with 105 yards on six receptions as he tallied the 11th 100-yard game of his career in just 40 total NFL outings. Evans is already tied for fourth in team history in total 100-yard receiving games and would need just five more to take over the all-time lead. Below are all six Buccaneers who have hit double digits in 100-yard receiving games, along with how many total games they played with the team and in which game played they got their 11th century mark.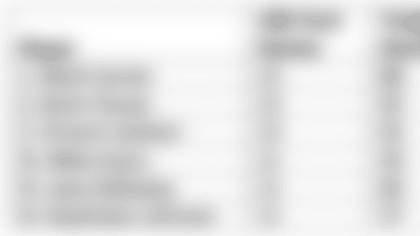 Evans' totals on Sunday pushed his 2016 marks to 65 catches for 916 yards and eight touchdowns. His receiving yardage total is the most any Buccaneer player has ever posted through the first 10 games of a season.
Evans is near the top of the NFL charts in all three of those receiving categories. He and Pittsburgh's Antonio Brown are the only two players who rank in the top five in the league in receptions, receiving yards and touchdown catches.
Most Receptions, NFL, 2016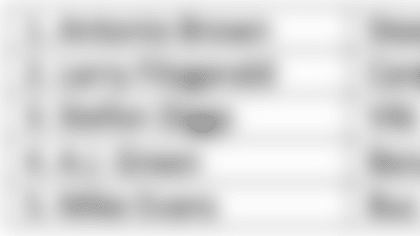 Most Receiving Yards, NFL, 2016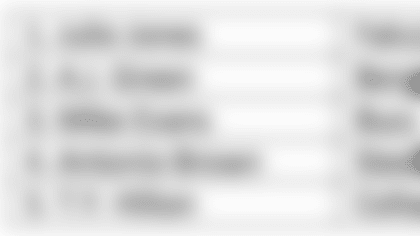 Most Touchdown Receptions, NFL, 2016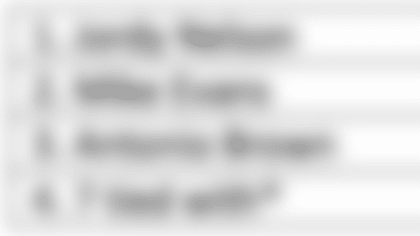 ( Not including A.J. Green, who has four TD receptions)
Evans is the only player in the NFL who has at least 50 receiving yards in every game he's played so far this season. His streak of such performances actually dates back to the last three games of the 2015 season, giving him an active run of 13 straight games with at least 50 receiving yards. While that's obviously the longest active streak in the NFL, it's also just two games shy of the Buccaneers' all-time record. Keyshawn Johnson had 15 straight games with at least 50 receiving yards in a run that started in December of 2000 and ended the following December.
*Longest Streaks of Games with At Least 50 Receiving Yards, Buccaneers History