The Tampa Bay Buccaneers had trouble converting on third downs on Sunday in the Mercedes-Benz Superdome, which was a significant factor in the team's season-low output of 252 net yards in a 31-24 loss to the New Orleans Saints. This came on the heels of a two-game stretch in which Tampa Bay's offense averaged 481.5 yards per game and seemed to be finding its rhythm under Head Coach Bruce Arians and play-caller Byron Leftwich.
There was little rhythm to the Bucs' attack on Sunday, but when it did get rolling it usually involved wide receiver Chris Godwin, whose explosive breakout campaign continued. Godwin caught seven passes for 125 yards, which was almost exactly half of the team's final yardage total. He also accounted for two of the Bucs' three touchdowns on a pair of 26-yard catches.
Godwin also caught two touchdown passes in the Bucs' Week Four win over the Rams in Los Angeles. He is the first player in the NFL this season to have consecutive games with multiple touchdown catches, and the first to do so since Kansas City Chiefs wideout Tyreek Hill did so last year in Weeks 10 and 11.
Godwin is the first Tampa Bay player to record at least two touchdown catches in consecutive games since Vincent Jackson did so in Weeks Six and Seven of the 2013 campaign. This is just the third such streak in franchise history, with Horace Copeland first accomplishing the feat in Weeks Eight and Nine of the 1993 season.
Godwin's 125 yards against the Saints came on the heels of his 172-yard outing in Los Angeles. As such, he is the first player in Buccaneers history to have consecutive games with at least 125 yards and two touchdowns on receptions. The last NFL player to accomplish that feat was Pittsburgh's Antonio Brown in Weeks 11 and 12 of the 2017 season
On the season, Godwin has 33 receptions for 411 yards and six touchdowns, and he ranks third in the NFL in yards while leading the field in TD catches.
NFL Receiving Yardage Leaders, 2019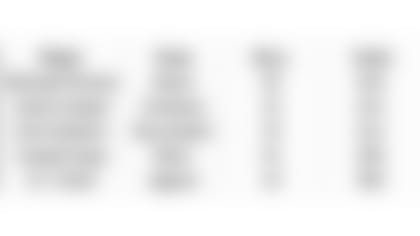 NFL Touchdown Reception Leaders, 2019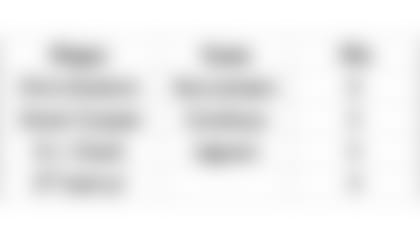 (* including Buccaneers WR Mike Evans)
Godwin has more touchdown receptions through the first five games of 2019 than any player in team history has ever had before. In fact, he's the first Buc ever to have at least five touchdown catches through the first five games.
Most Touchdown Receptions, First Five Games of a Season, Buccaneers History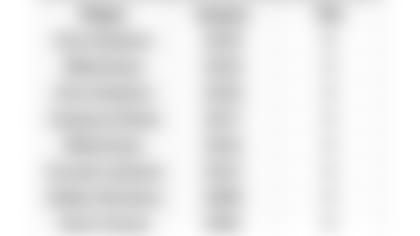 Godwin is just the third player in Buccaneers franchise history to top the 500-yard receiving mark through the first five games of the season.
Most Receiving Yards, First Five Games of a Season, Buccaneers History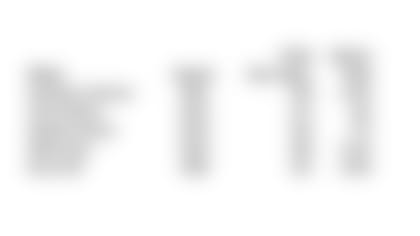 Quarterback Jameis Winston got those passes to Godwin as part of a 204-yard, two-touchdown performance in Week Five. He now has 11 touchdown passes on the season to tie for second in the NFL behind Seattle's Russell Wilson, who has 12. Winston's 1,371 passing yards is the ninth-highest total in the league, and it is also the most passing yards for any quarterback in franchise annals through the first five games of a season. Winston now owns three of the top five figures on that list.
Most Passing Yards, First Five Games of a Season, Buccaneers History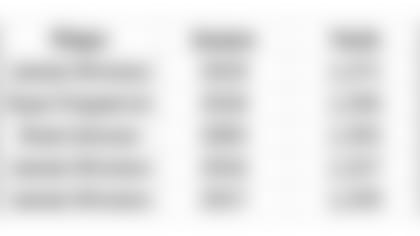 Winston did not throw an interception in Sunday's game, helping him post a passer rating of 104.6 on the afternoon. That comes on the heels of ratings of 120.5 against the Rams in Week Four and 112.4 against the Giants in Week Three. That's the third-longest streak of games with a passer rating of 100 or better in team history. Josh Freeman set the record with five straight in Weeks Six through 10 in 2012, and Vinny Testaverde had a run of four such outings in Weeks Three through Six in 1990.
The Bucs scored 24 points in New Orleans after posting a team-record 55 in Los Angeles. Overall, the Buccaneers are scoring 29.4 points per game this year, which ranks fifth in the NFL. Their 147 points represent the most the team has ever scored through the first five games of a season.
Most Points Scored, Team, First Five Games of a Season, Buccaneers History
---
- Kicker Matt Gay made his only field goal attempt in New Orleans, from 42 yards, and was good on all three extra point attempts. Since his miss of a potential game-winning kicker at the end of the game against the Giants in Week Three, Gay has made 13 consecutive placekicks.
- Safety Jordan Whitehead broke up a pair of passes in Sunday's game against the Saints, giving him a team-high six passes defensed on the season. That is tied for the third-highest total of passes defensed among all NFL players through Week Five.
- Tampa Bay's rush defense dropped one spot in the NFL standings after the Saints were the first team to cross 100 yards against it this season, but it still stands second with 69.8 yards allowed per game. The 349 total rushing yards the Bucs have allowed this season are the fewest it has allowed through five games since 2005. The Bucs still lead the league in yards allowed per carry, at 3.12. Removing quarterback scrambles and random receiver end-arounds and such, the Buccaneers are allowing just 56.0 rushing yards per game and 3.04 yards per carry to opposing running backs, specifically.
- Rookie CB Sean Murphy-Bunting snared his first career interception in the first quarter of Sunday's game, setting up Godwin's first touchdown catch. That was the Buccaneers' 10th takeaway of the season, which is tied for the fourth-most in the NFL through Week Five. The Buccaneers' five interceptions so far this season have been recorded by five different defenders.