The Tampa Bay Buccaneers have lost two straight games in disappointing fashion, most recently a 37-26 defeat in London on Sunday at the hands of the Carolina Panthers. An offense that had been humming along has begun to struggle, first with converting third downs in New Orleans and then with the bigger issue of turning the ball over in London.
Through it all, however, Chris Godwin has continued to produce at a level that puts him among the NFL's best and on pace for some franchise records.
The Buccaneers' rising-star third-year receiver caught 10 passes for 151 yards in Sunday's game, following on the heels of 172 and 125-yard outings against the Rams and Saints, respectively, in Weeks Four and Five. That makes Godwin the first player in Buccaneers history to record three straight games of 125 or more receiving yards. The last player anywhere in the NFL to achieve this feat was Green Bay's Davante Adams in Weeks 5-8 (with a bye week in the middle) last year.
Godwin's streak is just the fourth in franchise history with three games of 100 or more receiving yards, and he needs one more to tie the record set by Mark Carrier in 1989. These are those four streaks:
·    4 games, Mark Carrier, 1989, Weeks 13-16
·    3 games, Chris Godwin, 2019, Weeks 4-6
·    3 games, Mike Evans, 2014, Weeks 9-11
·    3 games, Antonio Bryant, 2008, Weeks 14-16
Godwin also had 121 yards in the Bucs Week Two win at Carolina, giving him four 100-yard games on the season and eight in his young career. Carrier holds the single-season Buccaneer record with nine 100-yard receiving games in 1989. Godwin's recent run has him at 662 yards, which leads the NFL through six weeks. And though he did not score in Sunday's game against the Panthers, Godwin still leads the NFL in touchdown catches.
NFL Receiving Yardage Leaders, 2019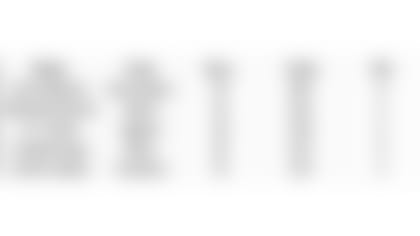 Godwin's 662 yards are the most any Buccaneer has ever had through six games and put him on an early pace to get roughly 1,765 yards by season's end. It's too early to put too much stock in a pace extrapolation, but Godwin might have a shot at the team's single-season receiving yardage record, set just last year at 1,524. Here are the top five receiving-yardage totals through six games in Buc history along with the final season totals for the other four entries on the list: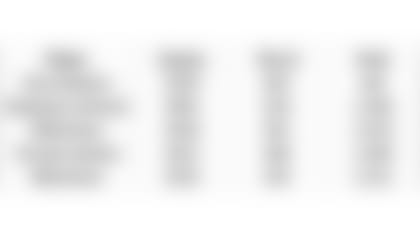 By the way, all four of those other seasons on the above chart ended in Pro Bowl invitations for the receiver listed.
Mike Evans also caught nine passes for 96 yards, falling just short of a 23rd career 100-yard game; his 22 such outings are already a franchise record.
The combined efforts by Godwin and Evans marked just the fifth time in team history that two players had caught nine or more passes in the same game, but three of the other four were by a wide receiver-running back duo. The only other time that two Tampa Bay wide receivers caught nine or more passes in the same game was by Evans and Adam Humphries against the Los Angeles Rams on Sept. 25, 2016.
Evans didn't get to 100 yards but the franchise's all-time leader in receiving yards and touchdown receptions did take over first place all alone in yet another career category. His diving catch of a deflected pass to convert a two-point attempt in the fourth-quarter was the fourth of his career. That is the most two-point conversion attempts in franchise history, breaking a record he had previously shared with Ring of Honor member Mike Alstott.
Jameis Winston threw the 19 combined passes caught by Evans and Godwin, amid a 400-yard passing day. It was not a good game for Winston, who was picked off five times and sacked seven times. Winston was also forced into two fumbles, one of which the Panthers recovered, accounting for six of the Bucs' seven turnovers on the day. It is therefore harder to celebrate what happened to be a few milestones reached by Winston on the day. Such as:
·    His touchdown patch to Cam Brate in the fourth quarter was the 100th of his career, making him the first Buccaneer passer to reach that mark.
·    His 400 passing yards give him 1,771 on the year, the most ever by a Buc passer through the first seven games of a season.
·    Those yards also pushed his career total to 16,399, making him the first Tampa Bay quarterback to surpass 16,000 yards.
Winston got to those 100 passing touchdowns before his 26th birthday, which is in January. He already has the fifth-most touchdown passes by a quarterback aged 25 years or younger, and he has a shot at climbing as high as second on the list by season's end. The following chart lists those five players and the number of games they played before turning 26 (so far, in Winston's case).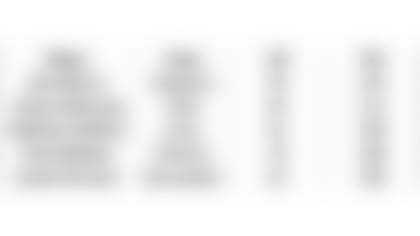 Bobo Wilson's muffed punt in the fourth quarter accounted for the Buccaneers' seventh turnover of the game. That marked just the ninth time – and the first time since Dec. 11, 2011 against Jacksonville – that the Buccaneers had turned the ball over at least seven times. Unsurprisingly, all nine of those games resulted in losses for Tampa Bay. In fact, since the AFL-NFL merger in 1970, all NFL teams combined are 9-157-1 in games in which they commit seven or more turnovers.
No team has turned the ball over seven times in a game and won in nearly two decades, since Tennessee beat Cleveland, 24-10, on Nov. 19, 2000 despite losing the turnover battle 7-1.
·    Kicker Matt Gay connected on a 54-yard field goal on Sunday against the Panthers and remains a perfect three-for-three on attempts from 50 and beyond this season. The last Buccaneer kicker to hit three or more 50-plus-yard field goals in the same season was Connor Barth, who was 3-5 in that range in 2015. Gay has made his last 15 placekicks (four field goals, 11 extra points).
·    Cornerback Ryan Smith created the only takeaway for the Buccaneers on Sunday, forcing a fumble by return man Ray-Ray McCloud that was recovered by linebacker Kevin Minter in the second quarter. That is the fourth forced fumble in Smith's career, including two each on defense and special teams.
·    Rookie wide receiver Scotty Miller recorded the first three receptions of his career on Sunday, for 39 yards, and first-year running back Dare Ogunbowale scored his first career touchdown on a three-yard run in the fourth quarter.
·    The Buccaneers are now 0-3 in games played in London, having lost to New England and Chicago, respectively, in International Series games played in 2009 and 2011.
·    OLB Carl Nassib recorded his second sack of the season on Sunday, giving him 8.5 in 21 games as a Buccaneer. Nassib was also credited with four tackles for loss; according to Pro Football Reference, that's the most any Buccaneer player has had in a single game since 1999, when such stats are available. That includes a pair of four-sack games in that span – one by Shaq Barrett in Week Three of this season – because strip-sacks are counted as sacks but not tackles since the quarterback is not actually tackled to the ground.