STORY HIGHLIGHTS
DE Adrian Clayborn is making the transition from the right edge to the left this year, and it's going well
The change in positions provided Clayborn with a reason to re-evaluate his approach to getting to the quarterback
The Bucs' defensive line appeared to have a nice opening game in Jacksonville but Clayborn was far from satisfied


Adrian Clayborn is no longer hunting on the blind side.
The 20th overall pick in the 2011 NFL draft, Clayborn has been the Tampa Bay Buccaneers' starting right defensive end for every game that he's been healthy over the last three years. He did miss most of his second NFL campaign due to a knee injury, but when he's been in the lineup it's been in that premier pass-rushing spot to the back of all right-handed quarterbacks.
That is no longer Clayborn's job as he heads into his fourth NFL season. Tampa Bay signed coveted pass-rusher Michael Johnson on the first day of free agency in March and immediately anointed him the new right end. The result for Clayborn isn't exactly a demotion, however; it's a new challenge, and one he has embraced. Clayborn is now the starting left end, and he's also been taking some snaps at defensive tackle to potentially offer an inside rush on passing downs.
The former University of Iowa star has always been direct, so if the transition wasn't going well, he would say so. Instead, in a development that might even surprise Clayborn, he has found the left edge very much to his liking.
"I hate to admit it but the left side feels more comfortable now, so it's kind of awkward when I'm back on the right side," he said after Tuesday's training camp practice, one day after Head Coach Lovie Smith praised his efforts in a press conference. " I like it. It's different. Everything happens faster and you're going against less athletic guys, so it's fun.
"It's just different. It felt awkward at first but I feel comfortable now, so hopefully it all works out."
Clayborn credits the tutelage of Defensive Line Coach Joe Cullen and Assistant Defensive Line Coach Mike Phair with helping him make the switch as painlessly as possible. He also personally took a step back and re-evaluated his approach to getting to the quarterback. Playing a new position forced him to analyze the game more closely and come up with some new ideas.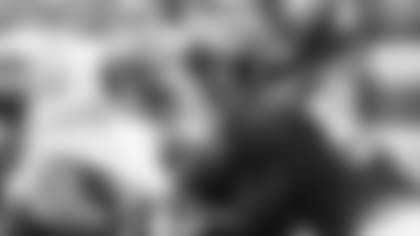 Fourth-year DE Adrian Clayborn is finding new life in his pass-rush game after a switch from the right to the left
"I think it's allowed me to be more creative, playing a different side this year," said Clayborn. "It's allowed me to study the game a little bit more to figure out how to rush from the left side. I've learned a lot about pass-rushing, how to get to the quarterback. [Cullen] and have Coach Phair have taught me a lot about how to rush from the left side and not so much coming from the blind side of the quarterback. I've picked up a lot."
Clayborn was part of a deep defensive-line rotation that was probably the brightest spot from the Buccaneers' preseason-opening loss in Jacksonville last Friday. Tampa Bay's first and second-team fronts consistently invaded the Jaguars backfield, and while they came away with only one sack they kept Jacksonville's front-line offensive players from getting anything going in the first half.
That's the outside perspective, at least. Clayborn actually wasn't particularly satisfied with the outing.
"I think from the outside people think we did pretty good but our standards are way higher than that," he said. "We still have a lot more to work on, a lot more to do. We were minus on takeaways, and this defense is predicated on takeaways. If we're not up [in turnover ratio] at the end of the game, there's something wrong."
The Buccaneers' defense will attempt to fix that issue over the next three weeks of the preseason. That's a matter of getting the little details right. In terms of the big picture, however, things are working out just fine for Clayborn on the opposite side of the defensive line.