There are 11 different groups of players who will take the Lucas Oil Stadium field over the course of four days at the 2015 NFL Scouting Combine. Group Five featured the second half of both the quarterbacks and wide receivers, which means Group Five featured Marcus Mariota and Jameis Winston.
And yes, the Tampa Bay Buccaneers' Combine contingent of scouts and coaches – led by General Manager Jason Licht and Head Coach Lovie Smith – were paying very close attention.
Allowed access to the luxury suite that was home to Smith, Licht and just five other members of the Buccaneer football staff for most of the morning and afternoon on Sunday, Buccaneers.com watched those who were watching the field. It was not a boisterous environment – most of the conversation came in the form of hushed tones and quiet note-taking – but it was still evident that the Bucs liked what they saw. They certainly weren't alone.
What made the Group Five session particularly worth watching was the decisions by both Mariota and Winston, widely regarded as the two best quarterback prospects in this year's draft pool, to take part in all the drills. Because the players are assigned Combine numbers on an alphabetical basis, Mariota was QB11 and Winston was QB15. Most of the passing drills involved the seven quarterbacks getting three reps each throwing to the receiver prospects. In most cases, that meant Mariota and Winston were throwing the exact same routes in the exact same environment just minutes apart.
The quarterbacks were tested on nine different throws, from the quick slant to the deep over-the-shoulder pass. Mariota and Winston were both on target with almost every throw. Winston was particularly impressive with his accuracy on the deeper routes.
"It was really cool to see both of the consensus-right-now top two quarterbacks to lay it all out there and do everything for the world to see," said Licht just minutes after the Group Five session had concluded. "They continue to show how competitive they are. They have an inner drive that's pretty amazing actually.
"One has a little bit better [certain] traits than the other; the other has better certain other traits. They both have their strengths and they showcased those strengths."
Mariota also impressed before the passing began, as he topped all the quarterbacks with a 4.52-second 40-yard dash. Winston was not among the fastest runners, but his passing confirmed an already strong scouting report.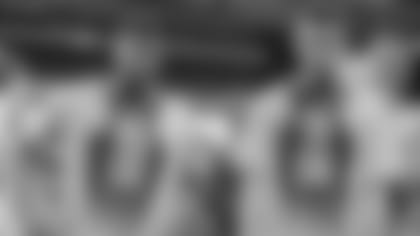 Highly-regarded QB prospects Jameis Winston (left) and Marcus Mariota did nothing to hurt their draft stock on Sunday at the Combine
"They certainly have [impressed], both guys," said Smith. "Marcus of course is a great athlete and he showed that today. Jameis's strengths are more throwing the football and we've seen both of them doing what they do best."
The other five quarterbacks in Group Five were Southeast Prairie View A&M's Jerry Lovelocke, Oregon State's Sean Mannion, Auburn's Nick Marshall, Baylor's Bryce Petty and Alabama's Blake Sims, and they all had strong moments as well. Mannion, for instance, threw a series of impressively on-target deep balls. The obvious stars of the show, however, were Winston and Mariota, both of whom won by simply showing up, and then made that victory sweeter by performing extremely well.
"They both accentuated their strengths, showed their strengths that we knew they had," said Licht. "Neither disappointed; it was a good showing by both of them."
It helped the quarterbacks in Groups Four and five that they were sharing the field with a strong class of receivers. For instance, Mariota and Winston got to throw to West Virginia's Kevin White, who may have improved his chances at being a top-five pick by running a pair of blazing 40s (topped by a 4.35) and catching everything during the passing drills.
In fact, when asked about the participants in Group Five, Licht actually brought up the pass-catchers first, not the passers.
"It was a good group of receivers out there, really athletic guys, a deep class," said Licht. "It's an exciting group."
The Buccaneers reaped the benefits of an extremely strong group of wideouts a year ago, nabbing Mike Evans at #7 overall. It's interesting that the draft is producing a deep class at the same position for a second straight year, perhaps deep enough that Tampa Bay could take advantage of it again.
While not as glamorous, the on-field work by the offensive line prospects on Friday might be just as encouraging for the Buccaneers. Tampa Bay's front line struggled in 2014 and is likely to be a point of emphasis for a second straight offseason. If the Buccaneers do use the first-overall pick on a quarterback – and, of course, we don't yet know if that's a certainty – than depth in the O-Line class becomes more important to the team.
"It's a really good group of offensive linemen, guards and tackles, and centers as well," said Licht. "We're pretty excited about that group, as well."
While Buccaneer scouts have been filing reports on all the players at the combine for months, Smith and his coaching staff were focused on the 2014 season until the end of December. There were other pressing matters in January, as well, including the hiring of a new offensive coordinator and quarterbacks coach. As is the case for coaches every year, that meant that Smith is just in the process of getting up to speed on many of the best draft prospects. His eyes were opened regarding the 2015 class of O-Linemen on Friday.
"I thought there were some players I didn't know anything about that really stood out," said Smith. "Whenever you get a chance to see guys move around on the field, go through different agility drills, it can definitely help the evaluation process."
The process of getting to know Winston and Mariota of the field has begun in earnest. The Combine was the first opportunity for Buccaneer officials to get one-on-one time with both top prospects. It won't be the last by a long shot.
"We've met with the quarterbacks as an organization already and we'll continue to keep meeting with them," said Licht. "This is just the beginning, the budding stages of it. We'll get to know these guys very, very well in the next two months.