STORY HIGHLIGHTS
UCLA's Anthony Barr and Buffalo's Khalil Mack are considered two of the best pass-rush prospects in this year draft
Barr and Mack are considered ideal 3-4 outside 'backers by some but want to prove they can excel in any defense
Many mock drafts have the Buccaneers' keying in one of those two pass-rushers

Anthony Barr and Khalil Mack have two wholly different back stories, but they've arrived at the same place in the lead-up to the 2014 NFL Draft.
Barr grew up on the West Coast and starred as a running back before converting to defense at UCLA.  Mack hails from Florida but wasn't considered a top prospect coming out of high school, taking the only scholarship offer he got from the University at Buffalo.  A prep tailback and a lightly-recruited inside linebacker - now they're the two most coveted stand-up pass-rushers at the NFL Scouting Combine, and practically interchangeable in the assorted mock drafts.
And, as such, they're facing the same question this weekend in Indianapolis: As prototypical 3-4 outside linebackers, can they also excel in a 4-3 defense, either as an outside linebacker or a pass-rusher with his hand in the dirt? The answer to that question is important, as it relates to the viability of their being chosen in the first round by roughly half of the teams in the league. The Tampa Bay Buccaneers, for instance, will be running a 4-3 Cover Two defense under new Head Coach Lovie Smith, and they own the seventh overall selection in the opening round. That's prime Barr-Mack territory.
What Barr and Mack do on the field during the Combine at Lucas Oil Stadium is more important than what they say at the interview podium, and yet it's still interesting to hear what they consider to be their NFL role models. Asked essentially the same question hours apart – "What current NFL player would you compare yourself to?" – their answers almost identical. Barr listed Denver's Von Miller, San Francisco's Aldon Smith, Green Bay's Clay Matthews and Dallas' DeMarcus Ware. Mack dropped Miller, Smith and Matthews.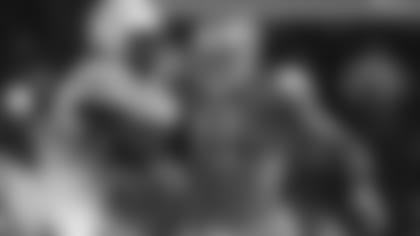 UCLA's Anthony Barr switched from running back to linebacker and emerged as a top NFL draft prospect
Now, it's important to note that both players were deferential to their NFL predecessors, and reluctant to put their names in equal standing with established stars. They were simply asked a question, and they spoke confidently and optimistically about what they might be able to achieve at the next level.
"I don't like those questions, because I don't want to be compared to anybody," said Mack. "At the same time, there's a lot of guys that I look up to and try to mimic my game after- as far as Von Millers and Clay Mathews and Aldon Smiths and all those guys that get in the backfield, as well as get their hands on the ball and try to take it to the house."
Still, Mack and Barr mostly spoke about pass-rushers who have excelled in 3-4 fronts, a la Smith or Miller. In fact, Mack was pressed on that exact issue and he came up with the name of Julius Peppers, the ridiculously athletic defensive end who has excelled for 12 seasons with Carolina and Chicago, racking up 112 career sacks. At 6-3 and 250 pounds, Mack would probably need to add weight to hold up as a 4-3 end like Peppers, but he sounds more than willing to go that route.
"I love it, I love it," he said, when asked about playing in a 4-3. "I talked to a couple of coaches already and told them I can play defensive end if they need me to."
Barr says he'd be willing to make the transition, as well. He measured in at 6-5 and 255 pounds in Indianapolis, and that's already impressive given his speed and athleticism, but he could continue to adapt to a new position.
"I'd say yes," Barr answered, when asked if he'd be amenable to playing defensive end in a 4-3 front.  "I feel comfortable at this weight, but if a team would ask me to put on weight and put my hand on the ground I'm doing that."
Barr and Mack are wisely keeping their employment opportunities as wide-open as possible. They are already hot prospects, and it makes sense, with the draft approaching, to appeal to as many of the 32 teams as possible. Both are certain to be high picks in May, but it remains to be seen if they are destined to be 3-4 linebacker edge rushers, 4-3 linebackers with hybrid pass-rushing responsibilities or traditional 4-3 outside 'backers.
With that in mind, it's no surprise that both players want to be seen as prime talents who can still be molded in any direction.
"I'm far from a finished product," said Barr, who said he dropped into coverage on about 30% of his snaps last year. "That's definitely an area that needs to be improved."
Added Mack: "I don't want to limit myself to just playing one specific thing. I feel like that's the biggest thing for me. When I work out with the defensive ends, I work out with the linebackers, I also go over and workout with the DBs – just to stay fresh. I work hard, and I want to stay loose and don't want to put a limit on myself."
Obviously, neither Barr nor Mack wants to put any restrictions on his league-wide appeal, with the NFL about to sort through one of the deepest classes of prospects ever.  Still, their viability as options in different defensive schemes is one of the most significant issues driving their future employment, and something in which the Tampa Bay Buccaneers should be particularly interested.