STORY HIGHLIGHTS
Some mock drafts have North Carolina's Eric Ebron going among the top 10 picks in May, a rare spot for a tight end
Ebron patterns his game after San Francisco's Vernon Davis, who was taken sixth overall in 2006
Ebron's strong workout in Indianapolis may have solidified his standing as the top TE on the draft board this year

The last time a tight end was taken among the top 10 picks of an NFL Draft was in 2006, when the San Francisco 49ers used the sixth overall selection on Maryland's Vernon Davis. In the seven drafts since, no tight end has even gone higher than 20th.
North Carolina's Eric Ebron could change that this coming May.  If he does, it will because he just happens to remind NFL teams – or at least one NFL team – of none other than the 49ers' Davis. That is, in fact, specifically who Ebron wants to pattern his game after.
"His speed, he's powerful, he's very strong at the line of scrimmage…[I] love everything about him.
"It's become more demanding, the tight end position. There's become more of a need for talent, speed and athleticism rather than big bulky just-blocking tight ends. It's become a need of special people to play that position in order to create different mismatches and better offenses, so I feel like I fit right in."
Is Davis the very best tight end in the NFL today? One could make that argument, though there would probably be plenty of support for New Orleans' Jimmy Graham or New England's Rob Gronkowski, or maybe even an up-and-comer like Cleveland's Jordan Cameron. Davis is the right comparison for Ebron, though, because he memorably hit the Combine with all the right measurables to make him that rare top-10 pick at the position.
He's not the only one who's done that through the years – Kellen Winslow, Rickey Dudley and Kyle Brady all impressed enough in Indy to get the same draft-weekend results – but he has gone on to prove worthy of that investment. Davis has more than 5,201 receiving yards in eight seasons, has scored a whopping 53 touchdowns and has a fine career per-catch average of 13.1 yards. He has another 600 yards and seven touchdowns in just eight postseason games. And he blocks well enough to stay on the field for most snaps and remain an unpredictable threat.
"Every team wants a complete tight end, an all-purpose tight end not one that can just run down the seam and catch passes," said Ebron. "They want a guy that can block, too. I tell them that I've been working hard on it, which I have, and that I'm not bad at it, which everyone thinks, but we'll see."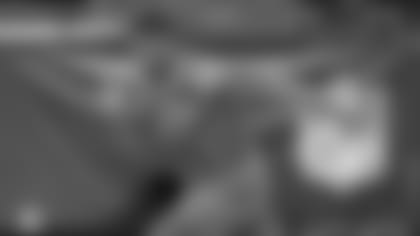 North Carolina's Eric Ebron ran a 4.60-second 40-yard dash at the Combine, second among the assembled tight ends
Like all the athletes at the NFL Scouting Combine in Indianapolis this past week, Ebron spoke to the press before his on-field workouts. After his "we'll see," he went on to run an excellent 4.60-second 40-yard dash (second among all tight ends) while also ranking among the leaders at his position in the broad jump and the vertical leap. Ebron got through 24 reps of 225 pounds on the bench press, a decent mark that indicates he has the strength to handle the rigors of the position at the line. He measured in at 6-4 and 250 pounds, already up five pounds from his UNC playing weight, and scouts believe he has the frame to get even bigger and stronger.
Ebron came to Indy looking to prove that he was that coveted all-around tight end, with no holes in his game. Overall, his on-field performance in Indy was met with very good reviews, which may solidify his spot as the first tight end likely to come off the board.
"[I] just [wanted to prove] that I have solid hands, that I run fast, that I'm strong," he said. "Those are all the things that everybody is looking for at the Combine. So, just to prove that I'm true to all the stages in the Combine."
Will it be enough to get him into Vernon Davis territory, in the top 10?  The four analysts who have their mock drafts posted side-by-side on NFL.com – Bucky Brooks, Matt Smith, Daniel Jeremiah and Charles Davis – have Ebron coming off the board between the ninth and the 18th pick overall.  If those four have an accurate read on the situation, that means Ebron would be available when the Tampa Bay Buccaneers pick at #7 overall.  One could argue that the Buccaneers are one of the most tight end-needy teams in the NFL, with the caveat that converted wide receiver Tim Wright showed some promise in 2013 and could be part of the solution as well.  Through 38 NFL Drafts so far, the Buccaneers have never taken a tight end in the first round, but it's clear what an elite player at that position can do for an offense. The Bucs see it twice a year in New Orleans and have recently had to deal with Tony Gonzalez in Atlanta and Greg Olsen in Carolina, as well.
Of course, the Bucs aren't the only team in the top 10 that could use a new weapon at that position. Oakland, picking sixth, got almost no production from tight end in 2013 after Brandon Myers left for the Giants, and Atlanta (seventh) now has to replace the retiring Tony Gonzalez. Brandon Pettigrew is a pending free agent for Detroit (picking 10th) and has been somewhat underwhelming anyway; a prolific tight end to combine with wide receiver Calvin Johnson and running back Reggie Bush could make the Lions' offense scary. Get past the 10th pick and you find some other potential landing spots for Ebron including Baltimore (Dennis Pitta is a free agent), the New York Jets and the Arizona Cardinals.
Ebron knows he has competition for the top pick in his group from what he calls one of the best class of tight ends ever to hit the draft. In Indy, he was more concerned with proving his all-around talents than figuring out exactly where he might land in the draft.
"It doesn't matter," he said. "It really doesn't matter. If you need me, if you need a tight end, I'm here. I'm on a draft board. If you need me I'll be there.
"I'm not going to sell myself but I'm very fast, I'm very different. I play the tight end role like no one else. Things I need to work on is everything. I'm about to step into a professional career, professional level of grown men that do this for a living so I feel like I need to work on everything. Everything will help me be, hopefully eventually an elite tight end in the NFL."