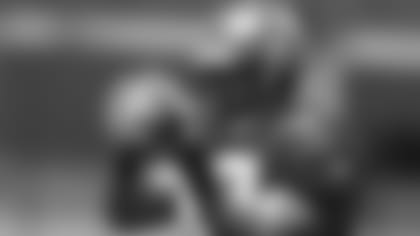 LB Angelo Crowell was in the hunt for a starting spot when training camp started last summer but later suffered a season-ending arm injury

Angelo Crowell and Mark Bradley were Tampa Bay Buccaneers when the 2009 season ended, but neither had yet played a down in pewter and red. That will hopefully change in 2010, as both Crowell and Bradley re-signed with the team on Monday.

Crowell became an unrestricted free agent on March 5 but chose to remain with the team that signed him a year ago after a 2008 campaign spent on injured reserve in Buffalo. Bradley became a restricted free agent at the same time when the Buccaneers extended the necessary tender offer. Crowell's new pact is a one-year deal; Bradley simply signed his one-year tender offer.

Of the nine players from the Bucs' 2009 squad who became unrestricted free agents in March, Crowell is the first to re-sign with the team. Similarly, Bradley is the first of the team's six restricted free agents to return to the fold.

Still remaining on the Bucs' restricted free agent to-do list are tackles Donald Penn and Jeremy Trueblood, linebacker Barrett Ruud, wide receiver Maurice Stovall and running back Cadillac Williams. The vast majority of restricted free agents eventually return to their original teams, often by signing the tender offers that were extended to them, because signing a player in this category requires a team to send back draft-pick compensation.

The 6-1, 246-pound Crowell signed with the Buccaneers last March while still in the midst of his rehabilitation from the knee surgery he underwent in August of 2008. He was back at full strength for the start of Tampa Bay's 2009 training camp but then suffered a torn biceps against Jacksonville on August 22. Crowell ended up on injured reserve for a second straight campaign; however, he had missed only five games due to injury during his first five seasons in the league.

Prior to his knee injury, Crowell had established himself as one of Buffalo's defensive stars, serving as a team captain in 2007. From 2005-2007, he racked up 360 tackles, seven sacks, five interceptions, and 19 passes defensed while making starts at both weakside and strongside linebacker. Prior to moving into the starting lineup in 2005, Crowell had emerged as a top special teams player, as well, as evidenced by his 28 kick-coverage stops in 2004.

During his last season of play in 2007, Crowell was the only linebacker in the NFL to have at least one safety, sack, interception, forced fumble and fumble recovery. He originally entered the league as a third-round draft pick (94th overall) of the Bills in 2003.

When he signed with the Buccaneers last year, Crowell was considered a strong competitor for the starting spot at strongside linebacker, which eventually went to third-year player Quincy Black. Crowell should once again compete for playing time with the team's two young starters at outside linebacker, Black and Geno Hayes.

Bradley (6-1, 201) became a Buccaneer late last December when he was claimed off waivers from the Kansas City Chiefs. The former second-round pick (39th overall by Chicago in 2005) was on Tampa Bay's 53-man roster but inactive for the final two games of the season. With five accrued seasons of free agency credit, Bradley became a restricted free agent when the Bucs extended a tender offer that would have required a second-round pick in compensation.

Bradley did play in 13 games with six starts with the Chiefs last year before he was waived, catching 24 passes for 320 yards and two touchdowns. He had been signed by Kansas City the previous October after being released by the Bears. One of the highlights of Bradley's first season in Kansas City was a 37-yard touchdown pass that he threw to quarterback Tyler Thigpen on a trick play against the Buccaneers in November. Between the Bears and Chiefs, Bradley started eight games in 2008 and contributed 30 receptions for 380 yards and three scores.

Overall, Bradley has played in 57 games with 18 starts over his five NFL seasons and recorded 92 receptions for 1,283 yards and nine touchdowns. He has a career average of 13.9 yards per catch and has turned in at least one reception longer than 50 yards in four of his five seasons.