STORY HIGHLIGHTS
New Bucs Defensive Line Coach Joe Cullen saw significant promise when he evaluated the returning players in his group
The additions of Michael Johnson and Clinton McDonald could help the Bucs revive a pass-rush that hasn't hit 35 sacks since 2005
That free agency haul plus the team's D-Line holdovers will create competition and, hopefully, a deep and talented rotation up front

Last season, the Cleveland Browns' defense racked up 40 sacks, the team's highest season-ending total since 2001. That same defense, led by a stout front that rotated players liberally, also allowed just 3.9 yards per carry, the Browns best mark since 1995. Those totals – not to mention an overall defensive turnaround from a ranking of 23rd in 2012 to ninth in 2013 – occurred during Joe Cullen's first year as Cleveland's defensive line coach.
That also happened to be Cullen's last year as Cleveland's defensive line coach, which is surprising, to say the least. Of course, the Browns didn't reward Cullen's good coaching with a pink slip; rather, the veteran NFL assistant fell victim to a regime change that saw Head Coach Rob Chudzinski punted after one year. A new general manager and a new head coach meant a complete turning of the page in Cleveland, meaning Cullen didn't get a chance to follow up on his successes of 2013.
That loss, however, was the Tampa Bay Buccaneers' gain. The Buccaneers also started 2013 with a regime change, with Lovie Smith and Jason Licht taking over as head coach and general manager, respectively. Hired on January 2, with the Bucs' 2013 season still cooling, Smith rapidly put together his staff, and he wasted no time in calling Cullen, who had previously done good work in Jacksonville and Detroit before that short stint in Cleveland. The Lions job was his first stop in the NFL, from 2006-08, and there he worked under Head Coach Rod Marinelli, who had risen to prominence as the Buccaneers' defensive line coach. It is to Marinelli that NFL insiders often compare Cullen, who considers that a high compliment.
Now in Tampa, Cullen will try to resurrect the sort of dominating up-front presence that the Buccaneers' defense has mostly been lacking since, well, the days of Rod Marinelli. Marinelli's last season in Tampa before the Lions gave him their reins was 2005, which also happens to be the last time the franchise had at least 35 sacks in a season or an individual who hit double digits in that category. The Bucs have been trying to restore that element to their defense ever since, as evidenced recently by three first or second-round picks spent on defensive lineman in the 2010-11 drafts.
Can Cullen help Smith and Defensive Coordinator Leslie Frazier achieve that goal, and as quickly as the Browns did a year ago? According to Cullen, the pieces are in place.
Some of those pieces are brand new, to Tampa at least. The first two players the Buccaneers roped in during their dramatic free agency shopping spree last month were men who will study in Cullen's room at One Buccaneer Place: former Cincinnati defensive end Michael Johnson and former Seattle defensive tackle Clinton McDonald. But the cupboard Cullen found in Tampa wasn't exactly bare, even before those two moves.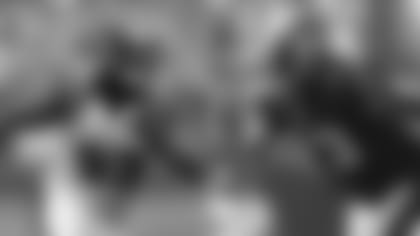 Former Bengals end Michael Johnson will team with defensive tackle Gerald McCoy to give the Bucs a dangerous inside-outside pass-rushing combination
"When Coach [Smith] got here, the first thing he wanted us to do was evaluate who we had on the current roster," said Cullen. "I was already familiar with those guys a little bit. I saw Gerald McCoy, an All-Pro under tackle, the three-technique, doing some great things. He was healthy and disruptive and the sky's the limit for him. I scouted him extensively coming out of Oklahoma."
"I saw Da'Quan Bowers with a lot of promise, doing some really good things at times. Obviously, he was hampered by a few injuries but he's got explosiveness and power. I'm looking forward to working with him. I saw Adrian Clayborn doing some great things, as he did his rookie years. Then he got hurt [in his second year] but he had 19 tackles for loss last season. You're seeing some great things out of him."
McCoy (first round in 2010), Bowers (2nd, 2011) and Clayborn (1st, 2011) are those three aforementioned high draft picks. Clayborn has started at right defensive end for the Bucs for three years, minus the three months he missed in 2012 with a knee injury, but he'll know get the first crack at left defensive end with Johnson arriving to man the right side. McCoy saw his first two seasons cut short by unrelated arm injuries but has been healthy and a Pro Bowler the last two years. Bowers came out of Clemson with a knee concern and slid in the draft for that reason, and he has had some injury misfortune since, but he was considered a premier pass-rusher before the 2011 draft. Cullen, who saw the Cleveland defense rack up their 40 sacks despite not having a single player get more than 5.5, will hope to get all three of those holdover Bucs involved in the pass rush in 2014.
In fact, the rotation could be even deeper if such second-year players as Akeem Spence, Will Gholston and Steven Means – all mid-round draft picks last year – continue to develop. While Means wasn't given a large amount of playing time on the line in his rookie season, Spence stepped right in as the defensive tackle starter next to McCoy and Gholston eventually wrestled the left end job away from Daniel Te'o-Nesheim.
"Both of those guys came in and really did some great things for young guys," said Cullen of Spence and Gholston, noting that Means would also get an opportunity to compete. "And we've added some guys to the group. I see a lot of promise in that group."
Indeed, as much promise as he saw in the game tape he watched before the start of free agency, Cullen obviously found himself with a more complete and dangerous crew after the rapid signings of Johnson and McDonald. Those two happen to be fast friends from their rookie days together in 2010 with the Bengals; Johnson stayed in Cincinnati and developed into a star defensive end while McDonald moved to Seattle in 2011 and waited for his opportunity. That opportunity arrived last year when he became a significant part of Seattle's own very deep D-Line rotation, racking up 5.5 sacks despite starting only one game. Johnson saw his sack total drop from 11.5 in 2012 to 3.5 last year, but you would have a hard time finding anyone who believes he was less of a player in 2013. Sacks can be a finicky stat, especially when you're suddenly drawing the majority of your foes' attention, but Johnson kept the heat on opposing quarterbacks last year.
"Any time you can add a player of either one of those guys' caliber, it's going to help a lot," said Cullen. "You look at what Michael has done, coming out of Georgia Tech, what he's done at Cincinnati. Then you look at Clinton McDonald and he really had his first opportunity last year. He had a great year, I believe, for the Super Bowl champs and Michael's been a great presence on the edge the last couple years for Cincinnati. He had 11 and a half sacks a couple years ago and was really disruptive last year. He actually had more pressures last year than he had the previous year."
Shortly after the first wave of free agency had passed, Smith said that the team's early signings were players he considered starters. At some spots, such as at quarterback where newcomer Josh McCown goes to the top of the depth chart, that creates a competition where only one player can make the lineup. On the defensive line, however, the team would be thrilled if Johnson and McDonald are just two leaders in what turns into a deep and talented rotation. Cullen saw quite a bit of promise when he evaluated the Bucs' returning pass-rushers in January and February, and he saw an instant improvement to his group when March brought free agency into play. Now he'll try to bring them together into one unit that channels the great Buccaneer defensive fronts of the past.
"Adding those guys creates competition," said Cullen, "and that's just what we need."