The Tampa Bay Buccaneers lost to the New Orleans Saints on Sunday, 34-17, marking their largest margin of defeat of the season. The Buccaneers lost the turnover battle, 4-0, and two of the Saints' four interceptions resulted in quick touchdowns, providing most of the difference on the scoreboard. Mike Evans and Chris Godwin, who had been averaging a combined 195.8 receiving yards per game, were held to a relatively modest 116 combined yards by the Saints' defense, though both made big plays down the stretch.
The extra attention the Saints paid to Evans and Godwin opened up the middle of the field and tight end Cameron Brate took advantage. He led the Buccaneers with 10 receptions for 73 yards and in the process tied a franchise record that was first set 24 years ago.
Not only were those 10 catches a new career high for Brate, but they matched the highest single-game haul by a tight end in Buccaneers history. Jackie Harris is the only other tight end in team annals to catch at least 10 passes in a game, a feat he accomplished in 1985.
Most Receptions by a Tight End, Single Game, Buccaneers History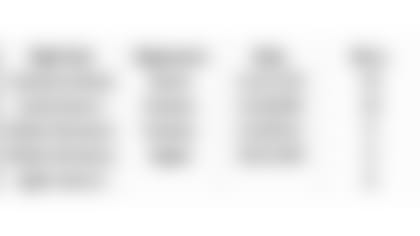 Brate's 10 grabs are also the third-most by a tight end in the NFL this season. Oakland's Darren Waller had 13 against Minnesota in Week Three and the Giants' Evan Engram snared 11 against Dallas in Week One.
Those 10 receptions by Brate gave him 184 in his career, which ties Dave Moore for the fourth-most by a tight end in Buccaneers history. Brate already had the third-most yards and the second-most touchdowns by a Tampa Bay tight end.
Most Receptions by a Tight End, Buccaneers History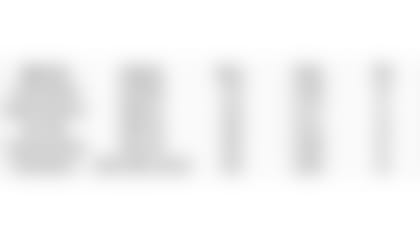 Evans finished the game with 69 yards on four receptions, pushing his season total to 993 yards, which is the most any Buccaneers player has ever had through the first 10 games of a season. This is the third time in four years that Evans has broken that record.
Most Receiving Yards Through the First 10 Games of a Season, Buccaneers History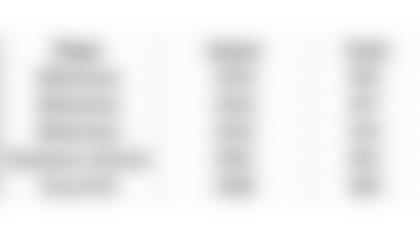 Evans needs just seven more yards to join Randy Moss as the only players in NFL history to open their careers with six straight 1,000-yard receiving seasons. Moss owns the record for the most total receiving yards through the first six years of an NFL career, but Evans has cracked the top 10 and has a good chance of moving up several spots before his sixth season is over.
Most Receiving Yards, First Six Seasons of a Career, NFL History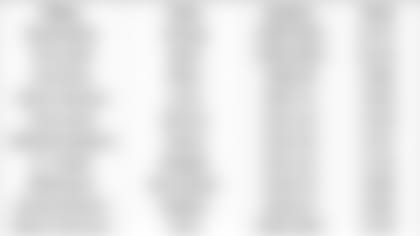 Brate and Evans were among the nine different players who caught passes from quarterback Jameis Winston on Sunday. Winston finished the game with 313 yards, two touchdowns and the aforementioned four interceptions on 30-of-51 passing. It marked his fifth straight 300-yard passing game; no other player in team history has a streak longer than three.
Winston is the only quarterback in the NFL with a current streak of at least five 300-yard passing games. The longest such streak posted at any point this season was six by Atlanta's Matt Ryan in the first six weeks of the season. Winston's 3,078 passing yards are the most any Buccaneer has ever had through the first 10 games of a season and are the second-most in the NFL in 2019.
Most Passing Yards, NFL, 2019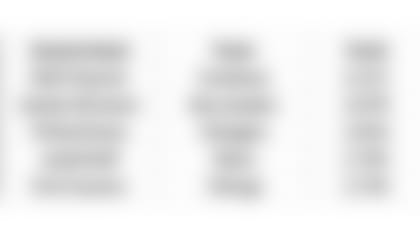 Winston's two touchdown passes went to Godwin, a 30-yarder in the fourth quarter, and running back Peyton Barber, a six-yarder in the second quarter. The Buccaneers' other two points were provided by rookie kicker Matt Gay, who drilled a 55-yard field goal and both of his extra point attempts. Gay now has 85 points on the season, which ranks fifth among NFL kickers. Former kicker Martin Gramatica owns the Buccaneers' rookie scoring record with 106 points in 1999.
Gay's 55-yarder was his fourth in five tries from beyond 50 yards, as he previously made field goals of 58, 54 and 52 yards, with one miss from 50. Gay has made 12 of his 14 attempts from 40 yards or further, and those 12 made kicks from that distance are the most in the NFL this year. They are also the most any Buccaneers rookie has ever made in one season, surpassing the 11 by Patrick Murray in 2014. With a minimum of at least five attempts, Gay is second in the NFL in field goal accuracy from 40 yards and beyond.
Best Field Goal Percentage, 40+-Yard Attempts, NFL, 2019
Devin White led the Buccaneers' defense on Sunday with 13 tackles, establishing a new personal single-game high in that category. Earlier this season, White missed three games and most of a fourth contest with a knee injury, but since his return he's played in five games and tallied 46 tackles, 0.5 sacks, one tackle for loss, two quarterback hits, two forced fumbles and one pass defensed. Those 46 tackles are tied for the seventh-most among all NFL defenders in that span.
Most Tackles, Weeks 6-11, NFL, 2019