STORY HIGHLIGHTS
Buccaneers LB Lavonte David will be ranked somewhere in the 31-40 range in the NFL Top 100
David made the list, which is created using votes from NFL players, after just two pro seasons
Among the players ranked between 31-40, David is the youngest and least experienced

The NFL took notice of Lavonte David in 2013.  In a big way.
David, the Tampa Bay Buccaneers' second-round draft pick out of Nebraska in 2012, was a hit as a rookie, starting all 16 games at weakside linebacker and topping 100 tackles.  He received an appropriate amount of recognition, including spots on a variety of NFL all-rookie teams.
The following spring, however, he was not included on the "NFL Top 100," a list that has been compiled and broadcast by NFL Network since 2011.  The rankings are the results of polling of NFL players organized by the league, so it's not particularly surprising that David hadn't built a strong enough reputation among his peers after just one season to merit inclusion.
A lot can change in one year, however, especially when that year includes a string of game performances that simply cannot be ignored.  After showing great promise in his 2012 rookie season, David absolutely exploded onto the NFL scene last fall, and that has been reflected in the most recent version of the Top 100.  On Wednesday night, the Network will reveal the players ranked between #31-40, and David will be among those 10.
One could argue that the Buccaneer linebacker is still being undervalued, given that he was named to the Associated Press All-Pro first team after the 2013 season, an honor that was only visited on 23 non-special teams players in the entire league.  That's splitting hairs, however; leaping from unlisted during the 2013 offseason to, at the worst, #40 in 2014 is a sure sign that the greatness of David's play has been recognized.
That's reflected in the company David is keeping in the 31-40 range.  Among the other players whose spots on the list will be revealed by the Network on Wednesday night are eight-time Pro Bowl wide receiver Larry Fitzgerald, two-time Super Bowl champion quarterback Ben Roethlisberger, prolific Chicago Bears wide receiver Brandon Marshall and even one of David's 2013 teammates, three-time All-Pro cornerback Darrelle Revis, now of the New England Patriots.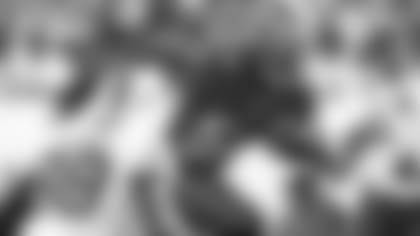 LB Lavonte David is one of only two players in league history to have 100 tackles, six sacks and five interceptions in the same season
The rest of the 31-40 group is equally impressive: Cleveland cornerback Joe Haden, San Diego quarterback Philip Rivers, San Francisco pass-rusher Aldon Smith, Detroit defensive tackle Ndamukong Suh and Buffalo defensive tackle Kyle Williams.
Truthfully, David's raw numbers were hard to ignore.  He finished the season with 144 tackles, six sacks, 12 quarterback pressures, five interceptions, nine passes defensed, two forced fumbles and a fumble recovery.  David joined Rodney Harrison as the only two players in NFL history to record at least 100 tackles, six sacks and five interceptions in the same season, and he ranked third in the NFL with 20 tackles for loss.
The Buccaneers can look forward to David making himself a fixture on the NFL Top 100, and perhaps moving even higher on the list in the years to come.  As a player in the 31-40 range, David has inserted himself into a group of seasoned veterans; in fact, the average age of the other nine players on the list is just under 29 and their average years of NFL experience is just over seven.  David, the youngest player in that group of 10, is just 24 and has played only two seasons in the pros.
David is the second Buccaneer to be revealed in the NFL Top 100; wide receiver Vincent Jackson impressively grabbed the 44th spot, ranking ahead of such wideouts as Demaryius Thomas (#49), Alshon Jeffery (#54) and DeSean Jackson (#63).  The Network is only revealing 10 players at a time during the offseason, with a new group unveiled each week, so there is no way to know for sure if Jackson and David will have any additional Buccaneer company.
That said, one can make an educated guess, and it would be at least a mild surprise if defensive tackle Gerald McCoy isn't among the top 30.  Like David, McCoy was a first-team AP All-Pro last year, and he's coming off his second straight Pro Bowl appearance.  If McCoy does make the list, that would represent a leap almost as significant as the one made by David in his second year.  McCoy debuted in the Top 100 last year at #92 following his first Pro Bowl campaign.
Whether McCoy or any other Buccaneers find their way into the top 30 players on the list remains to be seen, as does David's exact placement in the 31-40 range.  But this much is clear: In just two years, Lavonte David has established himself as one of the best players in the NFL.