STORY HIGHLIGHTS
The Bucs released the first version of their 2014 depth chart Tuesday but it is sure to change significantly over the next month
The depth chart includes a 12th "starting" spot on defense for the nickel back job
The team still has a lot of talent to sort out at such positions as tight end and running back

Lovie Smith and the Tampa Bay Buccaneers released their first depth chart of 2014 on Tuesday, for one reason and one reason only: They had to.
With their first preseason game looming on Friday in Jacksonville, the Buccaneers were required to provide some form of a depth chart to be used in programs and press box materials. With the first regular-season game still more than a month away, however, it's safe to say that Tuesday's version is very much a work in progress.
In fact, that point is emphasized in the actual document sent out by the team's media relations crew on Tuesday, which bears the title, "2014 TAMPA BAY BUCCANEERS UNOFFICIAL DEPTH CHART." Emphasis added. If that wasn't clear enough, it is subtitled, "Subject to change."
It's clear that this initial depth chart is not meant to be binding in any way, which makes sense because there is still more than a week of training camp plus four preseason games left, all of which will help determine how the final 53 are arranged for the regular season.  It is also clear upon viewing the depth chart that Smith's staff does not believe in automatically handing a rookie a premium spot in the order.
However, even if we agree that this initial document should be taken with a grain of rock salt, there are still plenty of observations we can make from the depth chart that we have. In fact, here are seven such observations:
1. Smith wasn't exaggerating when he said early in the offseason that his staff views the nickel back position as another starting job. For the first time in my memory, there are 12 starting spots listed on the defensive portion of the depth chart, including two cornerback positions that are not differentiated between left and right and then "NKL" for nickel back. Obviously, only 11 of those 12 can actually start any given game, but it's now clear that winning that nickel job is just as valid of a goal as the other two cornerback spots.
And, at the moment, that winner is third-year man Leonard Johnson. This jibes quite well with what we've seen on the practice field through the first half of training camp. Johnson has taken nearly all of the snaps at nickel for the first team and appears to have a clear lead. At the moment, his only competition on the depth chart is Quinton Pointer.
As for the two cornerback starting spots, one is occupied by Alterraun Verner and the other by Mike Jenkins. It's difficult to tell if this is backed up by practice-field reality, because both Verner and Jenkins have been out with minor leg injuries. Before Jenkins went out, he was initially splitting first-team time with second-year man Johnthan Banks (listed second behind Jenkins) and then pulling starting snaps on the left side after Verner was sidelined. Second-year player Rashaan Melvin, who just returned from his own ankle injury, is listed second behind Verner at what we must assume is the LCB spot.
2. Da'Quan Bowers must be showing some promise as a swing player who can rush from the inside or outside. This is evident by the fact that Bowers is listed second behind All-Pro Gerald McCoy at defensive tackle. Again, the two DT spots are not differentiated on the depth chart (which has been common in Tampa for some time), but McCoy is obviously in the under tackle position.
That gives the two second-team end spots to a pair of 2013 draft picks, William Gholston and Steven Means. Gholston is slotted in behind Adrian Clayborn, who is now the starting left end after the arrival of big-ticket free agent Michael Johnson, the new right end. At the moment, Gholston figures to be featured significantly in the team's game day defensive line rotation, and like Bowers could also see some snaps on the inside.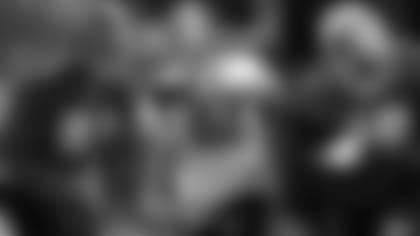 (From left) Da'Quan Bowers, Brandon Myers and Leonard Johnson have interesting spots on the Bucs' first depth chart of 2014
3. Jamon Meredith and Oniel Cousins will likely take the first snaps at the two offensive guard spots on Friday night.
It's no secret that the Buccaneers are still searching for the best answers at right and left guard, and the four preseason games are probably going to provide the most important evidence in that search. But Smith said on Monday that the players' performance on the practice field is helping to determine who will get the first snaps at each spot. On this initial depth chart, Cousins is listed first at left guard and Meredith is listed first at right guard. Interestingly, those two have seen first-team snaps at the opposite guard spots during camp.
Patrick Omameh and Kadeem Edwards have also seen significant first-team action, and indeed Omameh is listed second on the right side and the rookie Edwards second on the left side. There are no other options listed behind Omameh, while Edwards is followed only by undrafted rookie Josh Allen. Meanwhile, there are a whopping five players listed at center, starting of course with Evan Dietrich-Smith.
4. Bobby Rainey draws the second spot behind Doug Martin at tailback. The Buccaneers' tailback depth is one of the most prominent storylines of this year's training camp, with five strong competitors and no obvious answer yet as to how many of those will be kept.
Rookie Charles Sims, a third-round pick out of West Virginia, seems like a near-lock to make the roster and could see plenty of action as a pass-catcher and change of pace to starter Doug Martin. He is currently listed third, however, between Rainey and Mike James, two young tailbacks who each had their moments of glory in 2013. Jeff Demps, the Olympic track star who is trying to prove he's an NFL player, too, is the fifth option.
The lead blocking for all those tailbacks could fall on the broad shoulders of Jorvorskie Lane, the 260-pound fullback. Lane has had an impressive camp and it's no surprise to see him listed first at fullback, ahead of Lonnie Pryor and rookie Ian Thompson, a converted tight end.
5. Eric Page is still the man to beat for the kick return jobs. Page handled most of the Bucs' punt and kickoff return duties last season and quietly did a nice job. He tied for 10th in the NFL with a 10.9-yard punt return average and was 10th in the league with a 24.9-yard kickoff return mark. Page also might be the most sure-handed of the Bucs' options, which is obviously important to Smith. On the flip side, Page has yet to provide a lot of big plays in the return game or emerge as a real weapon on offense, which means the team would be devoting a spot strictly to a returner if he wins the job.
Rainey, rookie receiver Robert Herron and first-year receiver Skye Dawson follow Page on the punt return line. Demps and James are the two options listed behind Page at kickoff return.
6. Veteran Brandon Myers, a first-day-of-free-agency addition in March, is listed first among the team's crowded field of tight ends.
More than anywhere else on the depth chart, the order at this spot may be irrelevant, or at least not terribly revealing.  Whether the Bucs keep three or four tight ends, they will be loaded with talent and versatility at the position.  Myers, who does a little bit of everything well, is a good choice as any to headline that group, but Offensive Coordinator Jeff Tedford is likely to devise a variety of formations that utilize Myers, 2013 breakout player Tim Wright, rookie Austin Seferian-Jenkins and perhaps veteran Luke Stocker.  Seferian-Jenkins has had a spectacular training camp, catching everything in sight, and he's the fourth name on this list.
7. Mike Evans won't simply be handed a starting spot. It has been assumed by virtually every source, including this one, that Evans will join Vincent Jackson to give the Bucs a pair of huge, fast and athletic pass-catchers on the outside. Truth is, there no reason yet to back off that assumption. That said, Evans is currently listed second at the "X" receiver position behind Chris Owusu, who has admittedly had a great offseason and a strong start to training camp.
Louis Murphy draws the second spot behind Jackson at the "Y" receiver spot, with Tommy Streeter, a camp surprise, listed third.  Robert Herron is listed fourth, but in reality he and a few others such as Dawson and Solomon Patton, are more likely candidates for the slot receiver job, which is referred to as "R" in the Bucs' offense.  Unlike the nickel back job, however, this one is not listed as an extra starting position on the depth chart.