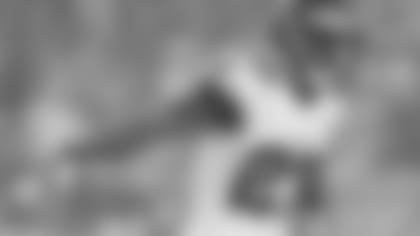 Mike Glennon's first NFL game didn't end in victory for the Tampa Bay Buccaneers, but his first NFL pass was certainly memorable and his professional debut was mostly encouraging.  In the preseason, there are victories in defeat, and Glennon's initial exposure to the NFL lights, in Thursday night's 44-16 loss to the Baltimore Ravens at Raymond James Stadium, was one factor on which the Bucs can build on as they prepare for the regular season.
All was not well for the Buccaneers in their 2013 debut, obviously, and special teams play was particularly troublesome for the home team for most of the night.  However, the Buccaneers did have a 3-0 lead when the starters for both teams finished up roughly one quarter of work, and they held a 13-7 lead late in the first half after a Brian Leonard touchdown run.  Tampa Bay also got promising performances from the likes of WR Kevin Ogletree, CB Johnthan Banks, CB Danny Gorrer, LB Lavonte David and K Derek Dimke.
"It felt very good," said David of the Bucs' first live action of 2013 after two steamy training camp weeks.  "Everybody was hyped up and everybody was ready.  The defense was ready to hit somebody besides our own offense; we were ready to take another opponent to the ground.  It was great to be back out here and get back into this atmosphere, getting ourselves ready for the season."
After Josh Freeman and the starting offense led the Bucs to a 3-0 lead – the Bucs' second drive ended in Derek Dimke's 29-yard field goal after a key 22-yard catch by Ogletree – Glennon came on for the final play of the first quarter and immediately hit TE Tom Crabtree, a fellow Buccaneer newcomer in 2013, on a scrambling 61-yard completion.   That drive also produced a field goal, the first of Dimke's three successes in as many attempts, giving the Bucs a 6-0 lead early in the second quarter.
Glennon remained in the game through the end of the third quarter and finished with 169 yards and one interception on 11-of-23 passing.  He repeatedly threw downfield, hooking up on a 41-yard gain with WR Chris Owusu on the last play of the first half.  First-year man Adam Weber finished up the game, but was intercepted on each of his first two passes and finished two of six passing with seven yards.
Ogletree led all players with five receptions for 65 yards and was the first player to join starting receivers Mike Williams and Vincent Jackson in a three-receiver set.  Leonard was the Buccaneers' leading rusher, gaining 23 yards on six carries, though fellow veteran newcomer Peyton Hillis looked strong on his three carries, picking up 13 yards.
 On defense, Banks, who started the game at right cornerback, was a standout from the game's first snaps, finishing with a game-high five solo tackles plus a pass defensed.  Gorrer interrupted Baltimore's first drive with an interception off starting QB Joe Flacco and also ended another Baltimore drive with a diving pass deflection.  LB Lavonte David, looking to build on a spectacular rookie season, used his limited playing time to rack up three tackles, a tackle for a loss, a quarterback hit and the Bucs' only sack of the night.
Baltimore's first score of the game was set up by WR Chris Owusu's muffed attempt to field a punt, leading to Bernard Pierce's 20-yard touchdown run in the second quarter.  Later in the that period, after Leonard's touchdown put the Bucs back on top, CB Moe Lee returned a kickoff 58 yards into Buccaneers territory, with only Dimke's open-field tackle preventing the touchdown.  That led to a Baltimore field goal, and the Ravens regained the lead late in the half on Anthony Allen's two-yard TD run.  Moments later, Baltimore's Brynden Trawick blocked a punt attempt by Chas Henry, with LaQuan Williams recovering for another Ravens score, making it 24-13 at halftime.
Baltimore controlled much of the action in the second half and finished with an overall yardage lead of 332 to 273.  The Ravens' defense also produced three turnovers to the Buccaneers' one.
The Buccaneers' opening possession moved in the wrong direction, with Martin losing a yard on a first-down run and Freeman absorbing an eight-yard sack by Chris Canty.  A holding penalty on the ensuing punt pushed the Ravens back to their own 29 but a fine one-handed catch by Ray Rice on third-and-five pushed the ball into Tampa Bay territory.
Fortunately, the Bucs' defense came up with the game's first big play, as Gorrer cut in front of Jacoby Jones on the right sideline to pick off a third-down pass near midfield.  Baltimore had built some early offensive momentum with good outlet passes to Rice and FB Vonta Leach, but David put the Ravens into a third-and-15 hole with a line-of-scrimmage tackle of Rice and a 10-yard sack of Flacco.
The Bucs' offense got its initial first down of the game three plays later when Freeman found Ogletree cutting over the middle for a 22-yard gain to the Baltimore 42.  Leonard then burst up the middle for a gain of 13 to the 29 and, three snaps later, converted a third-and-one with a second-effort rush up the gut into the red zone.  The drive stalled there, as Ogletree was stopped three yards short on a third-down throw over the middle, but first-year K Derek Dimke came on to kick a 29-yard field goal for the game's first points.
The Ravens' next drive got off to a good start when Flacco found Torrey Smith over the middle for an 11-yard gain on third-and-seven.  However, the Bucs' defense came up with a big stop when DE Daniel Te'o-Nesheim stone-walled Pierce on a second-and-two-run from the Ravens' 36 and Gorrer killed another drive with a diving break-up of a pass intended for WR Jacoby Jones.
After the ensuing punt, Glennon took over the offense and made an instant impact.  Dropping back into the end zone on a first down from the Bucs' six, he side-stepped one rusher and found Crabtree all alone behind the defense.  The former Packers tight end, known for his big plays in limited playing time in 2012, rumbled 61 yards to the Baltimore 33 before he was dragged down.  A quick seven-yard pass to WR Chris Owusu and two runs up the middle by rookie RB Mike James produced a first down at the Baltimore 23.  That set Dimke up for his second field goal of the night, a 35-yarder that extended Tampa Bay's lead to 6-0 with 12:34 left in the first half.
Tampa Bay's reserve defenders stopped Baltimore's next drive, too, as Keith Tandy and Ahmad Black broke up consecutive passes by backup QB Tyrod Taylor, forcing a punt from the Baltimore 36.  However, WR Chris Owusu muffed the kick and it was recovered by the Ravens' LaQuan Williams at Tampa Bay's 20.  On the very next play, Pierce broke free around right end and tight-roped down the sideline for a 20-yard, go-ahead score.
Now dealing with a torrential downpour, Glennon and the Bucs' offense failed to move the ball on a pair of James runs and an ill-fated screen pass to the same rookie back.  However, Baltimore's next drive met the same three-and-out fate, thanks in large part to Banks' alert break-up of Taylor's third-down pass in WR Tandon Doss's direction.
Glennon then led the Bucs deep into Baltimore territory, thanks in large part to a pair of pass-interference penalties that accounted for 51 yards.  On second-and-eight from the Baltimore 39, Owusu beat CB Chykie Brown deep down the right sideline and nearly hauled in Glennon's pass despite Brown's interference.  The resulting penalty set up first-and-goal at the five and it took Leonard two runs from there to punch it in for the go-ahead TD.
Baltimore was able to regain the lead thanks to a big play on special teams.  Rookie CB Moe Lee hit a seam down the right numbers on the ensuing kickoff and raced all the way to the Bucs' 41, with only Dimke's open-field tackle preventing the touchdown.  Dimke was flagged for a horse-collar tackle, moving the ball to the Bucs' 26.  However, a holding penalty against the Ravens and a third-down tackle by CB Michael Adams forced Baltimore to settle for K Justin Tucker's 43-yard field goal.
After a Buccaneer three-and-out, the Ravens got one more shot before the end of the first half and capitalized, driving 58 yards on five plays to re-take the lead.  Taylor's five-yard pass to WR Deonte Thompson on third-and-one near midfield, and a facemask penalty on S Keith Tandy, prolonged the drive, and RB Damien Berry then ran for 14 yards to the Bucs' 15.  Taylor's scrambling completion to TE Visanthe Shiancoe put the ball at the two and RB Anthony Allen was able to push it in from there.  The play was reviewed when it appeared that Allen lost control of the ball, but the score was upheld.
Though the Bucs had only 30 seconds to work with after Allen's TD, that wasn't the end of the first-half scoring.  That wasn't good news for the home team, as two incompletions and sack of Glennon by LB Adrian Hamilton forced a punt that went badly awry for the Buccaneers.  First-year P Chas Henry never got a chance to get his kick off, as S Brandon Trawick shot straight up the middle and caught Henry's leg in mid-kick.  The loose ball was easily recovered by LaQuan Williams for another Baltimore touchdown and a 24-13 halftime lead.
Baltimore got the ball first to start the second half and used a hurry-up attack to quickly get to midfield.  Taylor's pass down the middle to TE Matt Furstenburg picked up 24 yards and Taylor's 10-yard run got the ball to the Bucs' 37.  Taylor found LaQuan Williams over the middle on third-and-seven to keep the drive alive, and the two hooked up again two plays later on a 21-yard TD pass to extend Baltimore's lead to 31-13.
The Bucs' first drive of the second half, with Glennon still at the helm, was also a strong one.  Hillis saw his first action and bashed for four, five and four yards on his first three carries, while Glennon's third-down pass to Ogletree picked up 21 yards to the Baltimore 44.  The Bucs converted their next third down in unusual fashion, as Hillis took a toss-sweep left and was upended a few yards short of the sticks.  The ball popped free and rolled backwards, however, with Ogletree recovering for the Buccaneers and eventually absorbing a late hit as he went out of bounds.  The resulting penalty created a first down at the Baltimore 29, but Glennon's next pass was intercepted by CB Asa Jackson at the Bucs' 13.
The Bucs' defense forced a quick punt and Ogletree's 14-yard catch converted a third-and-five and put the ball near midfield.  Glennon's play-action pass to WR Derek Hagan on the left sideline picked up another 14 yards to the Baltimore 38, and second-year RB Michael Smith converted a third-and-one with a tough run up the middle to Baltimore's 26. The drive stalled there but the Bucs tacked on three points with Dimke's 45-yard field goal.
After a three-and-out by the Ravens, Weber took over under center but was hit while throwing on his first drop-back, resulting in an interception by LB Brandon Copeland.  Copeland returned his pick to the Bucs' 10, setting up Tucker's 29-yard field goal.
After a nice 34-yard kickoff return by rookie CB Branden Smith, Weber scrambled for 12 yards for a first down at the Bucs' 41.  However, Weber's next pass down the right sideline, intended for Hagan, was picked off by Moe Lee and returned to the Baltimore 36.  Taylor drove the Ravens 64 yards for another score, ending it with a 21-yard touchdown pass to WR Aaron Mellette.
The Ravens added three more points just after the two-minute warning of the 4th quarter with a Justin Tucker 57-yard field goal that bounce off the cross bar and through the uprights.
Ted Larsen and Cody Wallace got the starts at left and right guard, respectively, with Carl Nicks and Davin Joseph sitting out.  Spencer Larsen started in place of Erik Lorig at fullback.  Tom Crabtree started at tight end with Luke Stocker sidelined.
On defense, rookie CB Johnthan Banks started at right cornerback and Leonard Johnson at left cornerback.  Rookie DT Akeem Spence started next to Gerald McCoy on the interior line.  Daniel Te'o-Nesheim got the call at right defensive end with Adrian Clayborn not available.
TE Tom Crabtree's 64-yard reception in the second quarter was the Bucs' third-longest preseason reception since the 2000 season.  Crabtree averaged 25.4 yards on eight receptions for the Green Bay Packers in 2012.