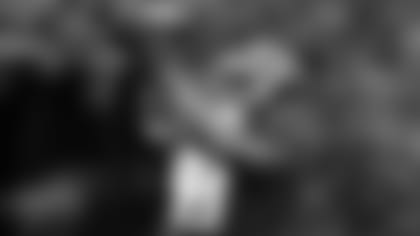 The Tampa Bay Buccaneers are currently operating with a 90-man roster, carrying nearly 70% more players than they will be allowed once the regular season starts in September. It stands to reason that some of those 90 men will be relative short-timers in Tampa, names that won't really register with Buccaneer fans in a few years.
Those same Buc fans, on the other hand, know they'll be rooting for Lavonte David, Gerald McCoy, Mike Evans and Vincent Jackson this fall. They can assume they'll be hanging on every throw by Jameis Winston, and they're waiting to see what the team will get out of front-line free agent acquisitions like Bruce Carter and Henry Melton. No matter the competition looming in the next few months, there is an obvious core already in place.
But there will be 53 people on the roster, and while a portion of the current 90-man crew is somewhat anonymous, there are some lower-profile returning players who shouldn't be forgotten. These are men who have already proved they can provide significant value during the regular season, and they'll be looking to prove in training camp that they should get another shot.
These aren't necessarily star players or even starters, and they may have to fight for their spots on that roster, but don't forget about these five Buccaneers in 2015:
---
1. WR Russell Shepard
No Buccaneer draft pick in 2015 drew more attention, obviously, than first-overall selection Jameis Winston, the potential "franchise quarterback." That said, none of the team's seven picks received more positive feedback from the assembled "draftniks" than that of Nebraska wide receiver Kenny Bell in the fifth round. Only time will tell how accurate the consensus grades on the Bucs' picks will be, but for the moment, Bell is widely considered a major "steal."
The young pass-catcher didn't disappoint in his first few days on the Bucs' practice field, and that wasn't merely due to his sharp routes. It didn't take long for Head Coach Lovie Smith to single out Bell as a potential standout at the "gunner" position on punts. A skill-position player who can also make a big impact on special teams is definitely a valuable asset.
As it happens, the Buccaneers already have a player by that description on their roster. Since coming aboard as a rookie waiver claim in September of 2013, wide receiver Russell Shepard has played in all but two games over the past two years despite catching a total of four passes. His ticket has been incredible work on the punt team, where his skills as a gunner have resulted in a team-high 20 special teams tackles in those two years. Bell could be a competitor for that roster spot, especially if he is also productive in the offense. Or, potentially, the Bucs could find room for both receivers and have a dominant set of punt-team gunners.
---
2. CB Brandon Dixon
As we might have mentioned from time to time, cornerback depth is tough to achieve in the NFL. It's a very difficult position to play, and it's not getting any easier as legions of Mike Evans-like receivers flood the league. Like most teams, the Bucs aggressively seek that depth, as they did this offseason by re-signing veteran Mike Jenkins and luring 2014 breakout player Sterling Moore over from the Dallas Cowboys.
Hopefully those moves work out, but if the Buccaneers want to run five or six deep at the position, as is often necessary, they'll need to get continued development from some of the younger players on the roster. One of those is second-year man Brandon Dixon, who was plucked off the New York Jets' practice squad just a few days into the 2014 league year. Dixon ended up playing about 170 snaps when the Buccaneers were dealing with various injuries, and while he obviously wasn't an experienced hand in the secondary he did enough to pique the team's interest.
Jenkins, Moore, Alterraun Verner and Johnthan Banks would appear to be the Bucs' top four cornerbacks heading into training camp, but the development of such players as Brandon Dixon will be important if the team hopes to weather inevitable injuries in the secondary.
---
The most notable additions to that group are Carter and fourth-round draft pick Kwon Alexander. Both could end up starting along with David, though Danny Lansanah is sure to offer competition at least one if not both of those spots. The Bucs are hoping to field a starting trio of fast, athletic and rangy linebackers.
But that group could have impact beyond the starting lineup, as noted in the article linked above. There's a good chance that a deep linebacker group will form the core of the Buccaneers' special teams, and Williams is one of the reasons that is true. In just three games after being grabbed off waivers from Carolina, Williams recorded four special teams tackles, in the process making a very favorable impression on the Bucs' coaching staff. There is a reason, after all, that the club chose to re-sign Williams in 2015 while letting Dane Fletcher walk. The fact that Williams has some NFL starting experience surely doesn't hurt his cause.
---
4. TE Brandon Myers
As the Bucs head into the summer, their tight end corps looks very much like it did a year ago. The team traded second-year man Tim Wright during the 2014 draft after selecting Austin Seferian-Jenkins in the second round. There were no surprises in training camp and the Bucs went into the 2014 season with a trio of Seferian-Jenkins, veteran holdover Luke Stocker and free agency pick-up Brandon Myers.
There were some injury issues along the way, which prompted the Bucs to give some time to undrafted rookie Cameron Brate, and Brate is also still around in 2015. Another 2014 rookie, Taylor Sloat, spent some time on the team's practice squad last fall and is back for another shot this year.
It seems clear that the Buccaneers are hoping for a second-year breakout from Seferian-Jenkins, who fought through injuries as a rookie but showed flashes of big-play ability. Stocker, too, showed enough value in the last year of his original NFL contract, mostly as a blocker, to get a new deal in 2015. Given that neither of those two are proven NFL producers in the passing game, however, Myers stands as a potentially important part of the aerial attack. While he had a relatively modest 22 receptions in his first year as a Buccaneer, Myers is only a few seasons removed from a 79-catch season in Oakland and he has nearly 200 career grabs. Whether or not Seferian-Jenkins emerges as a serious weapon in the passing game, Myers could provide value as either a starter or a weapon in two-TE sets.
---
5. Kevin Pamphile
There are some players who provide significant value on a 53-man roster without ever seeing much playing time. If things go right for the Buccaneers in 2015, Pamphile could be such a player.
The 2014 fifth-round pick didn't see much playing time until the very end of his rookie campaign. Pamphile was inactive for seven of the first 13 contests and his two December starts technically came as a tight end in jumbo line sets. He played most of the season finale at right tackle and turned in a reasonably good performance.
Pamphile was at right tackle in that game because the usual starter at that position, Demar Dotson, was trying his hand at left tackle. With the drafting of Donovan Smith in the second round a month ago, Dotson appears headed back to the right side, where he has excelled for roughly three seasons. If the Bucs are right about Smith's potential on Winston's blind side, the two tackle positions will be set.
Still, it's important to have depth at every position, and offensive tackle is no different. Last year, the Buccaneers relied on veterans like Oniel Cousins to provide that depth; this year, that could fall to Pamphile.
The best photos from the first week of Organized Team Activities.