This offseason began largely like any other Donovan Smith had experienced so far. By the end of the day yesterday, however, it became the most significant of his career since he was drafted in 2015 by the very same team that was now inking him to his second NFL contract. The Buccaneers announced a new three-year deal for the left tackle that has started the past 64 consecutive games for the franchise. A deal that means Smith gets to stay in Tampa, the only team his professional career has ever known, along with teammates and a locker room he loves to its core. And for that, he's grateful.
"I want to thank Jason Licht and the Glazer family for having that faith in me," Smith said. "It's a blessing to be able to get that done and have that security that I'm going to be here another three years."
Looking ahead to his fifth season in the league and now as a bona fide veteran, Smith says going forward he wants to become more of a vocal leader in the locker room. Where before, he would pull a guy to the side or let others do the 'rah-rah' stuff, as he put it, he now wants to take on a bigger leadership role, along with some of his other linemates.
"I lead my own way," Smith said. "You just kind of find your niche and don't be afraid to step out and try something different. You may get a different response and something like that may trigger some other guys, 'Oh, Donovan's talking, he barely talks, that really must mean something.'"
One of those fellow leaders and linemen, and member of Smith's same 2015 draft class who has already been dealt a long-term extension by the team this offseason, is Ali Marpet. Smith and Marpet held down the left side of the line last season, lining up next to each other at tackle and guard. They were also next to each other at last night's Tampa Bay Lightning game as Smith celebrated his deal - Marpet was one of the first guys to congratulate his friend once word came through. The relationship between the two of them means a lot to Smith, as does the relationship with all of his teammates, and was a driving factor in him wanting to stay in Tampa.
"You build so much with your guys in the locker room," Smith said of why he wanted to stay. "I love this organization. I love this locker room, my teammates. One of my greatest things is coming into the building every day. To be able to still be able to do that is huge."
The first phone call Smith made after the deal was done, though, was to his family. He said he got them on a group-FaceTime, as they're all scattered between Baltimore and New York. His mother broke down crying, something Smith says is hard for him to see whether it's happy or sad tears, saying she prayed for this day. His brother and two sisters, including his twin sister, were on the line sharing in the moment, along with his grandparents, too.
Bucs fans have a reason to share in that same happiness. Not only has Smith started 64 consecutive games for the Buccaneers, but in those four years he's only ever missed 30 snaps. He got hurt in a Week Eight matchup against the Saints in New Orleans during the 2017 season, forcing him to come out of the game. He was back the next week to start up another streak, which now sits at 1,676 after he's played every snap since, including 100 percent of those in 2018. The physical aspect behind what he's been able to accomplish as the picture of consistency, to put it simply, is tough.
"It takes a lot. You have to be physically prepared and mentally prepared and just know it's going to be a battle all game, 60-90 plays, depending on how you're playing," Smith said.
That mental aspect may be even tougher. But it's something that's been ingrained in him from an early age by one of those people on that group-Facetime: his grandfather.
"My grandfather to this day, he just says you have to keep going no matter what," Smith said. "He's obviously getting up there in age and dealing with some health things, but I come home and he's on top of his garage roofing his garage."
"Same thing with my grandmother," he continued with a laugh. "To this day, I'm carrying groceries and she's trying to pick up groceries. I'm like, 'Grandma, go sit down.' But that's just the mentality of my family, my uncle, you just gotta keep going no matter what because nobody really cares. It's just been passed down and been instilled in me."
That work ethic and mentality is one of the reasons it was so important to the Buccaneers' front office to keep Smith. General Manager Jason Licht, the one who drafted Smith (and Marpet and Jameis Winston, for that matter) back in 2015, made it a point to say that Tampa Bay would be focused on retaining its own players set to become free agents this offseason. After already inking Marpet to a new five-year deal halfway through the season last year, Smith was at the top of the list.
"Donovan, in addition to being a massive… person [grinning], has a great, great combination of athleticism, strength, but more importantly, his intelligence and his desire to be on the field every Sunday," Licht said of Smith. "It's always exciting for an organization when you're able to do an extension with a guy that you've drafted, the organization developed and the coaching staff did a good job with."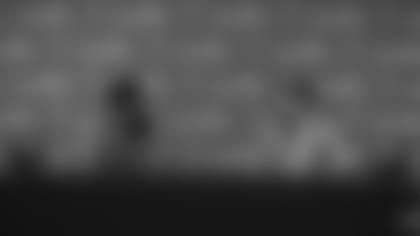 As mentioned before, Smith is one of three players now from the 2015 draft class that will remain with the team in 2019. Winston's fifth-year option had already been exercised to keep him with the team through 2019. The five-year deal for Marpet keeps him a Buccaneer through 2023. What's more, Winston, Smith and Marpet are the Bucs' top three picks from that class. Smith and Marpet also join the likes of wide receiver Mike Evans and tight end Cameron Brate as players who were drafted or signed by Licht to receive second contracts with the team.
For now, that's great news for Smith, who gets to stay in a city he loves with a team he loves even more.
"I love the locker room, the guys, the community and I just couldn't imagine myself anywhere else."