STORY HIGHLIGHTS
Rookie WR Brandin Cooks has quickly emerged as one of Drew Brees' favorite targets
Brees credits' Jimmy Graham's competitive fire for making him into the best tight end in the league
Though Graham and Cooks are the Saints' leading pass-catchers, Brees believes in spreading the ball around

Drew Brees has now been in the NFC for nine years, and in that span not much has changed for the teams tasked with stopping him twice a year. Brees threw for 4,418 yards and 26 touchdowns in his first season with the New Orleans Saints (2006) and hasn't dipped below 4,388 or 26 since. He's had a passer rating between 89.4 and 110.6 in each of those nine seasons. His team has won between seven and 13 games in each of those years, as well.
Certainly, the Tampa Bay Buccaneers know him well. "Enemy Lines" does as well; unsurprisingly, Brees was our focal point in 2013 and 2012. Frankly, there's not much more to tell. News flash: Drew Brees is really good.
What has changed through the years, and more aggressively of late, is the cast around Brees. Marques Colston arrived as a rookie the same year Brees signed with the Saints, and he is still a contributor but no longer the top target in the passing attack. Lance Moore is a Steeler and Darren Sproles is an Eagle, Reggie Bush is in Detroit, Jeremy Shockey and Devery Henderson are out of the league, Robert Meachem is back but a non-factor.
Now leading the team in receptions among wideouts (and that's an important caveat) is rookie Brandin Cooks, the 20th overall pick in the draft. There was a very deep class of receivers in this year's draft – which included Mike Evans, the seventh overall pick to the Buccaneers – and a lot of teams got quick help in that department. The matchup of the small but extremely fast and quick Cooks, however, seemed like a perfect match with the Saints right from the start.
Brees wouldn't argue, though it is several things that weren't measured during Combine workouts that have impressed the Saints quarterback the most.
"I tell you what, he is a smart guy," said Brees. "He's extremely intelligent. He's very talented; he can do a lot of things, and I think a lot of that is because of his intelligence. We can put him in multiple receiver positions, we can line him up all over the field. He's one of those guys who never makes a mistake twice. You tell him something one time and he's got it.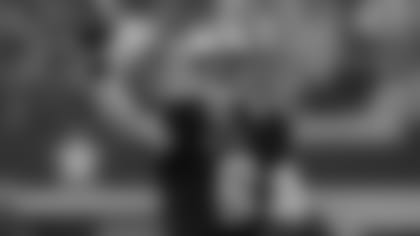 Saints QB Drew Brees has found a new target he's fond of in rookie WR Brandin Cooks
Cooks shot right out of the gates with an seven-catch, 77-yard, one-TD performance in his first regular-season NFL game, an opening-week loss at Atlanta. He had another eight grabs in Week Three in a win over Minnesota and he's tied for 14th in the NFL in receptions, first among rookies. Eight of Cooks' catches have come on third down, tying for 10th-most in the NFL, and that's a great indication of the trust Brees already has in his new teammate.
"He's been really productive," said Brees. "He works extremely hard at it. Again, [you] couldn't ask for more in a young receiver, just his work ethic and his desire to really fit into this offense. Certainly he's been very productive as well."
Cooks is probably the most significant addition to Brees' arsenal since 2010, when tight end Jimmy Graham arrived. Graham had a relatively uneventful rookie season but exploded with a 99-1,310-11 line in 2011 and has generally been recognized as the league's best tight end since. Last year he scored 16 touchdowns and he has three through four games this year, so it's a relatively rarity when a team is able to keep him out of the end zone.
Again, Brees was ultra-productive for five years in New Orleans before Graham's 2011 breakout, and he had some very nice combo years with Shockey, the Saints' pass-catching tight end from 2008-10. But there's no doubt that Graham has added another dimension to the Saints' attack that few other teams enjoy.
"Well, he's obviously got all the physical tools," said Brees of Graham. "He's 6-6, 260 pounds, he can run like a deer, go up and high-point the ball. I'd say more so than that though, he's just a fiery competitor. He's really learned how to become a great professional. I like the way he prepares, I like the way he studies, I like the way he takes care of his body – he just handles himself like a true pro. He loves to compete. He's passionate about the game and about trying to be a great player and doing whatever he can for the team. I could not ask for a better teammate or a better player."
Graham is again the Saints' leading pass-catcher (thus the caveat above), while running back Pierre Thomas is third on the list behind Cooks. It's fair to wonder if the team is missing Sproles, who has had an eye-opening first month in Philadelphia, but Brees is not lacking for weapons. And he's determined to make use of all of them.
"Bottom line is, we go into every game just trying to get the ball to different guys based upon what we've seen and just because that's what we do," he said. "Of course we're going to try to get Jimmy his touches, we're going to try to get Marques his touches, we're going to get the running backs their touches, we're going to get some of these younger receivers their touches. We kind of go into a game with the mindset that we're going to spread the ball around regardless."