STORY HIGHLIGHTS
QB Brian Hoyer has won seven of his 10 starts for Cleveland and treats every opponent as a serious challenge
Hoyer overcame a knee injury and the presence of Johnny Manziel to win the Browns' starting job in 2014
While only throwing two interceptions, Hoyer has also averaged a league-best 13.71 yards per completion

The Tampa Bay Buccaneers will travel to Cleveland this weekend for a matchup of two teams that are currently occupying fourth place in their respective divisions. For the Browns, however, that's more an indication of the top-heavy nature of the AFC than their own struggles.
Cleveland, in fact, is off to its best seven-game start since 2007, and its 4-3 record puts the team just a game out of first in the very competitive NFC North. While 12 of the AFC's 16 teams have at least four wins already (as opposed to just seven team in the NFC), the Browns are still very much in the thick of the playoff race. If the season ended today, they would be one of eight teams within a game of the two Wild Card spots.
And so you might think that the Browns had this particular three-week stretch of their schedule circled as an opportunity to make a move. Before this weekend's visit from the 1-6 Buccaneers, the Browns had back-to-back games against the only two NFL teams that, at the time, were still winless (Jacksonville and Oakland). However, QB Brian Hoyer insists that the Browns consider every opponent to be a serious challenge, and of course Cleveland's Week Seven loss in Jacksonville is evidence of that.
That loss came just a week after the Browns pounded the division-rival Pittsburgh Steelers, 31-10, illustrating the unpredictable nature of this season.
"In Jacksonville, it was just a situation where we went down there and got beat and there wasn't much else we could say about it," said Hoyer. "They out-physicaled us and they beat us. I think even with Oakland our defense did a great job and our offense kept battling and battling and then we finally hit a few big plays to really turn the game around."
And thus the Browns won't be taking the Buccaneers lightly, despite their 1-6 record. Tampa Bay also has an impressive win over Pittsburgh – in Pittsburgh – on its resume, a common-opponent outcome that should give Cleveland reason to treat their latest visitors seriously.
"This is the NFL, this is my first year as a starter, I don't underestimate anyone, I don't think our team has done that," said Hoyer. "Regardless of record when you have a team come in who has players like Gerald McCoy, like [Lavonte] David, like [Dashon] Goldson, [Alterraun] Verner or whoever it might be, I don't underestimate anyone anyway. This is the National Football League, everybody is good, the coaches are good and sometimes it's just a few bad breaks here and there, and yeah your record might not be so good, but you have good players and a good scheme. You can't underestimate anyone."
The Buccaneers also have the NFL's 32nd-ranked defense at the moment, but Hoyer believes that is misleading. As Hoyer knows, Tampa Bay has a handful of defenders capably of turning around a game with a big play – though they have been lacking that one big play in the closing moments of most of their close games – and that starts with the All-Pro McCoy.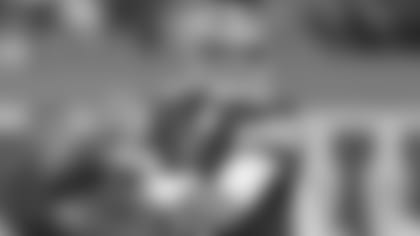 Cleveland QB Brian Hoyer won all three of his starts in 2013 before suffering a season-ending knee injury
"He jumps out immediately when you watch film, his get-off off the ball, his motor, he's obviously disruptive and plays in the backfield," said Hoyer. "In general with their defense, you can tell they're a well-coached defense. You don't see a lot of guys out of place, you see zone dropping into the right areas and we have a lot of respect for these guys just from watching film and stuff like that. You mentioned Gerald McCoy, he definitely jumps off the film, but there are a lot of guys that do that too."
The Browns' loss to the Jaguars was one of only three Hoyer has suffered in his 10 NFL starts. A Cleveland native and a former undrafted free agent out of Michigan State, Hoyer spent three years in New England backing up Tom Brady, then bounced around between Pittsburgh and Arizona in 2012 before signing with the Browns after the draft in 2013. The Browns started off 0-2 behind Brandon Weeden before turning in Game Three to Hoyer, who promptly threw for 321 yards and three touchdowns in a win at Minnesota. He stayed at the helm for wins over Cincinnati and Buffalo before an ACL tear ended his run. The Browns won exactly one more game using Weeden and Jason Campbell.
While Hoyer healed, the Browns looked to the future by spending another first-round pick on a quarterback, this time Texas A&M's polarizing Johnny Manziel. In the preseason, Hoyer started all four games, and when the regular season arrived, the Browns and first-year Head Coach Mike Pettine stayed with the veteran. They have not regretted the decision, even as a possibly wildly entertaining rookie option sits on the bench.
"He's been big for us and I think it's a real tribute to him," said Pettine of Hoyer. "He was put in some real difficult circumstances coming into the season. He was coming off a season-ending knee injury the year before, really hadn't taken any live reps up until training camp and was the starter in his hometown, which I think is a lot for a guy to handle.
"Last year he kind of came from out of the pack. I think he was third and ended up with the starting [job] before his injury. And then to add the whole Manziel thing to it I think was a lot on his plate and I think he did have some struggles early, but to his credit he was very poised, very focused and once he was named the starter I think a lot of that stuff just dissipated for him."
With Hoyer at the helm, the Browns have put together a very balanced offense that ranks 12th in the NFL in yards and 16th in points. Hoyer sports a strong 91.0 passer rating and has eight touchdown passes against just two interceptions. And while those may seem like the numbers of a "game manager," which is usually intended as a backhand compliment, Hoyer is actually leading the NFL with an average of 13.1 yards per completion. He is tied with Aaron Rodgers, Matthew Stafford and Kirk Cousins with an NFL-leading eight completions of 40 or more yards. Cleveland's insistence on establishing the run – they have 220 carries and 229 passing plays (passes plus sacks) so far – is almost certainly helping open up the play-action passing attack, which often leads to big gains.
"He's made big throws when we've needed them to make them and a lot of times our quarterback's success here will be a function of how well we're running the football," said Pettine. "When we're running the football well, it will open up the pass game, the play-action is very important and it's a lot easier to run play-action pass on second and four-or-five, than it is on second and 10-or-11. That will be a big part of what we do, but we're very pleased with where Brian is, not just from a physical standpoint, but his leadership ability, how he handles the huddle and how he is in the locker room with those guys. I think they all have a lot of respect based on what we he's had to overcome."
The next challenge Hoyer has to overcome is Gerald McCoy and the Buccaneers' defense. He won't be taking that challenge lightly.