STORY HIGHLIGHTS
DE Robert Quinn accounted for three of the seven sacks the Rams racked up against the Bucs last December
Quinn lost his DE running mate, Chris Long, to an ankle injury but thinks his crew still has plenty of depth
The Rams will try to stop the Bucs' rushing attack first so they can then focus on chasing Josh McCown

The last time the Tampa Bay Buccaneers and St. Louis Rams met, at the Edward Jones Dome in December of last season, the Rams prevailed 23-13, and a fierce pass rush that produced seven sacks of Mike Glennon was the difference. That was the highest number of sacks the Buccaneers had allowed in a single game in eight years, and it was powered by Robert Quinn, who tied a career-high with three QB takedowns.
Quinn's final sack of that game, on the very last play from scrimmage, was his 18th of the campaign, which broke the Rams' single-season record of 18, set in 1999 by Kevin Carter, who would coincidentally finish his NFL career with the Buccaneers. Quinn added a 19th sack in the Rams' season finale at Seattle to finish as the NFL's leader in that category, but he was pleased that the clock didn't run out in Week 16 before he could break the record in front of the home crowd.
"To break Kevin Carter's record at home is a great thing, especially for the fans," said Quinn on Wednesday as he prepared for another Bucs-Rams tilt, this one in Tampa on Sunday. "This game I'm a little behind to do that. I definitely want to go out there and just try to be dominant like the previous game I had and take one play at a time and try to each play get better and better. Hopefully that will help our team towards a win, but like I said we've got some work that we need to put in this week and come Sunday, hopefully we'll be ready to go."
Indeed, the Rams (like the Buccaneers) got only one sack in their season-opener, a 34-6 loss to Minnesota, and it belonged not to any members of their vaunted defensive line but linebackers Alec Ogletree and Jo-Lonn Dunbar. And as Quinn mentions, even if he had gotten to Vikings quarterback Matt Cassel, he wouldn't yet be in position to break his own single-season record. The Rams' single-game mark is 5.0 sacks, set by Gary Jeter back in 1988; the Buccaneers had better hope Quinn doesn't set his sights on that one this Sunday.
If Quinn and his fellow linemen are pinning their ears back and coming after Buccaneers quarterback Josh McCown, it will likely be after they've accomplished a different primary goal.
"We definitely want to of course stop the run – which we pride ourselves in a little bit – but we want to stop the run, slow that down and once it's time to get after the passer, then it's time to do that. I think the guys are totally getting the game plan, are working towards our game plan for Tampa and trying to get this week back started correctly."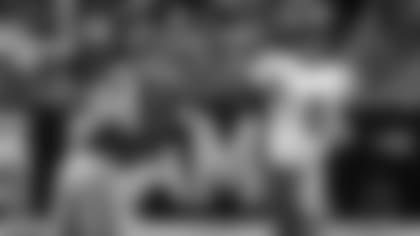 DE Robert Quinn and the Rams defense recorded four of their seven sacks in last December's game against the Bucs in the fourth quarter, after they had bottled up the rushing attack
Indeed, in the aforementioned 2013 game, the Rams held the Bucs to just 59 yards on 23 carries (2.6 yards per tote) and then got four of their seven sacks in the last nine minutes of the game. Of course, they'll be a man down as they try to duplicate that outcome this weekend, as starting left end Chris Long is expected to miss a couple months of action after having ankle surgery. Quinn will miss his running mate – the two combined for 27.5 sacks last year – but believes the Rams have plenty of depth to keep the heat on the Bucs' offensive line.
"It's a downer," Quinn admitted, in regard to Long's absence. "He's a captain of our team, a great player and we're definitely going to miss him on the field. We have been facing adversity basically since before the season started, it's just another one we just have to overcome. We're going to miss him on the field, we wish for a speedy recovery and like I said the other guys out there have to step up and be ready to make plays. Chris had a great backup with Will [Hayes]. I think Will is ready to fill the role and we won't have any drop-off with him out there."
If last week's one-sack performance was seen as a drop-off from the expectations the Rams' defensive front built with their 2013 performance and the subsequent addition of first-round defensive tackle Aaron Donald, it didn't strike Head Coach Jeff Fisher quite that way. As NFL coaches will often point out, the productivity of a pass-rush can't be measured solely in sacks, though that's the ultimate goal.
"Well I thought they got a little bit of pressure on the passer last week," said Fisher. "Doesn't translate into sack numbers. When obviously you have a reputation for being able to rush the passer, people are aware of that and the ball comes out. We're just going to have to play well in all three phases in order to give ourselves a chance to rush the passer. We got up last year [against the Bucs] and put them in a position where they had to throw it. When that's the case, most teams take advantage of that."
And when that does happen, Quinn remains the Rams' best bet to take advantage of it. Long is a talented rusher known for his non-stop motor, and St. Louis will miss him, but Quinn is simply a special talent.
"Rob just has cat-like quickness and great use of his hands, he can really bend and lean," said Fisher. He makes a lot of plays at the top of the rush."
Quinn made plenty of plays against Tampa Bay nine months ago, and broke a long-standing team standard in the process. This time, the Bucs will try to keep him out of the record books and keep Josh McCown safe in the process.