STORY HIGHLIGHTS
WR Mike Evans should be one of the first rookies off the board in this year's fantasy drafts
The Bucs' tight end situation is unclear for fantasy owners but could eventually produce a sleeper
Recent developments could raise the fantasy stock of new starting QB Josh McCown

We're a few weeks past the 2014 NFL Draft, long enough for the Tampa Bay Buccaneers' latest class of rookies to take part in a rookie mini-camp and a series of OTAs with the team's veterans. With the promise of a new-look offense in the Bay, it's hard not to get excited about the upcoming season.  And for many of us – you know who you are – the prospects of another fantasy football season, perhaps with more Buccaneer impact, is just as inspiring.
Now, we're still a couple months away from the avalanche of fantasy league advertising and fantasy mock drafts from every corner of the internet, but we did just witness the landscape-altering NFL Draft, and it's never too early to take a preliminary look at what is to come in 2014.
That 2014 fantasy season might have a more distinct Buccaneer flavor, if things go well.  Tampa Bay's draft brought six new players to the offense – including three or four who could be prominent targets for quarterback Josh McCown.  Let's take a look at how these rookies might fare in 2014, fantasy football-wise, and how they'll affect the other Buccaneers' offensive weapons on your way to fantasy glory.
WITH THE SEVENTH PICK IN THE 2014 NFL DRAFT…
The Tampa Bay Buccaneers select WR Mike Evans. When fantasy drafts roll around, Evans may go quickly again, possibly as early as the second rookie off the board. Behind, perhaps, Tennessee Titans running back Bishop Sankey, Evans will fight it out with Bills WR Sammy Watkins as the top 'must-have' rookie.
As a 6-5 receiver, Evans will line up across the field from Vincent Jackson, also 6-7 and a perennial top-15 fantasy performer. The comparisons of Evans to Jackson will continue to come in, which certainly adds to his predraft value. Defenders will have a tough time covering both big receivers, putting Evans in line for a lot of targets, jump balls, red zone looks and, of course, yardage and TDs.
Over the last two years, we've seen tall receivers dominate the fantasy football rankings, which should boost any sizeable WR up the draft charts. In fact, since 2012, 75% of the top 12 receivers each year were 6-3 or taller. In those two seasons, only two WRs who finished in the top 12 were under the league WR height average of 6-1: Antonio Brown in 2013 and Wes Welker in 2012. With a 6-5 receiver on both sides of the field, fantasy points should be flying in Tampa.
Last year, as a Texas A&M Aggie, Mike Evans finished seventh in NCAA Division I-A play with 20.2 yards per reception. That is an impressive number that should get fantasy owners excited, but when you add that he saw that average on 69 receptions, totaling 1,394 yards and 12 touchdowns, it looks even better.
Line those statistics up next to Jackson's 15.7 ypc, 78 receptions and 1,224 yards from 2013 and you have a duo of massive receivers that, on paper, instantly stack up as one of top pairs in the league.
While Evans does have all of the promise coming into the NFL and could push to be the top rookie fantasy receiver, there are some bumps that keep him (and every rookie receiver) out of the rankings of the elite WRs. In the last five years, only 15 rookie receivers have come into the league and put up 100+ fantasy points in their first season. Only four of them cracked the top 20 in fantasy points scored at their position, and only two topped 150 points in a season (A.J. Green in 2011 with 153 points and Mike Williams in 2010 with 157 points).
That said, Evans' mere presence on the Buccaneers' offensive roster will help ensure that Vincent Jackson stays on the top of the fantasy WR heap as a low WR1 or high WR2, either way a must-start each and every week. Evans is clearly among the favorites to walk away as the best rookie fantasy receiver this season, will likely end up drafted in every league and should start the year as a solid play at WR3 or in the Flex position.
All of this talk about the potential of Evans and Jackson acts as a beautiful segue into the next Buccaneer most positively affected by this NFL Draft addition, QB Josh McCown.
TWIN TOWERS 2.0
Yes, this is going to be another article comparing the 2014 Buccaneers to the situation that McCown thrived in in Chicago last season. But, there is no way to talk about the fantasy football future without taking examples from the past, and these examples stack up extremely well for the new Bucs QB.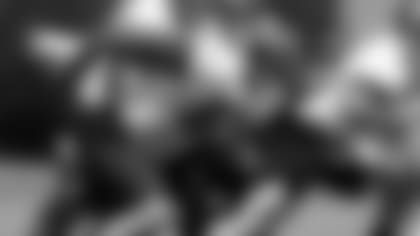 Rookie TE Austin Seferian-Jenkins is yet another big target for QB Josh McCown to throw to in 2014
Of course, Josh McCown comes to Tampa Bay having just posted his best career numbers while working with 6-4 receivers Alshon Jeffery and Brandon Marshall. Throwing to those twin towers, McCown finished as a top-15 fantasy scoring QB four times, sixth highest in Week 12 and as the top-scoring QB in Week 14. By the end of the season, he posted 1,829 yards and 13 touchdown passes with just one interception.
1,118 of those yards and seven of his TDs went to Jeffery or Marshall, making their yards-per-catch average 15.1. Now, recall back to Evans' 20.2 ypc and Jackson's 15.7 ypc and start to get excited about the prospect of having any of these three Bucs in your starting lineup.
Of course, there is the knock that we have never seen McCown performing consistently in a starting role and he has little fantasy dominance in his background, but that is what makes a true fantasy football sleeper. Before any training camp days or preseason looks, McCown is already registering as a solid fantasy backup or even a nice contributor in two-QB leagues.
AUSTIN SEFERIAN-JENKINS, CHARLES SIMS AND ROBERT HERRON
Starting wide receiver isn't the only skill position the Buccaneers addressed in the draft. They also added TE Austin Seferian-Jenkins, who will immediately compete for the starting job and tight end touches; RB Charles Sims who enters a crowded backfield but could see a surprising amount of Darren Sproles-esque work with his catching ability; and WR Robert Herron, who, by the end of camp, could find himself as the Bucs' go-to slot receiver.
Seferian-Jenkins (also 6-5…I'm sensing a theme to this offense) enters the NFL after winning the John Mackey Award as the nation's most outstanding tight end in 2013. In three years in Washington, he totaled 1,840 receiving yards and 21 touchdowns. His fantasy outlook may be diminished depending upon what the Bucs do with free agency newcomer Brandony Myers and  2013 fantasy breakout star Tim Wright.  Wright ended the season as the 13th highest scoring fantasy TE in the league and second-leading receiver on the Bucs' offense. All three tight ends have the potential to be drafted but will likely be waiver-wire pickups if and when they start accumulating fantasy points. Still, ASJ is someone to keep an eye on.
Charles Sims is another intriguing player for fantasy drafts this season. Sims will be competing with Bucs RBs Mike James and Bobby Rainey for the number-two position behind returning Doug Martin. If Sims emerges as a clear favorite as the regular season nears, he should be on the radar as a late-round handcuff for any fantasy owner who takes Doug Martin in the first wave of running backs.
In 2013 at West Virginia, Sims rushed for 1,095 yards and 11 touchdowns, adding 45 receptions, 401 receiving yards and three touchdowns. In his three years at Houston, he was also a talented receiver out of the backfield, totaling 1,707 receiving yards on 158 catches in that time frame. With his hands, it isn't out of the question to see him lining up for some receptions this year, much like year-in, year-out fantasy favorite Sproles.
Finally, we get to WR Robert Herron, the Buccaneers' speedy 6th-round selection out of Wyoming. Behind Evans and Jackson, the third receiver spot looks like an open race going into the summer and Herron could have a good chance competing with Louis Murphy, Lavelle Hawkins, Eric Page and company. Herron has big-play ability and could see a few stellar fantasy days if he ends up the Bucs' slot receiver. Don't expect him to go in your fantasy draft, but he could be a nice steal in deep fantasy leagues if he wins the slot job.
So, while there is still quite a way to go before the fantasy football talk gets into full swing, things are looking very positive for the Buccaneers and their cast of rookies. With the impressive stat lines of two towering receivers, the buzz surrounding Josh McCown's first start in Tampa Bay and a fast-paced multi-faceted run game, the Bucs' season is shaping up to be one to look forward to, both on the field and your fantasy football home page.