STORY HIGHLIGHTS
The Panthers' offensive players are risky fantasy plays this week with Cam Newton's uncertain status
Vincent Jackson is a solid play most weeks but rookie WRs like Mike Evans sometimes need time to get established
If you own the Bucs or the Panthers defense, starting them in Week One is a good idea

Congratulations everyone. We've made it through another offseason. By now, your rankings have been made, your fantasy draft is finished and you're struggling with twenty different sources telling you twenty different ways to configure your Week One fantasy starting lineup. Welcome back!
The first week always tends to cause a bit of a headache, with only 2013's fantasy football production to go on, and of course, much has changed. A defense ranked in the mid-20s last season against the rush could have had some major overhauls and will be among the best in the league. A running back was completely dominant a season ago, but now has company in the backfield, or an entirely untested offensive line in front of him. This makes it difficult to figure out who to plug in in the first week of action.
It goes without saying that the Buccaneers have had a bit of an overhaul of their own this offseason. There are dozens of new faces on the team; new coaches at every position; even the uniforms on the players' backs have been upgraded for 2014. With a lot of uncertainty on both sides, and the air of uncertainty surrounding every fantasy decision in Week One, we'll divide it up nice and easy this week into what to expect from the Panthers' offense, what to expect from the Bucs' offense, and the smartest plays of the day: the defenses.
When the Panthers have the ball
One question is on every Cam Newton owner's mind; unfortunately, I most certainly don't have the answer. Will he play this week, or will his cracked rib lead the team to rest him up for the long haul. I can tell you, however, that Newton has been a solid fantasy play every game since he came into the league. Still, expectations for this one might run a little lower than normal.
In his two games against the Bucs last year, Newton put up 27 and 26 fantasy points; both were in his top five games of the season. Largely, those numbers came on the ground, where he had a total of 118 rushing yards and two rushing TDs (23 total points). That is promising for his game today, especially when you see that the Buccaneers allowed the 27th-most points to opposing quarterbacks last season. But there is quite a bit more to take into account.
For one, the Buccaneers' rush defense was dominant in the preseason. Not much weight can be put on preseason games, but from what was shown, the front seven will be something on every team's mind this season. Also, last year Newton had more threats in the receiving game. This year, a rookie receiver in Kelvin Benjamin is listed as his number one. His most established wide receiver? Jerricho Cotchery, a 10-year veteran seven seasons removed from his last and only 1,000-yard year.
Add Newton's questionable status and it might be wise to think about using your backup quarterback in Week 1. Unless Newton can replicate last season's rushing performance against the Bucs despite his injury, he could be facing a long, hot afternoon.
As for the Panthers' receivers, it would seem that Cotchery is the safest play this week. Both he and Benjamin (and TE Greg Olsen) should be solid red zone threats if and when the Panthers find themselves in Buccaneers territory. It just remains to be seen what either of the receivers can or will do in a Panthers uniform. They will also have to contend with Pro Bowl corner Alterraun Verner, as well as the newly-healthy Mike Jenkins and Johnthan Banks. Down the line, Cotchery could prove to be Carolina's top wideout, and Benjamin has maybe the strongest upside this year of any rookie receiver, but in the first game of the season, trusting either of these WRs is a risky proposition.
Once again this season, the Panthers bring a fantasy football headache to the running back position. The Panthers boast three talented running backs who all pose yardage and scoring risk, but predicting the top back is enough to drive a fantasy owner crazy. Jonathan Stewart had just three fantasy points against the Bucs last year in two games. DeAngelo Williams missed one game, but found the end zone in the other. Mike Tolbert had the most success against Tampa Bay, scoring a combined 19 points, surprisingly with the majority coming in the passing game. Needless to say, none of these backs are more than an iffy flex play this week.
Finally, we move on to perhaps the most trustworthy scorer on the Panthers offense this week, tight end Greg Olsen. Olsen is the only route-runner with a history with Cam Newton. And even if Newton does not suit up, Olsen has the upside of being a big target for his backup QB to go to. The Bucs defense ranked 20th last season in points allowed to tight ends. Olsen had 106 yards and a score against Tampa Bay last year and should be a solid play in all formats.
When the Bucs have the ball
The Buccaneers' first test of the season is a big one, as they go up against one of 2013's best NFL and fantasy football defenses. Carolina allowed the third fewest points to WRs and second fewest points to QBs and RBs. In fact, the only position at which the Panthers' defense ranked lower than 12th in points allowed is against tight end, which happens to be the biggest unknown on this Buccaneers' offense. So, let's start there.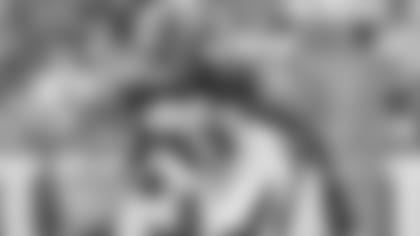 Buccaneers.com fantasy football guru Andrew Norton advises you to start WR Vincent Jackson with confidence this week
The Buccaneers roll out two major tight end options in this game, rookie Austin Seferian-Jenkins and veteran Brandon Myers. Myers made some waves in 2012 as a member of the Oakland Raiders with a 79-catch, 806-yard season, finishing as the team's best receiver. But currently it can only be assumed that he will split time with Seferian-Jenkins, making both options unreliable until one of them steps out as the favorite.
The other uncertainty, and the player that everyone has been looking forward to seeing on the field, is quarterback Josh McCown. McCown played eight games for the Bears last season, starting five, and caught the nation's attention when he threw for 1,829 yards, 13 TDs and just one interception. He finished with the sixth most fantasy points in Week 12 and first in QB fantasy points in Week 14. McCown went largely undrafted in fantasy drafts this year, landing on just 12% of rosters, but is someone that everyone should be keeping an eye on. With QB always being so deep, he hasn't proven himself a starter yet, but in this game and in the coming weeks, he could prove that you should flag his name on the waiver wire.
At wide receiver, we find Vincent Jackson. Not much to say here, with him being a weekly must-start over the last half-dozen seasons. Jackson's only knock has been consistency, where he can go for 23 and 25 points in back to back weeks, but follow that up with three straight single-digit games. Of course, that's not particularly unusual at the receiver position in fantasy football. That said, this offense will be an upgrade from last year, and despite a different scheme, we all saw last season how much McCown likes his tall receivers. Especially in the red zone. Start Jackson with confidence.
Opposite Jackson is first-year receiver Mike Evans, one of many rookie receivers who were climbing up draft boards this season. As with most rookie receivers, it is never a safe bet to rely on them for fantasy points early, but standing at 6-5 he could get some red zone looks or show some big flashes like he did in the preseason. I could see him starting in the Flex if your roster has some tough matchups as there is tremendous potential with so much attention being paid to Jackson. Evans is a risky start, but could be the surprise of Week One if he gets a shot.
Finally, we get to running back, more specifically, Doug Martin. Coming into the season, there was a lot of fluctuation in the average draft position (ADP) of Martin. Many expected a committee in the Tampa Bay backfield, but with the preseason wrapped up and an unfortunate injury to rookie Charles Sims, it is looking like Martin will see most of the work, which should bode well for those who took him in the first round, or those lucky enough to grab him early in the preseason somewhere in the second round.
Taking our eyes off the long run and down to just this week though, we see the task ahead is a tough one for Martin's first regular-season action since going down in Week Seven last year. The Panthers defense allowed just 11 points per game to opposing running backs, five points under the league average. Despite that, as a starter getting majority of the carries, Martin should start in all leagues, and could surprise against this stout defense, thanks to recent acquisition and noted run-blocking All Pro Logan Mankins.
Let's just come out and say it: Based on everything you have read, there are a lot of question marks surrounding this game, an unsettling proposition for fantasy football. But those question marks to lead us to one other answer. Perhaps the most solid starters in this week's game will be the team's defenses.
The Panthers lost a lot of talent on offense, but the defense remains largely intact with one of the best front sevens in the sport. The fantasy defense ended last season ranked third overall in points scored, first in sacks, and put up games of 10 and 15 points in their two matchups against the Bucs. As one of few defenses taken in the opening half of fantasy drafts this year (ADP: 75.8), it is well known what they are capable of.
The Buccaneers have a brand new quarterback, restructured line, returning running back and rookie tight end and wide receiver. While the Bucs offense could prove promising, it seems likely that this will be a defensive tilt until the end. If you drafted the Panthers, you can play them with confidence.
The Buccaneers are a completely different animal. Unlike the Panthers, the group saw plenty of change this offseason with the acquisition of Alterraun Verner, Mike Jenkins, Michael Johnson, Clinton McDonald and Dane Fletcher, to name a few. They join the Bucs stars already in place, and from what we saw this preseason, they could be among the best fantasy defenses when the dust settles, well out performing their 146 ADP, and likely ending the year owned in far more leagues than 59%, where they stand currently.
Of course, this week they face either a largely questionable Cam Newton or second-string quarterback Derek Anderson. And there's the fact that the Carolina offense has zero wide receivers that have ever caught a regular season pass in a Panthers uniform. But for the moment, focus on what the Bucs' first-team defense has been able to do in the preseason.
The starters played a total of about four quarters this preseason (with a mix of second-stringers and often without Verner) and looked dominant against any challenge they faced. The starting defense allowed no touchdowns, a mere 32 rushing yards (under two yards per attempt) and created five turnovers, taking one in for a score. Keep in mind that an under-seven point game with five TOs and a touchdown translates into 19 points, not accounting for any sacks or yardage bonuses.
That's a little something for you to keep in mind if you drafted the Arizona D/ST (facing San Diego) or the San Francisco defense (facing Dallas) and you're lucky enough to have the Bucs defense waiting for you on the wire.
Good luck to everyone this week (minus the four teams that I'm personally squaring up against) and welcome back to fantasy football!