STORY HIGHLIGHTS
WR Vincent Jackson has a good history of putting up fantasy points against the Falcons
Falcons wideout Harry Douglas is a good sleeper play this week, especially if Roddy White is limited
If Doug Martin can't play, Bobby Raineys becomes a very strong start against the Falcons' run D

The first two games of the Tampa Bay Buccaneers' season did not exactly turn out as many of us expected, fantasy-wise or on the real-life scoreboard. In Week One, Jorvorskie Lane and his single 54-yard carry led Buccaneer running backs in fantasy points. Through two weeks, two Bucs wide receivers share the fantasy team lead at their position – Vincent Jackson and Chris Owusu.
Before the season kicked off, we expected points…the italics providing emphasis to the amount we predicted. And while the Bucs have seen some strong moments (i.e. Bobby Rainey's 17-fantasy points in Week Two), the lack of splash from our fantasy standouts has us hungry for more. Doug Martin has yet to put any on the board. Vincent Jackson has eight, without a trip to the end zone. Mike Evans has shown flashes, but only sits at seven. So far, we have seen much more famine than we have feast.
That ends this week, I believe.
Like the NFL, fantasy football is largely about matchups. When a coach is interviewed, they don't say they're looking ahead to the playoffs or making their way to the Super Bowl. They say that the team is focused on the next week, the next matchup.
For the same reason, when you're setting your lineup, you see the ranking off to the side showing how well the opposing team's defense has fared against that position. Because fantasy football is so offensively based, when we see the Bucs going up against Atlanta, we instantly look at Matt Ryan (fifth ranked fantasy QB, most passing yards in NFL) or Julio Jones (11th-ranked fantasy WR, 200+-yards receiving) and instantly expect their offense to do well.
But step back and take a look at the Atlanta defense, and I think we'll see the Buccaneers keeping pace in this game. Below we see the average points that Atlanta's opponents have scored as compared to the NFL average.
8.1
For instance, facing Drew Brees and Andy Dalton, those two QBs combined for 29 fantasy points over two weeks. Solid, but just below the NFL average from an opponent standpoint.
But when you look at running back or receiver, you see the huge disparity, and why the Bucs should be getting out of their fantasy drought Thursday evening. The Falcons have allowed well over double the fantasy points of the average defense to opposing running backs. They have allowed 6.5 fantasy points per game more than the 30th-ranked defense vs. RBs.
At WR, they are allowing nearly six points per game more than average, good for an fantasy ranking of 28th against that position. If you're frustrated with Vincent Jackson's numbers so far, hold out my friend. The points are coming.
Bucs Cracking Your Starting Lineup
Those numbers are all well and good, but the offense does need to step up and take advantage of the points that the Falcons have given up. This team should be more than capable of doing just that.
Josh McCown is owned in 6.0% of fantasy leagues and is obviously not seen as a very exciting fantasy option. Maybe he should be.
McCown is tied as the 11th-best fantasy quarterback going into Week Three with 30 fantasy points. He is tied with Drew Brees. He is ahead of Colin Kaepernick, Ben Roethlisberger, Eli Manning, Tony Romo and Tom Brady, to name a few. McCown is averaging 15 points per game, Atlanta is giving up nearly 15 points per game, allowing 625 total passing yards.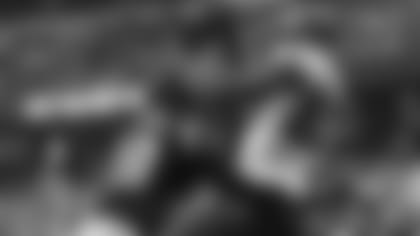 WR Vincent Jackson scored three touchdowns against the Falcons in 2013
I'm not advising that you go out and pick up McCown and start him immediately. But I am saying that quarterback is a position where we often sit comfortable with who we have drafted, looking for a replacement only if there is an injury or a bye week. Maybe you had RGIII go down, you're unsatisfied with an underperforming high draft pick or you have a rough matchup this week. I'm just saying.
Running back is a little tricky with the questionable status looming over Doug Martin. But considering the magic number of 35.5 that we just went over, there should be plenty of points to go around. The Falcons have allowed 283 rushing yards, 165 receiving yards and five touchdowns to running backs.
If Doug Martin is cleared to play, even if he does see a healthy split with Rainey, I think both have Flex potential this week. If Martin sits out another week, Rainey is a must-play, getting the lion's share of looks against a struggling run defense.
Finally, wide receiver is the spot where we could see the biggest breakthrough. Last week, we saw a number of plays where McCown showed trust in these receivers and let Vincent Jackson and Mike Evans just go up and get it. Mike Evans is still a risky start, but has potential to finally introduce himself to the fantasy world this week, but Vincent Jackson is who we will focus on for now.
WRs have put up 363 yards and two touchdowns against the Falcons secondary this year, which is enough to make any team's number-one receiver a must-start. But it is what Jackson has done against the Falcons in the past that gives owners confidence that he'll break out in grand fashion Thursday night.
22.25
In his two seasons as a Buccaneer, Jackson has feasted on the Falcons' defense. Last season he had 20 catches, 303 yards and three scores against them, good for 67 PPR fantasy points. He has also never had three consecutive games with under 60 receiving yards in his time in red and pewter. Look for something big.
Things on the Falcons side of the ball for fantasy purposes look pretty consistent with how you would always treat them. The Buccaneers defense has been stout against all positions, giving up below average fantasy points to all positions except for tight end and kicker.
Of course, their ability to limit fantasy points has only been tested against backup quarterbacks, and this week they face what would seem to be a much taller order than they did against Carolina or St. Louis.
Matt Ryan has more passing yards than any NFL quarterback so far, giving him the fifth-most fantasy points. He is owned in 100% of ESPN leagues, but surprisingly starting (at this point) in less than 50% of them. If he is sitting on your bench, he should in all likelihood be in your starting lineup this week.
Through two games, running back has proven to be a question mark fantasy-wise for the Falcons. Only three points separate Steven Jackson, Jacquizz Rodgers and Antone Smith. Steven Jackson leads the way with 25 touches, but only nine fantasy points. With the Bucs allowing only 11.5 fantasy points per week to opposing running backs, he could be a risky option.
Jacquizz Rodgers is the sleeper play at the position. He only has 12 total touches and 11 fantasy points this season, but performed solidly against the Bucs last year. With the Falcons being such a pass-heavy team so far this season, Rodgers makes sense being just one year removed from a 52-reception season. He could make a splash in the Falcons' passing game this week. In the first meeting between these teams in 2013, he had eight receptions for 46 yards and two scores. Still, he and any other Falcons RB would be a risky start.
At wide receiver, Roddy White is listed as questionable. Because of the potency of the offense, he is a solid Flex bet if he does play. He has 17 points over two weeks. Julio Jones is listed as probable, but should absolutely see your starting lineup as if that were a question. Jones is currently owned and started in 100% of fantasy leagues. He is one of four NFL receivers averaging more than 100 yards per game.
If Roddy White does not take the field, it could be worth your while to pick up Harry Douglas, a receiver who made his fantasy name last season for his play against the Buccaneers after White and Jones went down with injury. He has nine fantasy points this year (10 receptions, 107 yards). Last year in two games against the Bucs he had 13 grabs for 283 yards and a touchdown. He is the sleeper of the game and a very solid "create-your-unique-weekly-lineup-style" league play if White does indeed miss the action.