STORY HIGHLIGHTS
Even with their injury issues, the Bucs look like a good defensive play this week
TE Jared Cook has a chance to produce like a starting fantasy tight end this week
Though receiver production is hard to predict, Vincent Jackson remains a solid starting choice

We're into Week Two of the fantasy football season. Last week, we pointed out all the difficulties of Week One predictions due to offseason changes, unknown rankings and many more unseen factors. Week Two comes with it's own set of pitfalls, and the biggest one is putting too much stock into Week One results.
Sometimes, this can be the result of a singular spectacular performance. See Hurns, Allen. Hurns is an undrafted rookie who posted a pretty remarkable 23-fantasy point performance in Week 1. As a result he went from 0.6% owned to 27.1% owned. According to ESPN.com, he is starting in nearly a quarter of the leagues in which he was owned. I'm not saying that he is not worth a start this week, and I have certainly picked him up in one of my leagues. My point is that one week is not enough to go on. Case in point: Those stats would tell us that Allen Hurns is the second best fantasy receiver in 2014.
That is an extreme example, but it helps clarify my point. As of this moment, who is the number-one ranked defense in points allowed against quarterbacks? That would be the Minnesota Vikings. The same Vikings who allowed the second most passing yards and the most passing touchdowns last season. Only taking into account the Week 1 stats, you might think, "Yikes, perhaps I need to sit Tom Brady." The latter stat might take you back down to earth.
I bring up those two examples, because perhaps no team better fits this theory of not relying solely on one week than the Buccaneers. Going into Week One, I'd have called you crazy if you told me Vincent Jackson, Mike Evans and Doug Martin would combine for two fewer points than Chris Owusu. Leading rusher? Jorvorskie Lane. Yeah, alright, wise guy.
Point is, try to refrain from overreacting. Some stats from the first games are great, like Hurns, who may very well make a run for Rookie of the Year. But others you have to take with a grain of salt. Vincent Jackson put up three points in Week One, but there is no reason he shouldn't be starting for you in Week Two.
Last week the Houston Texans defense/special teams (DST) posted 21 points; this week they play the Raiders. The Arizona Cardinals came into the season as one of the top-ranked defenses, and face a great matchup with the turnover-prone New York Giants. Look at any Week Two fantasy football ranking site and those are probably the only two teams you'll see ranked above the Buccaneers this week.
Despite missing their two starting defensive ends for this game, which draws questions on how the Bucs will get after the quarterback, there is a lot in the Buccaneers defense's favor this week.
Firstly, the turnovers will come. In 12 years as a defensive coordinator and head coach, Lovie Smith has led a defense that finished top 10 in takeaways nine times. Top five, six times. Considering that they will face either a back-up or third-string Rams quarterback this week, the likelihood of a first turnover is very high.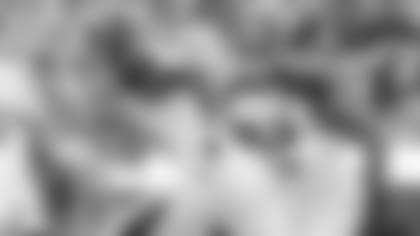 Vincent Jackson (#83) is probably still the safest play among Buccaneer pass-catchers in fantasy football
The Minnesota Vikings finished last in DST in 2013 with just 53 points scored all year. Last week against the Rams, they put up 19. They caused four fumbles, notched two interceptions, recorded five sacks and scored a touchdown.
The Buccaneers DST is owned in just over 50% of leagues. They are a great play this week.
Starting the Buccaneers Offense
Neither team showed much last week that can really give fantasy owners with much confidence, but this game should be a turning point for at least a few stars on the field Sunday.
In the passing game for the Bucs, Vincent Jackson should certainly be in your lineup. It is well-documented that he has a history of feast-or-famine performances. Twice last season Jackson recovered from sub-three-point fantasy games with 20+-point fantasy outings. The Rams secondary is without Trumaine Johnson which should help Jackson's status this week.
Mike Evans faces the same depleted secondary. Last week, he had five catches for 37 yards. This does point to Josh McCown spreading the ball around, but it just takes one play or a big shot downfield to turn Evans' stats around. It is always risky to start a rookie receiver who has yet to show what they can really do, but he could be subbed into the flex if you are dealing with injuries or feeling like rolling the dice.
Looking for Sleepers at TE
With either a back-up or third string quarterback starting the game, I'd be hesitant to place any Rams offensive starter into my roster. Zac Stacy has the benefit of a weakened Buccaneers front, but such questions in the passing game may hurt his chances of finding the end zone. Brian Quick had a solid Week One, but will likely face Alterraun Verner who had only one ball thrown toward him last week. With Quick sharing looks with Tavon Austin and Chris Givens, it is a risk to start any of the three, not knowing who will get the majority of the targets. Quick (7 receptions, 99 yards last week) would be your best bet.
The one Rams player who could prove worth the gamble is tight end Jared Cook. Cook saw four receptions for 56 yards last week, so he proved that he is being looked at by either quarterback and is capable of getting downfield. Covering the tight end was an issue with the Buccaneers defense last season and TE Greg Olsen had the third-most TE fantasy points a week ago.
Jared Cook led the Rams last season in receptions, receiving yards and touchdowns. He could be the security blanket that [insert starting QB] needs to get comfortable in the offense. He did face the Bucs last season, however, and managed just 27 yards on two catches. If you are unsure at the tight end position, he could be one to keep an eye on.
Finally, I'll list my sleeper pick in Bucs TE Brandon Myers. Yes, Myers is owned in literally 0.1% of ESPN fantasy leagues. Perhaps "super sleeper" would be a better term.
Myers was targeted eight times last week, and led the team with six receptions and 41 yards. This week, he will see even more time on the field with Austin Seferian-Jenkins out. Now, the Rams had the league's best defense against tight ends last season, allowing just 688 yards and four touchdowns, but they did surrender a TD last week to Vikings' TE Kyle Rudolph.
Should he be starting on your roster? No, sorry Brandon. But could he be worth a look in one of those new-fangled auction-style one-week-only leagues? I'd consider it. And if it works, it's always a lot of fun telling your friends, "I told you so."