STORY HIGHLIGHTS
Five remaining wide receiver reserves will have a chance to sort out the depth chart on Thursday night
Even after the first round of cuts, the Bucs still have plenty of interesting candidates for the DE rotation
Rookie Solomon Patton is clearly in the lead for the kick returner job, but competition remains

The biggest question looming over the Tampa Bay Buccaneers as they opened training camp exactly one month ago was this: Who would win the two wide-open offensive guard spots?
That question may now have an answer. When Patrick Omameh and Oniel Cousins performed well in a relatively brief bit of playing time for the starters in Week Two of the preseason, they earned an opportunity to start again in Week Three at Buffalo. In that game, the starting offense played the entire first half and operated even more efficiently, helping the Buccaneers to a 24-0 lead before the starters exited.
Given that the fourth and final preseason game on Thursday will be played almost exclusively by reserves, there won't really be an opportunity for any other guard candidates to get first-team action. If a change at either guard spot is going to be made before the regular-season opener on September 7, it will have to be decided exclusively on the practice field.
The Buccaneers will have their roster pared to 75 players by Tuesday. On Saturday, Tampa Bay and the other 31 teams will further trim down to the regular-season limit of 53. The following week, the Bucs will release the depth chart they intend to apply to the Carolina game. Only then will we know for sure that Omameh and Cousins have rounded out the starting O-Line five, but for now that seems like the obvious outcome.
Some other position battles remain, however, even as the final preseason week begins and those Saturday cuts loom. Here are five depth chart questions that still need to be answered.
Vincent Jackson and Mike Evans are the clear starters and appear headed for great things. Both looked sharp in the Buffalo game and Evans even got his first touchdown on a double-move vertical route that could make NFC South cornerbacks nervous. Who comes into the game when the Bucs want to go to a three-receiver set, however, is far less clear.
This issue isn't as simple as determining who the absolute third-best receiver on the roster is. The player who rounds out the three-receiver sets will likely be playing in the slot most of the time, with the enormous Jackson-Evans duo on the outside. Head Coach Lovie Smith has said on several occasions that this slot receiver is usually a smaller player, one with quickness and shifty moves. That would seem to describe rookie Robert Herron, and indeed Smith mentioned that as a possible role for Herron when he was drafted out of Wyoming in the sixth round in May.
Chris Owusu began the preseason listed as a starter opposite Jackson, which would seem to indicate that he had separated from the pack a little bit in the early part of training camp. He has just two catches for 15 yards through three games, however. After Jackson and Evans, it's veteran Louis Murphy who has the highest receiving totals in the preseason, with five catches for 66 yards. In truth, there hasn't been too much evidence in the three warm-up games to suggest any one candidate has seized control of the slot job.
This is one battle that will get a chance to play out in Thursday's game. With three receivers waived on Sunday and Jackson and Evans unlikely to see much action, all the work will go to the quintet of Herron, Owusu, Murphy, Russell Shepard and Solomon Patton.
As was pointed out during Smith's day-after-game press conference on Sunday, second-year player Johnthan Banks has started all three preseason games after logging 16 starts as a rookie, so it would be reasonable to assume that he has the right cornerback job locked up for the regular season.
That very well may true, but it would be interesting to know if the preseason would have played out differently if Mike Jenkins hadn't tweaked a hamstring early in training camp. When the Buccaneers signed Jenkins as an unrestricted free agent in the spring, it appeared to create a head-to-head battle between him and Banks to start opposite Alterraun Verner. And it should be noted that Jenkins continues to be listed first at that spot on the depth chart, though we most continue to take that document with a grain of salt.
"We still go on what has happened and his play has been good," said Smith of Banks. "I'm not saying he's not going to be [a starter], or he won't be. His play has been good. I like everything about him – his size, how he competes, his toughness. He didn't play as well [Saturday] as he will, but yeah, I can see why he would think [he's a starter], and when we brought Mike Jenkins in, it's not like we just handed the position to Mike. We feel like Mike is getting close to being ready to come back, but we'll see how that plays out."
There is no battle here, of course, until Jenkins is healthy, and he may miss Thursday's game, as well. Still, it's possible that somewhere down the road Jenkins will at least get a chance to unseat his younger teammate.
Make no mistake, undrafted rookie Solomon Patton has taken the lead here, and the release of incumbent return man Eric Page on Sunday means the team won't just stick with the status quo. Patton was elevated to the top spot on the depth chart at both return positions after he performed well in an extended opportunity in Game Two against Miami, and he got the majority of the work on Saturday in Buffalo. The way that game unfolded, however, Patton didn't get much of an opportunity to build on his prior work.
"[He's] in a better position, but still, we've just decided on the 75 right now, or are deciding on the 75 right now," said Smith of Patton's chances of sticking past the cut to 53. "There are still more evaluations to be made through practices this week, and of course, through the game, but Solomon didn't hurt himself or anything like that. Every time we've given him an opportunity, we feel like he's stepped up to the plate."
Even with Page gone, there are other kick-return candidates, and one of the factors Buccaneer coaches need to consider is which players will be among the 46 active men on game days. As an example, running back Bobby Rainey is almost certain to be active for the games, as Doug Martin's primary backup, so if he proved to be at least close to Patton in return skills he could get the job. The Bucs might also still take a look at running back Jeff Demps simply because his speed is so hard to ignore. And Herron was at least in the return picture earlier in August.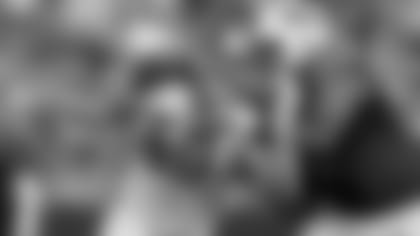 DE Scott Solomon recorded a sack in the Bucs' preseason win over Buffalo on Saturday
As coaches in general – and Lovie Smith in particular – often say, you can never have enough of this.
Michael Johnson and Adrian Clayborn are the clear starters on the edges of the D-Line, and they showed what they could do when they convened a meeting at E.J. Manuel's location on Saturday, forcing a fumble that defensive tackle Clinton McDonald returned for a touchdown. But the Buccaneers want fresh legs rushing the passer on as many snaps as possible, so they will definitely be rotating several other ends into the action. The Bucs may keep up to nine or 10 defensive linemen on the 53-man roster, of which seven are likely to be active on game day. The three reserves would probably consist of an edge rusher, an interior lineman and a versatile swingman who can do both.
Many candidates remain for depth on the edge even after the Buccaneers released undrafted rookies Ryne Giddins and Chaz Sutton on Sunday. William Gholston and Da'Quan Bowers have the most experience among those candidates and were prominently featured in the rotation when the preseason began, but both have recently been sidelined by injuries. That has made the evaluation process significantly more difficult for the Buccaneers' coaching staff.
That has provided some more playing time for the likes of Steven Means, Scott Solomon and the recently-added Larry English, however, and all three of those have flashed some big-play ability. In fact, English had two sacks and Solomon had one in the Bucs' win in Buffalo on Saturday. Those three are likely to get extended playing time on Thursday night, along with T.J. Fatinikun; if Bowers and Gholston can get back on the field, they would likely see some very useful action, as well.
"We know Michael and Adrian Clayborn, what their roles would be for us," said Smith. "Will Gholston, we wanted to look at him a little bit more. Some other guys – Scott Solomon, of course Larry English, Steven Means, those are players we need to take steps and we're seeing baby steps of improvement, but we'll be constantly working at defensive line trying to get it right.
"Bowers, he's been out a while, you kind of forget a little bit, but when he was out there, Da'Quan did some good things. William Gholston also did some good things. I just felt like the direction he was headed, good size for a six-technique, a guy that will be playing over the tight end the majority of the time, none of that has changed. We just needed to get those guys out [on the field]. They did enough before they went down with injuries for us to really like what we saw."
Judging by the starting lineups and the early playing time in preseason games, it seems clear that free agent acquisition Brandon Myers and second-round draftee Austin Seferian-Jenkins have solidified their roles in the Bucs' offense. Both of them will see quite a bit of action, but Smith has said on several occasions in August that there is definitely room to work three tight ends into the game plan.
The Buccaneers will surely keep at least three tight ends on the 53-man roster. It's possible that they'll expand that number to four if they see too much potential in both Tim Wright and Luke Stocker, but that would probably mean losing a bit of depth at one of the other offensive skill positions. And even if four tight ends do make the roster, it's likely that only three would be in the mix on any given game day.
While Tim Wright seemed like the obvious third tight end when camp started after his surprising 50-catch season as a rookie in 2013, it no longer looks as clear as the preseason nears its end. Stocker is still battling for that job, and it could come down to whether the team wants to emphasize pass-catching or blocking at that third tight end spot.