STORY HIGHLIGHTS
The Bucs have a good amount of depth at cornerback but it's not yet clear how it will sort out
QBs Josh McCown and Mike Glennon have looked sharp so far; can they keep it up as practice heats up?
Lavonte David's starting spot is secure but there will be competition among the LBs to join him

The Tampa Bay Buccaneers' 10-week offseason training program is down to its final three days. They might be the three most important days in that program.
They are definitely the only three mandatory days, though the Buccaneers have enjoyed nearly 100% participation from their players since the program began on April 7. The overall number of participants when up in May after the draft, and the work on the field steadily became more comprehensive as the team moved through the three phases of training allowed by the Collective Bargaining Agreement.
Like most NFL teams, the Buccaneers chose to place their one mandatory mini-camp at the very end of the offseason program. While pads and intentional contact are still forbidden, the team can put in a total of seven-and-a-half hours on the field and it can run full-team offense-vs.-defense drills. It's the perfect opportunity to see how well the team has prepared itself for the upcoming training camp, and to get some idea what the depth chart will look like when the team reconvenes in July.
As Head Coach Lovie Smith has said on multiple occasions, there is only so much his staff can evaluate when the players are in shorts and avoiding contact. There will be no final decisions made on starting jobs or roster spots this week. Still, we can gather some evidence pertaining to the following issues that must be resolved before the start of the season.
1. How will the cornerbacks sort out?
Alterraun Verner is essentially a lock to start at left cornerback, but after that the depth chart is far from set. Two weeks ago, Smith mentioned that six cornerbacks had caught his eye, and there's a good chance the Bucs will keep at least that many on the 53-man roster. Which one will start alongside Verner and which one will emerge as the primary nickel back? That's an open competition.
Around the time the Bucs signed Mike Jenkins in late March, Smith noted that he thinks of the nickel back as a starting position since it is on the field for so many snaps. The implication, to this author at least, was that second-year man Johnthan Banks would have to fight off Jenkins to hold on to his starting spot at right corner, but that there would be plenty of playing time for all three regardless.
What complicates that simple storyline is that the Bucs are treating the nickel back spot as a different position, at least in terms of how they coach it on the practice field. Senior Assistant Larry Marmie is tasked with coaching that position, and he takes a small handful of the corners off to the side for separate drills. Last year, Defensive Coordinator Leslie Frazier said that veteran D.J. Moore, a former Chicago Bear under Smith and a free agent signing in February, was currently in the lead among the players working under Marmie.
So does that indicate that Moore is the leading candidate to play the nickel back role during the season, or is the odd man out between Banks and Jenkins likely to get that job? Perhaps that will be clear when the defense takes the field for practice next week.
Furthermore, who fills out the rest of the depth chart? The Bucs have had to plumb all of their cornerback depth in recent seasons due to injuries, so this isn't a frivolous question. If unproven players like Rashaan Melvin and Deveron Carr make the 53-man roster, the team will have to be comfortable with them playing on defense at some point, should that become necessary. Are there any dark horse candidates in the bunch? Frazier mentioned some good early work by recent pickup Quinton Pointer, a former St. Louis Ram, and Cornerbacks Coach Gill Byrd had some good works for undrafted rookie Keith Lewis.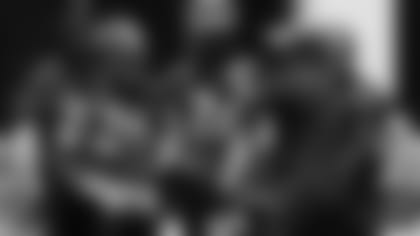 Cornerbacks Coach Gill Byrd (with football) has plenty of young and veteran talent on hand to work with in this week's mini-camp
2. Who will plug the gaps in the offensive front?
The Buccaneers' offensive line features a strong and underrated performer at right tackle in Demar Dotson, and coveted free agency acquisitions at left tackle and center in Anthony Collins and Evan Dietrich-Smith, respectively. That appears to be the beginnings to a very good offensive front, but the O-Line has five spots and it won't matter how good three of them are if the other two aren't adequately manned.
So the Buccaneers have to figure out who is starting at right and left guard. Carl Nicks will not be practicing this week, and Davin Joseph is now a Ram, so there aren't any obvious answers, at least not in June. If Nicks is ready for the regular season, half of the issue will be resolved in very emphatic fashion, but this week the Bucs will be auditioning plenty of others. Those others include Jamon Meredith, Oniel Cousins, Patrick Omameh and fifth-round draft pick Kadeem Edwards. Expect those candidates and perhaps a few others to share snaps with the first team this week as Smith and company look for their best combination.
3. How quickly can the quarterbacks excel in Jeff Tedford's offense?
Josh McCown is expected to start at quarterback this season, and Mike Glennon has been pegged by Smith as the team's quarterback of the future. Glennon, of course, will continue to compete in an effort to try to win the starting job back this year, and that outcome isn't completely out of the question.
One of the two, then, will be leading the Buccaneers' new offense, which has been taking shape this offseason but has purposely been described only vaguely to the public. There has been talk of more up-tempo possessions, but no real confirmation or explanation of what that might mean. So we may have to wait a bit longer to see how Tedford's group will attack the opposition, but we can tell now if McCown and Glennon are picking the offense up and delivering the ball on target.
"They're very, very efficient right now," said Tedford. "If you had to look at our passing percentage over the last however many weeks we've been here, we're in the 80th percentile of passing, albeit against things in these phases right now [where] you can't get up and bump-and-run and things like that. But they're very accurate throwing the ball, they understand, they're on rhythm. They're doing a really good job, not only physically but mentally understanding and then providing leadership for the rest of the offense."
Three more days of efficient work from McCown and Glennon will certainly raise the coaches' confidence level heading into training camp.
4. Who will join the Lavonte David Trio on stage?
Lavonte David will start at weakside linebacker for the Buccaneers. With the potential injury caveat that applies to every position, there isn't a safer depth chart bet in Tampa this side of Gerald McCoy. We also know that there will be a starting middle linebacker and a starting strongside linebacker.
Those starting jobs are much less obvious, although the field of candidates is pretty small. Of course, Mason Foster surely intends to keep his gig in the middle, which he's held for the last three years, and there are some who think he could flourish in the Bucs' new defense. Foster did show some big-play ability in pass coverage last year, with three picks and two of them returned for touchdowns, and that's a good thing for a MIKE linebacker to possess in the Cover Two defense. However, free agency acquisition Dane Fletcher will be gunning hard for that job, as well, and he chose Tampa believing that he would get a legitimate shot at starting.
The Bucs will give him that. They also like the versatility he showed during four seasons with the New England Patriots, so it's not out of the question that he could be considered for the starting SAM spot, as well. Perhaps Foster will be in that mix, too, if Fletcher proves to be the best option in the middle. The third candidate to play on the strongside is Jonathan Casillas, one of the three players to get a start there for the Buccaneers last year. The other two, Dekoda Watson and Adam Hayward, departed in free agency, but the Bucs made a strong play to keep Casillas in town.
It's possible that Foster, Fletcher and Casillas will find themselves in a three-way competition for two jobs. Where they are employed this week in mini-camp could indicate whether that is the case or not.
5. Will the offense have any use for a fullback?
Erik Lorig, the team's primary fullback the last two seasons, jumped to New Orleans in free agency and the Bucs made no effort to replace him. Actually, that's not completely true – on April 1 they made a couple speculative moves, signing Josh Baker and Jorvorskie Lane, a pair of fullbacks who had yet to really establish themselves in the NFL. Baker has since been released, but Lane remains to join second-year man Lonnie Pryor as the entirety of the fullback position on the Bucs' current depth chart.
Both Lane and Pryor were more than fullbacks on their college teams; Lane, in fact, was pretty distinctive as a 280-pound featured back at Texas A&M. Both could probably give the Buccaneers the occasional short-yardage or goal-line run, but does the team really need that option. They may have more tailbacks on hand than they know what to do with, and Doug Martin has proven to be quite effective at the goal line. To make the team, Lane and Pryor will almost certainly have to excel as lead blockers, first and foremost.
And it's not clear how often the Buccaneers' offense will ask for that particular service. Smith has said there is a place for a fullback in his offense, but quality players at that position seem to be increasingly difficult to find and as such their role has been diminished across the league. Lane and Pryor will seek to prove that it is worth keeping at least one of them around, and this week's mini-camp might offer some evidence as to whether the Buccaneers agree.