STORY HIGHLIGHTS
The Bucs have a potentially dynamic starting four on the D-Line but need some young talent to develop for pass-rush depth
The key to greater playing time for Da'Quan Bowers and William Gholston may be inside-outside pass-rushing versatility
Second-year player Steven Means has plenty of pass-rushing tools but may also need to find a role on special teams

According to the stat-crunchers at Football Outsiders, the Tampa Bay Buccaneers' defensive line ranked 25thamong the NFL's 32 teams in terms of getting pressure on the opposing quarterback. It is no surprise, then, that the first few hours of the 2014 unrestricted free agency period brought two new pass-rushers to Tampa in the form of end Michael Johnson and tackle Clinton McDonald.
Johnson and McDonald are expected to start this season and team with Pro Bowler Gerald McCoy and 2011 first-round pick Adrian Clayborn on what should be the Buccaneers' most talented D-Line in years. Furthermore, Tampa Bay's coaches will put the pass-rush onus on those front four, as an effective four-man rush is one of the keys to success in a Cover Two base defense.
But, while the Buccaneers hope to get plenty of pressure with just four pass-rushers, that doesn't mean those four will be the only linemen rushing the passer. To keep that front-line rush fresh for 60 game minutes, the Bucs will rotate liberally, providing enough of the team's other linemen step up to give the team some much-needed depth.
"You'd like to have a rotation where there's not a lot of drop-off, where if you take out four guys you can put four other guys in there and there's not a big drop-off," said Defensive Coordinator Leslie Frazier. "We're working towards that; I can't say that we're there yet. But pass-rush in our league, it's everything. You don't want to live and die by the blitz in our league. You've got to find a way to rush with four and that's one of the reason that Clinton is here and one of the reasons that Michael is here. We've got some guys but we've got to get them out there and get them indoctrinated into what we're doing once we get the pads on. But you would like to have two-deep, where it's not a big drop-off when you have to substitute guys, and get a rotation going to keep some fresh bodies on the field that can rush the passer."
In other words, while Johnson and McDonald were the critical offseason additions needed to pump up the Bucs' pass-rush, the key to getting the Bucs into the top 10 on that Football Outsiders list at the end of next season could be how well the young holdovers develop.
And there is definitely talent on hand. If 2011 second-rounder Da'Quan Bowers can finally deliver on his potential and 2013 draftees William Gholston and Steven Means can take a step forward, there might not be enough snaps to go around for all the Bucs' pass-rushers.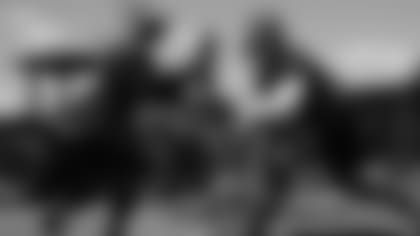 Da'Quan Bowers (left) and William Gholston could both help the Buccaneers as pass-rushers who can play end or tackle depending upon the situation
Bowers is the most intriguing of those three because of his NCAA pedigree and his three NFL seasons, which have shown some promise but have been occasionally interrupted by injury and have never really coalesced into lasting dominance. At one point early in 2011, Bowers was considered a potential first-overall draft pick due to his destructive on-field work at Clemson, but a worrisome knee injury caused him to drop all the way to late in the second round. To this point, Bowers has defied the doubters that thought he couldn't hold up physically at all in the NFL, but he hasn't yet turned that second-round pick by the Buccaneers into a particularly productive one.
Joe Cullen, the Buccaneers' new defensive line coach, can see that same player who almost went very high in the draft three years ago.
"He's explosive, he's powerful," said Cullen of Bowers. "You can put some tape on from the last couple years and he has flashes of being able to do the things that everybody thought [he could do] coming out of college. He's going into his fourth year now, so now's the time."
Gholston wasn't drafted until the fourth round last spring, and that's because his story is somewhat the opposite of Bowers'. That is, Gholston didn't quite have the dominant college resume but he was seen as a player with the tools to potentially develop into a more impactful player on the NFL level. His rookie season was a success in that he improved steadily and by the end of the year was able to claim the starting left end job, but he's still a work in progress. A very promising work in progress, and one who Cullen believes will look even better when the pads go on in training camp.
"Will was a guy that on tape last year did some good things at the end of the year," said Cullen. "He's getting it and he's getting better every day. Will's the type of guy that a lot of times it's hard to tell [how good he is] without the pads on – he's big, he's rangy, he's long. But he's working hard and he's improving every day."
One round after taking Gholston, the Bucs hit the D-Line again in the fifth round last spring, taking a shot on the University at Buffalo's toolsy Steven Means. Means didn't get as much exposure as Gholston did in his rookie season, but he was seen as the type of prospect that might need some more seasoning before excelling in the NFL anyway. That kind of seasoning often takes place between Years One and Two, when a player sees his first full offseason with his new team. In this case, Means is trying to impress a brand-new coaching staff, and he seems to be off to a good start.
"He's a guy that I think has all the qualities that you look for in an edge rusher," said Cullen. "Those guys who are asked to do that have to excel on special teams. I talked to him today about his role, what he has to be: Great as a rusher, great as a core [special teams] guy. But whoever we keep on this team has to be able to start at any time. But he does have some of the traits that you look for in an edge rusher and he can play both sides."
As Cullen mentions, the speedy, 260-pound Means may need to carve out a role of some significance in the kick-and-coverage game if he wants to find himself active on game days, a common refrain for young non-starters. On the other hand, the key to getting a prominent spot in the D-Line rotation for Gholston and Bowers could be how versatile they prove to be. Both players are the big-and-physical type of end, which means they will likely be asked to move inside on third down from time to time, assuming they show promise in such a role.
"On third down you want to get your best rushers on the field and I told them, 'Hey, that's earned, no matter who it is,'" said Cullen. "So if it's an end going inside and that means putting a nose tackle or an under tackle on the bench, then so be it. That's the money down and we have to get off the field. A lot of those ends are going to have to switch inside; even Michael Johnson rushed inside at times in Cincinnati. So everybody has to do it. I see Clayborn being able to do that, I've seen Will who's done it before, and Da'Quan Bowers has done it before."
What Bowers, Gholston and Means have not done yet is proved that they can be a highly productive member of a pass-rush rotation, but that could be right around the corner.  The Buccaneers want to rely on just four pass-rushers on as many snaps as possible, but they don't intend to rely on just four pass-rushers throughout the season.  The development of that trio of young linemen will be an important storyline for the 2014 Buccaneers.