STORY HIGHLIGHTS
Pleased with the Bucs' offensive additions in the draft, OC Jeff Tedford is now working to find their best fits in his scheme
TE Austin Seferian-Jenkins, RB Charles Sims and WRs Mike Evans and Robert Herron could all contribute heavily as rookies
The addition of Seferian-Jenkins potentially opens up new opportunities for the Bucs in multiple-TE sets

The Tampa Bay Buccaneers' efforts in the 2014 NFL Draft drew mostly praise from the sports pundits, lots of "As," a couple "Bs." Ask Jeff Tedford to hand out a grade, however, and you're almost certainly going to get an A-plus.
This becomes somewhat obvious when you connect the dots: Tedford is the Buccaneers' new offensive coordinator and his team just completed the first all-offensive draft in its 39-year history. So, yeah, he's a little biased. Still, Tedford has become even more encouraged by the team's rookie crop in the few weeks since that draft, as he has seen most of them display their skills on the One Buccaneer Place practice fields.
"I thought our GM did a great job with the draft, our whole scouting department did an excellent job," said Tedford. "We helped ourselves a lot in the draft. I think that the guys that we drafted are going to play a major role in what we're doing."
Four of the Bucs' six draft picks were skill-position players, new targets for quarterback Josh McCown who are likely to help out immediately in 2014: first-round wide receiver Mike Evans, second-round tight end Austin Seferian-Jenkins, third-round running back Charles Sims and sixth-round wide receiver Robert Herron. Seferian-Jenkins has had only limited field exposure so far thanks to previous ankle surgery and a University of Washington class schedule that runs later than that of most schools, and Evans has missed the last two weeks with a mild hamstring tweak. However, Tedford has seen enough to expect all four to contribute this fall.
"Mike obviously tweaked his hamstring a little bit but he'll be back," said Tedford. "He showed his first couple days he's a real talent, there's no doubt about it. Those guys on the outside with Vincent [Jackson] and him, and when [Seferian-]Jenkins gets here he brings a tight end with some range and some size. Charles Sims has done an excellent job. He's a bigger back who can run between the tackles. He runs with a low pad level and catches the ball really, really well. Assignments – he's come along with that, he's a good learner that way. You can't really tell right now in terms of pass protection, but it looks on tape like he can pass-protect. And then Robert Herron, he's done an excellent job as well, brings a lot of speed to the inside slot receiver."
Tedford rightly praises General Manager Jason Licht and his staff for their draft work, but Tedford himself was involved in the scouting of those four players, too. Now, he says, the evaluation of those players continues, but with more focus regarding where they may fit into the offensive scheme. Shortly after landing the O.C. job under new Head Coach Lovie Smith, Tedford spoke of the need to add "speed in space" to the Bucs' offensive arsenal. The draft accomplished that, and now he has the task of figuring out how to create that space and put his new weapons into it.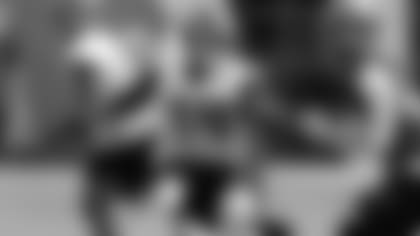 WR Robert Herron could provide some of the elusiveness in space that Jeff Tedford is looking for
"We have guys who can run, guys who play certain roles," said Tedford. "But we do have some guys who can run who are elusive – not only fast but elusive in space. That's important. It's going to be our job to create matchups like that and take advantage of them. Once you get on the field, things move very quickly. There are a lot of guys who can run on both sides of the ball, but if you can get a guy in space and you can make somebody miss, it's going to be a big play.
"We're counting on some of that. That's what we're doing right now – we're trying to put different people in different positions to see how effective they are doing that."
There's little over a week left in Tampa Bay's offseason program; a mandatory three-day mini-camp next week will put a cap on it and precede the players' last extended time off before training camp. That evaluation process Tedford speaks about won't be close to finished by next week, as much of it will take place in training camp and the preseason. For instance, the team won't have seen much of the multiple-TE sets it can employ with Seferian-Jenkins, Brandon Myers and Tim Wright until later in the summer. What Tedford has seen of that part of the playbook has looked promising, however.
"It's a personnel group that allows you to do a lot of things, a lot of flexibility," he said. "When you have tight ends that can do those types of things – they can block at the line of scrimmage, they can get in space, they're athletic enough to stretch the field – you can put them a lot of places and create matchups with them. I think right now, our tight ends are doing a fantastic job of providing some of those things. The tight end is obviously a weapon both in the run game and the pass game."
Evans, Seferian-Jenkins, Sims and Herron came along just in time for an offense that needed a serious influx of talent after finishing 32nd in the NFL in 2013. They are only part of the much-improved picture, however; free agency brought the likes of Myers and McCown and the 2013 injured reserve list has spit back such important pieces as Doug Martin and Mike James. Tedford can see it all coming together into a productive crew.
"I think we have a good stable of running backs, I think our tight ends are doing a good job, we have quite a few receivers who are doing some special things," he said. "It's been great to be out here on the field with them and see what they can do. They've been working hard, and I think we're going to continue to evolve with them."